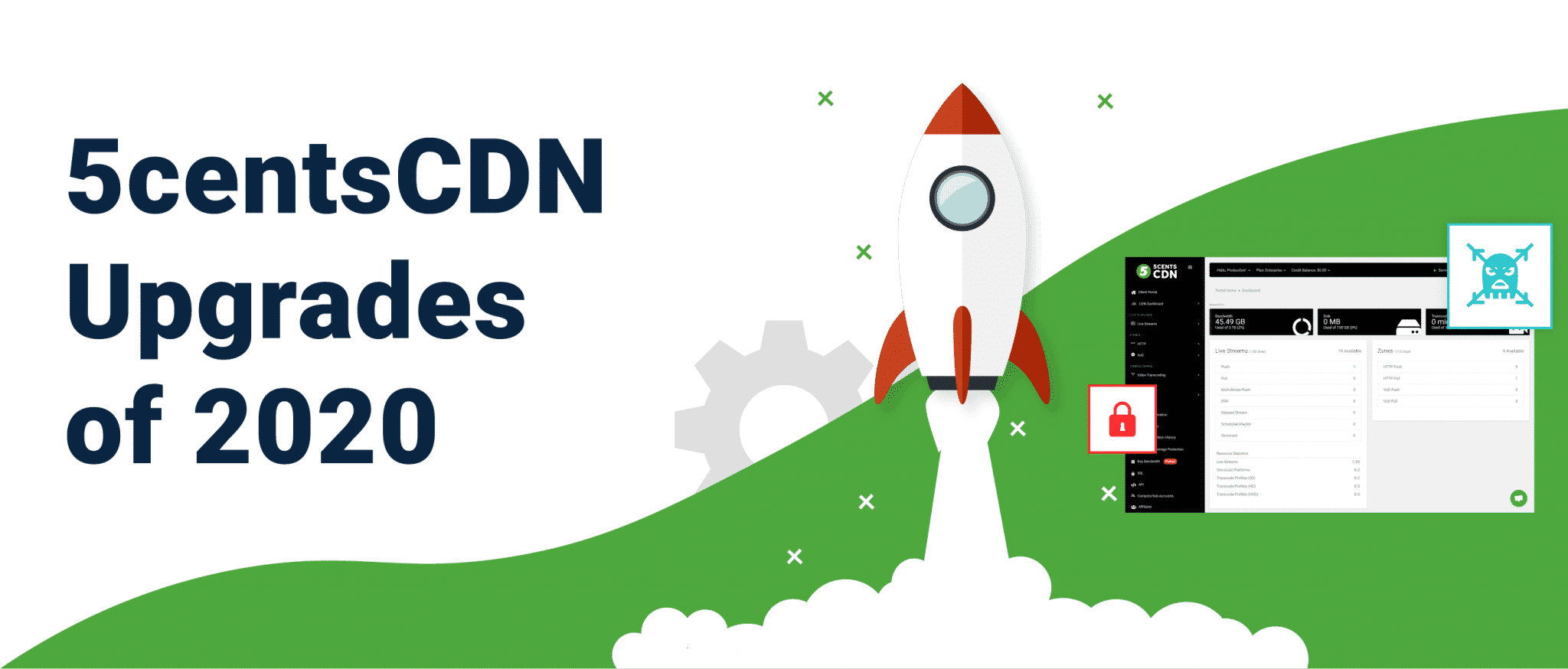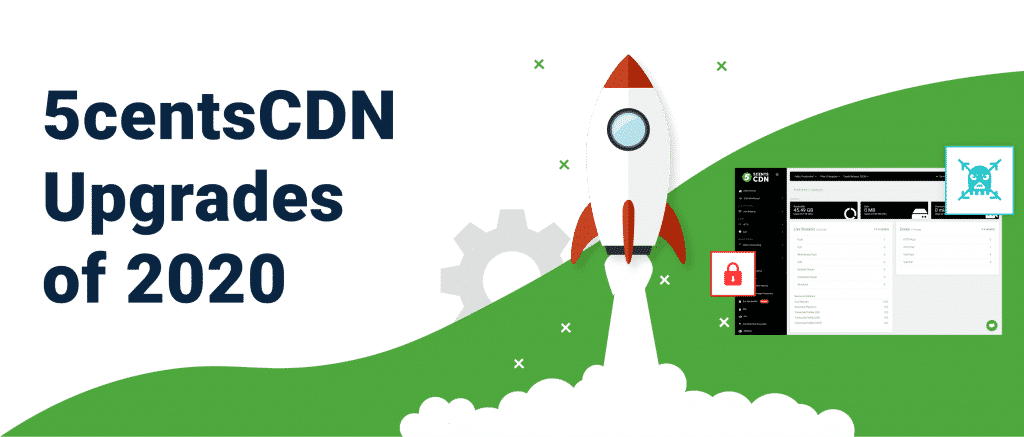 CP Version 20.01. Jan
We kicked off the year with some extraordinary features that not only enabled the users to have a 5-star, premium experience but also at some extremely low rates. Continuing their tradition of improvement, 5centsCDN moved ahead and offered the foundation for a flexible and extensible infrastructure with dynamic resource allocation across their Standard, Volume, Premium & Enterprise customers.
Later that month, we partnered with the global content delivery network; Akamai. That enabled Enterprise Network to use us as Origin.
With the addition of the "Enterprise Network Advanced Reporting" feature, users were enabled to understand the trends based on the constant monitoring and analyzing parameters.
Reference:
https://www.5centscdn.net/help/knowledge-base/cp-version-20-01-release-notes-jan-15-2020/
CP Version 20.02. Feb
As the year moved along, we focused more and more on improving the enterprise network. SSL Certificate Warning while provisioning, Backup Origin URL for Pull Zone, and SecureToken for Livestreams & Zones were some of the features that were introduced for enhanced productivity.
However, one of the most useful and distinctive features that sets us apart from other CDNs is PAYG (Pay as you go) that was introduced during that month. Customers don't have to make commitments that they're not ready to make, instead, they are free to utilize the services and pay for them right then and there every day.
Simulcasting remained another focus for 5centsCDN and as a result, we Added Log in the dashboard from the transcoder and verified youtube.
Reference:
https://www.5centscdn.net/help/knowledge-base/cp-version-20-02-release-notes-feb-15-2020/
CP Version 20.03. Mar
Customer satisfaction is what we strive to achieve every single day and while working on that we introduced a feature where CustomRules could be added upon client request.
In order to enhance the smooth and seamless streaming service, some improvements were made as well regarding Video Transcoding and Fine-Tuning in Control Panel.
Reference:
https://www.5centscdn.net/help/knowledge-base/cp-version-20-03-release-notes-mar-15-2020/
CP Version 20.04. Apr
April was the month of many upgrades but the highlights were the updated file transcoding codec infrastructure. Usually, this process reduces the file quality but with 5centsCDN efficient services, you enjoy the highest quality streaming.
Some might say that broadcasting programs across multiple mediums, or more than one service on the same medium might be hard to keep a track of. But not anymore with the "Simulcasting logs" feature. Service resource allocation stats made things easier as well.
Reference:
https://www.5centscdn.net/help/knowledge-base/cp-version-20-04-release-notes-apr-15-2020/
CP Version 20.05.May
The team at 5cents CDN came up with the idea to secure your contents and information by Encrypting auto-setup. Apart from that, we enabled broadcasters to view SSL Pending or Active status on Streams and Zones list pages to have a clearer image. And users also started to get SSL Activation notifications via email.
Another factor that remains a hot topic in the month of May was DVR and that explains the update on Network DVR, DVR for Multi Bitrate Push, and MPEG-Dash playback support.
The option to change the audio channel to stereo/mono while transcoding was just a cherry on the top.
Reference:
https://www.5centscdn.net/help/knowledge-base/cp-version-20-05-release-notes-may-15-2020/
CP Version 20.06. Jun
It's the age of social media, specifically Facebook so we decided to integrate it for simulcasting.
We take pride in our easy-to-understand control panel and pricing system. We decided to take it to a next level by introducing an Add-on BW purchase option from the control panel.
Also, we came up with an option to protect your BW and set the threshold on how much to spent and top-up BW according to your usage. Alerts are generated and streams or zones on above 140%usage are disabled. This enables you to make decisions when to top-up, as well as allows you to manage and forecast your monthly expenses.
Video. js embed code for an enhancement to the content in HTML. It supports HTML5 video and modern streaming formats, as well as YouTube, Vimeo, and even Flash. And we closed the month of June with the "Custom CNAME domain verification" feature to resolve provisioning issues.
Reference:
https://www.5centscdn.net/help/knowledge-base/cp-version-20-06-release-notes-jun-15-2020/
CP Version 20.07. Jul
To keep working toward providing better and enhanced services, the team at 5centsCDN came up with the New Scheduled Playlist Setup Wizard with many productive updates. Apart from File Transcoder with Thumbnails, we provide you with the option to allow/deny video upscaling that can will fill your entire TV screen with low-resolution content.
With the Detailed Usage History, broadcasters get full access to the logs and reports. Other than that, users receive Notification via WebHook for a Transcoded file.
Comprehensive reports on video transcoding and recording mins.
Reference:
https://www.5centscdn.net/help/knowledge-base/cp-version-20-07-release-notes-jul-15-2020/
CP Version 20.08. Aug
You know what's more frustrating than slow internet? Waiting for the files to be transcoded. And we spend our August working to fix that issue for you with File Transcode Job Priority. Push Zone – URL Importer enabled our users to directly download the content to the 5centsCDN zone!
And with API v2, users got full control of all our features for an extraordinary, swift, and seamless viewing experience.
Reference:
https://www.5centscdn.net/help/knowledge-base/cp-version-20-08-release-notes-aug-31-2020/
CP Version 20.09. Sept
Introducing Livestream filters such as simulcasting, restream, DVR, and delayed streaming was the main focus during the month of Sept. Livestream API offered more flexibility and control over the live viewing experience of the audience. It enabled users to add their logo or watermark text on top of transcoded live streams. Other features such as vertical and horizontal flip made a grand entry that is effective for live streaming from mobile phones.
Reference:
https://www.5centscdn.net/help/knowledge-base/cp-version-20-09-release-notes-sep-30-2020/
CP Version 20.10. Oct
Towards the end of the year, 5centsCDN paid much attention to introducing new filters such as Video Source From Image as well as Video Source From Video (Video Loop). It was an upgrade for audio-only streamers who wanted to simulcast to YouTube or other platforms. They could now use these filters to publish as some social media platforms do not allow audio-only to publish.
Reference:
https://www.5centscdn.net/help/knowledge-base/cp-version-20-10-release-notes-oct-31-2020/
CP Version 20.11. Nov
November seemed to be a bit busy and very productive regarding new features that were added to our already efficient services to take things to the next level.
One of the most sort after features i.e. A la carte plan as PAYG option for live streaming made its way to our website alongside Cloud Storage Upgrade with S3 and Swift API. Cloud Storage SFTP (Secure File Transfer Protocol) and FTP with file listing and file deletion option were aimed to provide a better experience to the broadcasters.
Made things advanced and convenient with Schedule playlist with live option and WHMCS (Web Host Manager Complete Solution) Reseller Module for v8.0 and closed the month of Nov with some more API updates with new options.
Reference:
https://www.5centscdn.net/help/knowledge-base/cp-version-20-11-release-notes-nov-30-2020/
CP Version 20.12. Dec
During the last month of the year 2020, we became a bit more competitive, worked dedicatedly for hours and hours to bring to you some amazing features that'd make your CDN experience extraordinary. The focus was to refine the 'New scheduled playlist features' and help our users make the most out of it. So we started with Scheduled playlist auto-restart and the option to add playlist duration that minimizes the manual efforts.
With the new updates, the scheduler will switch to the default playlist automatically after completing the scheduled playlist. File fetching status in order to keep track of all updates.
Our struggle and dedication to keep getting better at what we don't stop here. With the new year, we aim to continue providing state-of-the-art content delivery network services across the globe.
Reference:
https://www.5centscdn.net/help/knowledge-base/cp-version-20-12-release-notes-dec-31-2020/
---
Try our CDN today, to get a free account. 7-day demo account with no obligation and credit card!