Video transcoding is part of a wider process of digital video conversion that evolved along with broadcasting and streaming technologies. This procedure will involve file transcoding of several extensions of video and basically translates the format. This is necessary for playing a media file in different software that is going to be able to screen the scenes to the user. Video transcoding has a fundamental importance in the process of streaming video in diverse Operational Systems and Players. In this article, we will address some important information about the whole mechanism, as well as some basic data on the history of video digitalization and Cloud-Based Video transcoding.
In simple terms:
Video Transcoding, also called video encoding, is the process of converting a video file from one format to another, to make videos watchable across different platforms and devices.
5centsCDN Video Transcoding / Encoding
5centsCDN enables you to convert the files to MP4 and in different qualities or profiles or output for further delivery via CDN which enables a smooth viewing experience for the end-users.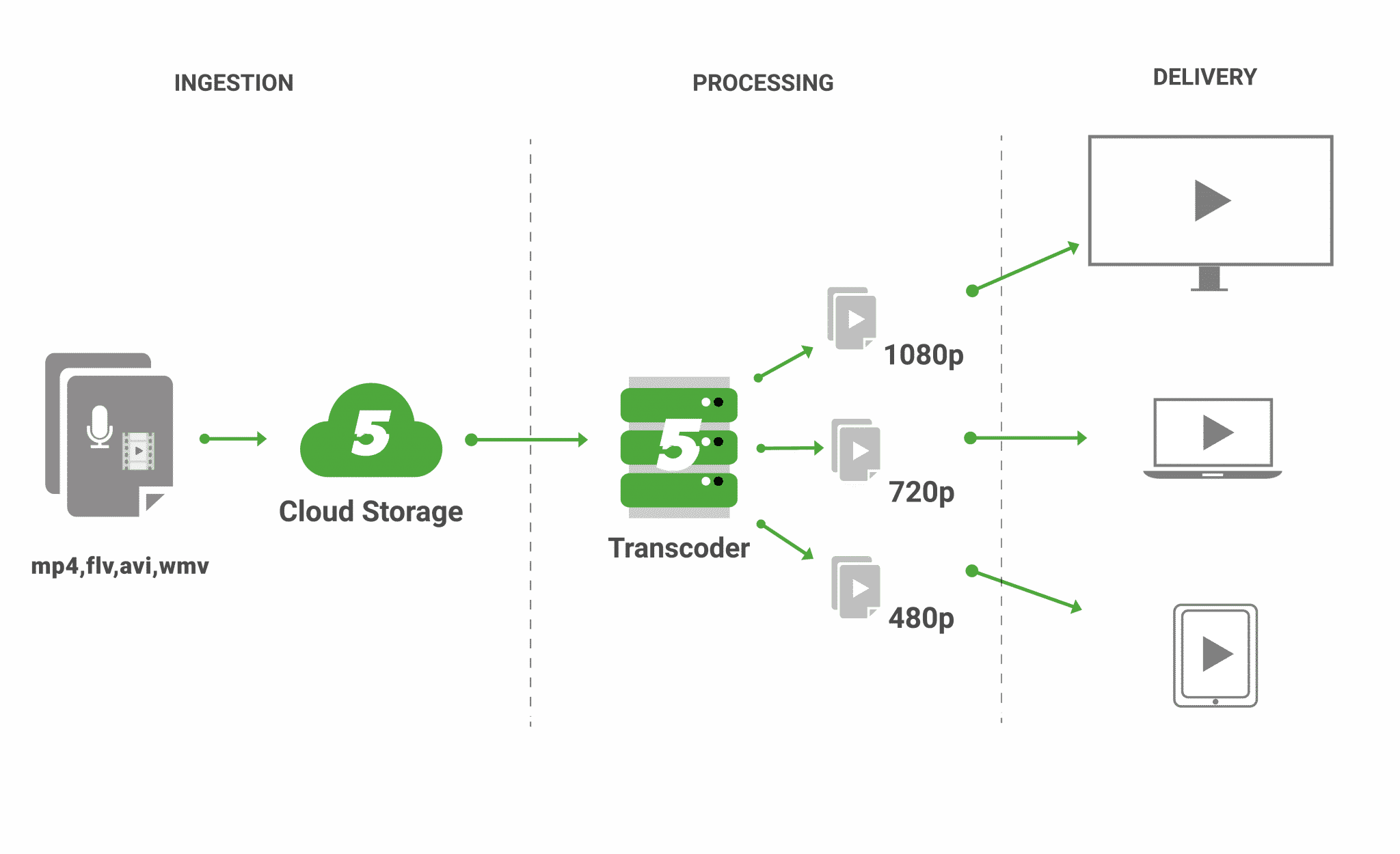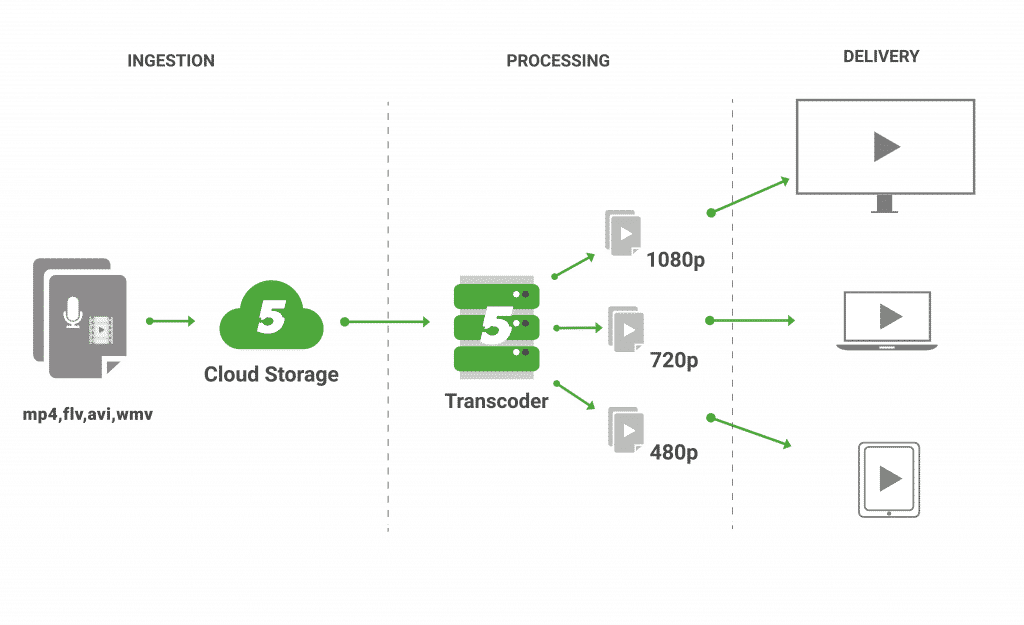 What we do at 5centsCDN?
Transcoding, at a high level, is taking already-compressed (or encoded) content; decompressing (decoding) it; and then somehow altering and recompressing it. As an example, you might change the audio and/or video format (codec) from one to another, such as converting from an MPEG2 source (commonly used in broadcast television) to H.264 video and AAC audio (the most popular codecs for streaming). Other basic tasks could include adding watermarks, logos, or other graphics to your video.
Transrating refers specifically to changing bitrates, such as taking a 4K video input stream at 13 Mbps and converting it into one or more lower-bitrate streams (also known as renditions): HD at 6Mbps, or other renditions at 3 Mbps, 1.8 Mbps, 1 Mbps, 600 kbps, etc.
Transsizing refers specifically to resizing the video frame; say, from a resolution of 3840×2160 (4K UHD) down to 1920×1080 (1080p) or 1280×720 (720p).
The current article will discuss the following topics:
Video streaming and related problems.
Characteristics of the process of encoding and video transcoding.
Benefits and advantages of cloud-based video transcoding.
Reviews of video transcoding services by 5centsCDN users.
Conclusion.
Video streaming and related problems
Video and audio files are compressed by Codecs, after the impressive technological evolution within the past decades that switched RAW to digital. Simply defining, video transcoding could be considered a process to make the files available in different formats. Have you ever downloaded a video and was not able to watch it on the computer with your Player? You probably discovered that the video could not be played because it had an encoding extension that was incompatible with your player or device.
The size of the files and video encoding
Do you remember when motion pictures came as VHS tapes and after a while, also as DVDs? Maybe, right? The videos were actually made of massive collections of photos. Certainly, it resulted in very bulky files and extremely large file sizes making them difficult to download, upload, and share. Video encoding became the solution, as videos were also available in digital formats, it helped to compress the images making it possible to play on several kinds of software.
So video encoding compresses a massive video file?
Yes, because technically speaking it will save the video not only compressing it, the images will not be saved as individual images. As it becomes a streaming quality video more fluid with a smaller size. The data is compressed, right? So won't it lose quality when you stream it in a computer player or device? Naturally, the encoding of audio and video files will make it lose sharpness and some quality. But as the technological changes evolved software engineers also created solutions for transforming a RAW file into an encoded file without losing quality.
It is possible to encode without losing quality
The process of using compression to reduce a media file is called encoding as we have seen previously. But how were the software engineers able to develop a process for compressing without losing quality? The whole procedure basically keeps the data that is the most important. But not only that, it will get rid of data from one frame and replace it with a reference to a previous one, making the movements between frames smoother.
The compression currently starts from the device
Cameras in smartphones, professional camcorders, etc., for recording video, will function in the H.264 format mostly which is already encoded. So when a camera is recording, a sensor in the device will encode in real-time now. The video or file will stay stored, compressed by codecs. The term "Codec" is actually referring to "coder and decoder" (coding/decoding). Compressing this kind of information and aiding in the technological changes we are now so used to when watching videos. When we are mentioning video encoding, we are also identifying a very specific type of compression: H.264s.
When software fails to play a video?
This is a common problem, despite the fact that almost every device currently supports H.264 encoding. There are other codecs widely used and available, such as:
Quicktime.
VP9.
MPEG-2.
WMV.
Now, we are getting closer to understanding the importance and also the difference from encoding to video transcoding of files. Both are processes interconnected but not the same. And we will talk specifically about Cloud-Based video transcoding but, first of all, it was necessary to point some important concepts to the reader.
The acronym VOD stands for Video On Demand, and transcoding would be the procedure of creating copies of media files with different sizes. Simply is the conversion of a file from an encoding to another making it available for specific devices or platforms. Every transcoding involves an encoding because the file will be transformed from its original extension and sometimes more compressed. Let's check some of the most important reason for encoding and video transcoding:
The size of the file might be reduced.
Make a video compatible with your device.
Alteration of formats of video files.
Create compatibility in a video to certain software.
Transcoding will involve different sizes, resolutions, codecs, formats, etc.
Cloud-Based video transcoding can make the process cheaper and faster
The encoded files, when you create a video with audio, will be saved on your server. Then, it will be made available across multiple devices and platforms, that also have different Internet Connection speeds. Despite being a complex process, users are not aware of how much it takes from a server to be able to do all of those settings. Many Companies are using Cloud-Based video transcoding because this complex operation becomes cheaper. There are some benefits for using Cloud-Based video transcoding that are worthy of mentioning:
Creates an operational efficacy in many ways by reducing expenditures of Capital.
Large amounts of files can become available after transcoded, with the utilization of a large number of transcoders at once.
Cloud-Based video transcoding offers scalability and a Pay-Per-Use billing structure which is very cost-saving.
There is also support and maintenance of the infrastructure with no additional costs for the Company.
Video quality and size
Well, in relation to videos the higher the quality, the greater the size. The video might have different aspect ratios on different platforms too. And most of the platforms will recommend the most suitable for broadcasting and use video transcoding, as we use several kinds of devices and players.
So, each of them will have an ideal quality, size, and format?
Certainly, and this is where video transcoding becomes such an important implementation for streamers, Companies, or individuals. VOD Transcoding will convert the video to different formats and adapt the content to be watched through several devices. With the rise of the audience for Live Streaming and Broadcasting, for example, content creating in transcoded formats currently will be important for the broadcaster. A Company or Agency, and even a loner streamer, will have to be able to offer the best experience for different types of devices.
Characteristics of the process of encoding and video transcoding
It is possible to use a variety of Codecs available to compress and encode your files. But when we talk about video transcoding, we are also thinking of making your streaming adapted for several device types, software, different bandwidth possibilities, as well as platforms. So variety is also a way to provide the best experience for an audience. We could list some important characteristics of video transcoding that can actually make a difference for your streaming.
1 – Resolution
It is basically the number of pixels that influences in the quality of the image. The higher, the more colors and details you will be able to see.
2 – Viewers with slower connection speeds
Video files are heavier, requiring faster Internet Speed especially when dealing with live streaming. The transcoding is able to create an adaptation. When a slower connection is used, the quality of the video will decrease. This is especially desirable because avoids image freezing during live broadcastings.
3 – How to upload videos with excellent quality?
The 5centsCDN transcoding features are able to offer the best-expected performances for your audience. This allows your videos not only to fit the devices used by the viewers but also to adapt to their format needs.
Benefits and advantages of cloud-based video transcoding
In this topic, we have prepared a clear and simple list of the benefits and advantages of video transcoding. This might help you make a decision for streaming your videos with the highest quality in terms of streaming services available.
1 – Video transcoding allows you to get more viewers
This is also related to the quality of your streaming performances. If you get a badly encoded video, a format that might not be compatible with the majority of devices out there, your audience will not grow. On the other hand, if you use the right transcoding services for your streaming to be able to provide the best images available to all your audience, you will get real results. Do you know how? By getting more real authority in terms of content quality.
2 – Protected content
The transcoding features provided by 5centsCDN also makes your broadcasting more secure. It will produce an authentication token for your audience to be able to view the content. Thus, allowing your followers to support you even more and getting their own seats in the meetings. We are able to guarantee traffic with the best features by offering customers, Anycast Network. It means perfect streaming, no delays, high-quality sound with perfect synchronicity.
3 – All live streaming features at one place
5centsCDN offers the user a Control Panel that is very easy to use, and also perfect for any kind of streamer. Our platform is highly distributable minimizing delays for viewers with all kinds of Internet Connections speeds and all over the World. The Control Panel is intuitive, integrating all features in the same place. You will be able to use all the features necessary for the perfect streaming, without needing technical advanced knowledge.
Reviews of video transcoding By 5centsCDN users
Check what our users are saying about 5centsCDN! After all, the best way to really get the experience is through the opinion of others who already experimented with our solution. We currently have satisfied customers all over the World, with opinions about our special support.
Probably the most reliable in the World. With the best customer support, I have ever experienced! Would highly recommend it to any users. Total satisfaction!
Amanda Lee
Amazing experience with 5 stars CDN thus so far! The support team has been incredible, helpful in helping me find the right plan that fits my needs. Shout out to Amru for all the great work!
Nick Cartier
Timely Support with an excellent team working 24×7. The Dashboard is better informed. Services are good without any technical glitches. We are having a wonderful service from 5centsCDN.
Navin.
The Company is already providing for 1,000+ satisfied customers with a broad spectrum of fields of expertise, from Governmental Agencies to Gamers. Video transcoding can be simple and manageable with our high-efficiency technology and an integrated Multi-CDN network. But those are not the only features that stand us out above other video transcoding providers. Our plans are worthy of checking because they are fair and offering many advantages.
5centsCDN video transcoding pricing
Currently for you to be able to access excellent video transcoding features with a bunch of other benefits we are offering 50k minutes for a flat $20 per month cost available under our monthly and PAYG plans. There is a growing amount of different platforms and devices that are creating unique requirements and 5centsCDN can help you deal with it for each distribution channel without spending a lot of money.
Monthly and Pay As You Go Plan
There are four different network options for Monthly paid plans that go from Standard, Enterprise, Premium, and Volume. You might want to check the network performance each plan has to offer, and per TB per pricing starting from $2.5 per TB for the standard network, $15 per TB for enterprise network, $7.5 per TB for volume network, and $10 per TB for premium network. The Pay As You Go Plans are per GB, also offering the same four options, from $0.005 per GB for the standard network, $0.029 per GB for enterprise network, $0.0143 per GB for volume network, and $0.020 per GB for premium network. Below we will talk a little about some important features for file transcoding and Cloud-Based video transcoding.
Video transcoding
features included
Instant Conversion
Encoding Profiles
1 & 2-Pass Encoding
Adaptive Bitrate Streaming via CDN
Minute Pricing
No Limit on File Size
Encoding Status
Direct Cloud Storage Access
Combined File Transcoding
Thumbnail Creation
Filters (Watermark, logo insertion, and many more)
Video Upscaling
There is more
We have highlighted some of the features, but we have cost-saving plans that will definitely suit the needs of your business. For the streamers of today offering an awesome viewing experience might be the differential between a huge success and regular content without real results. So if you need to choose the best, opt for 5centsCDN as a Cloud-Based video transcoding platform for your content.
Conclusion
In this article, we discussed important topics related to video streaming. Concepts such as encoding and transcoding, and how 5centsCDN can be valuable as a Cloud-Based video transcoding platform, and much more. We also went through different important basic ideas of how such processes evolved with technology. If you have experienced 5centsCDN video transcoding, we would love to know your opinion in the comments section. Don't forget to like our post and share it with all your friends so that they can also check this amazing opportunity for streamers and Companies.
---
Try our CDN today, to get a free account. 7-day demo account with no obligation and credit card!