Technology is constantly evolving, and today, watching TV shows, movies, and live sports on streaming services is on par with watching shows and movies on broadcast networks. The cost of monthly subscriptions may be a barrier to streaming. However, there are a number of niche streaming services for kids, anime, or reality television that allow you to watch whatever you want, wherever you want. You have an overwhelming number of options when it comes to top streaming companies as they continue to grow and multiply.
1- Disney
2- HBO
3- Amazon Prime Video
4- Youtube TV
5- Netflix
As more choices are made, more changes are brought about. As you learn which streaming services are worth your time and money, your budget will likely change as well. You'll need to consider your budget, the shows and movies you like, and whether you're a fan of kids' shows, documentaries or sports.
There is no doubt that the media landscape is changing rapidly, but big entertainment, top streaming companies and tech giants aren't blind to the threat. Parties involved seem to be focused on consolidating their assets and curating content to serve the most valuable content, even if it means creating a preservation crisis.
Top Streaming Companies In The World
You can start by looking at our top picks if you're looking to invest in a streaming video service. We evaluated each of these streaming services on the basis of their content, app design, and features, as well as their overall value. We'll start with our least favorite and go all the way down to the one we recommend the most based on every element that matters to a potential customer.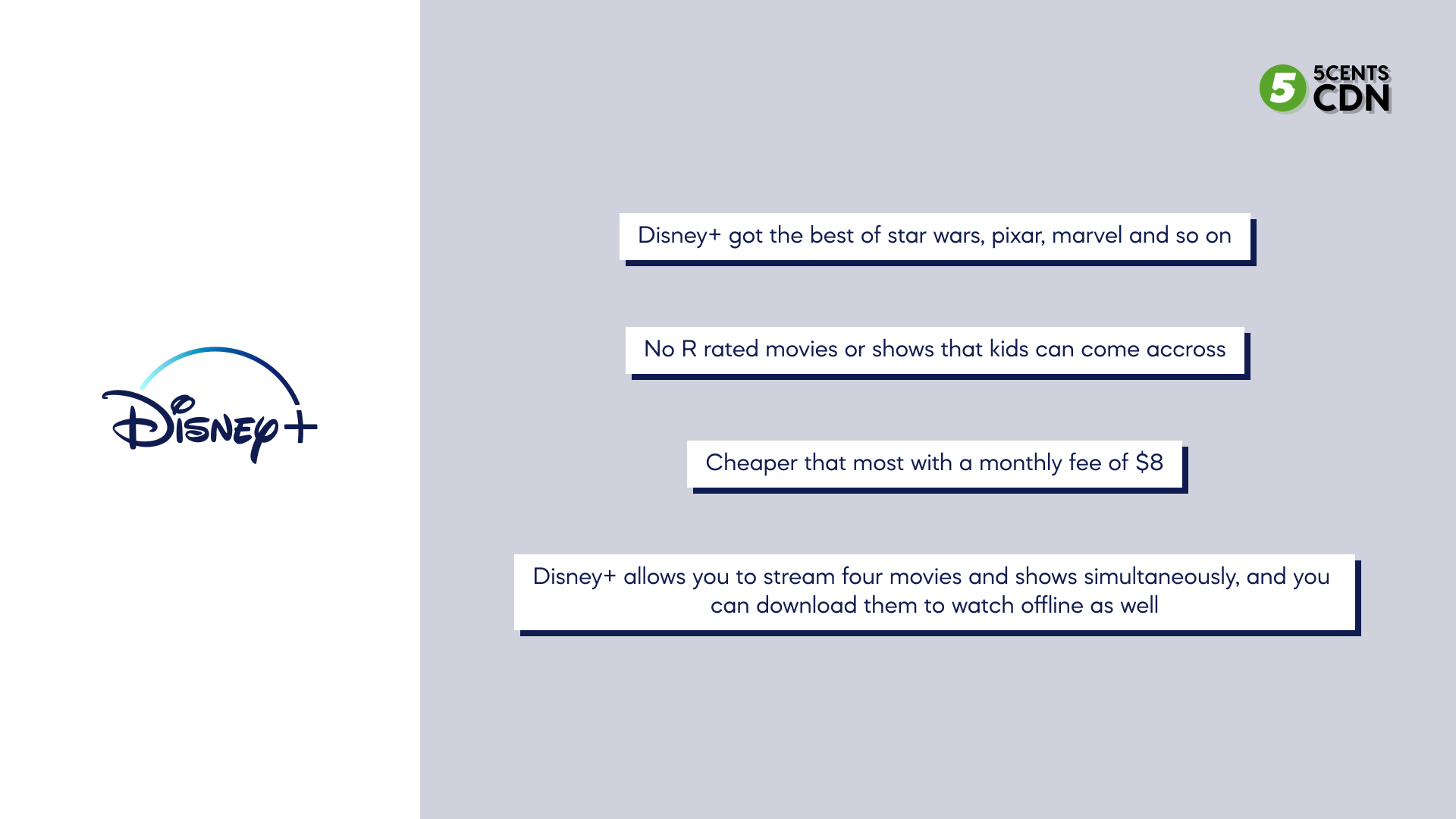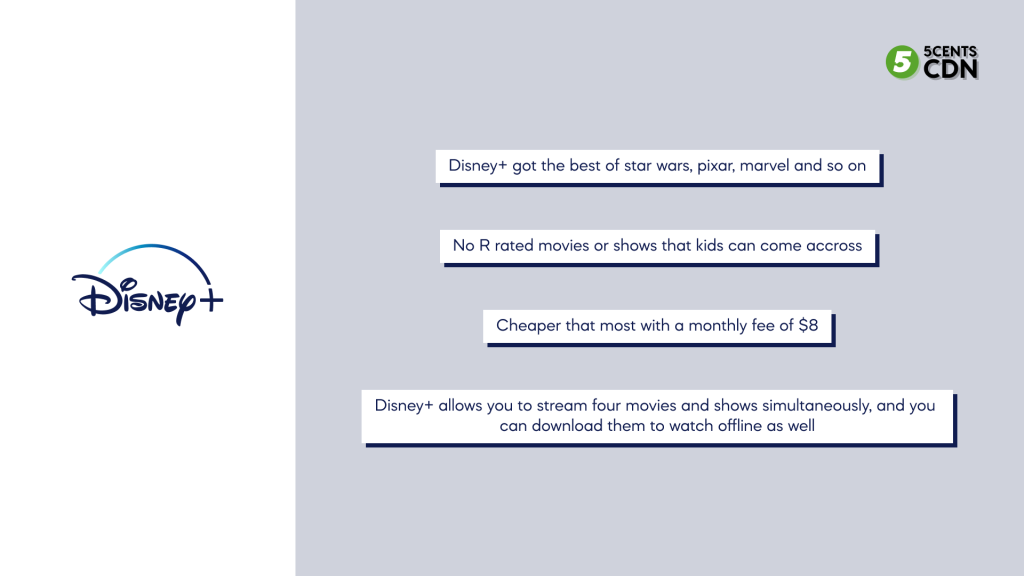 The company launched with all its popular brands, including Star Wars, Pixar, and Marvel. Kids, parents, animation fans and anyone who wants to watch some classic movies from the 20th century can find everything here. Something that most people like about this service is that there aren't any R-rated movies or shows that curious kids can come across.
As Disney focuses more on streaming, it has quickly become a must-have for families. With a monthly fee of $8, it's a lot cheaper than taking the kids to the movies every other weekend.
Disney+ allows you to stream four movies and shows simultaneously, and you can download them to watch offline as well. Most TV brands and major streaming devices support Disney+.
The vast majority of Disney and Pixar films are available only on this streaming service. This includes new Star Wars movies, Marvel films and original TV series, National Geographic content and 30+ seasons of The Simpsons. The next few years will also see lots of new Star Wars and Marvel original programming.
Cons
There are a lot of things that we find problematic with this streaming service:
If you are looking for new original shows, this place is not for you. Most of the shows that Disney offers are originals that are based on existing franchises.
They do offer a downloading option for most of their shows. However, you need premier access for that, which is expensive.
Apart from that, some of their 21st-century Fox content is split with another streaming platform – Hulu.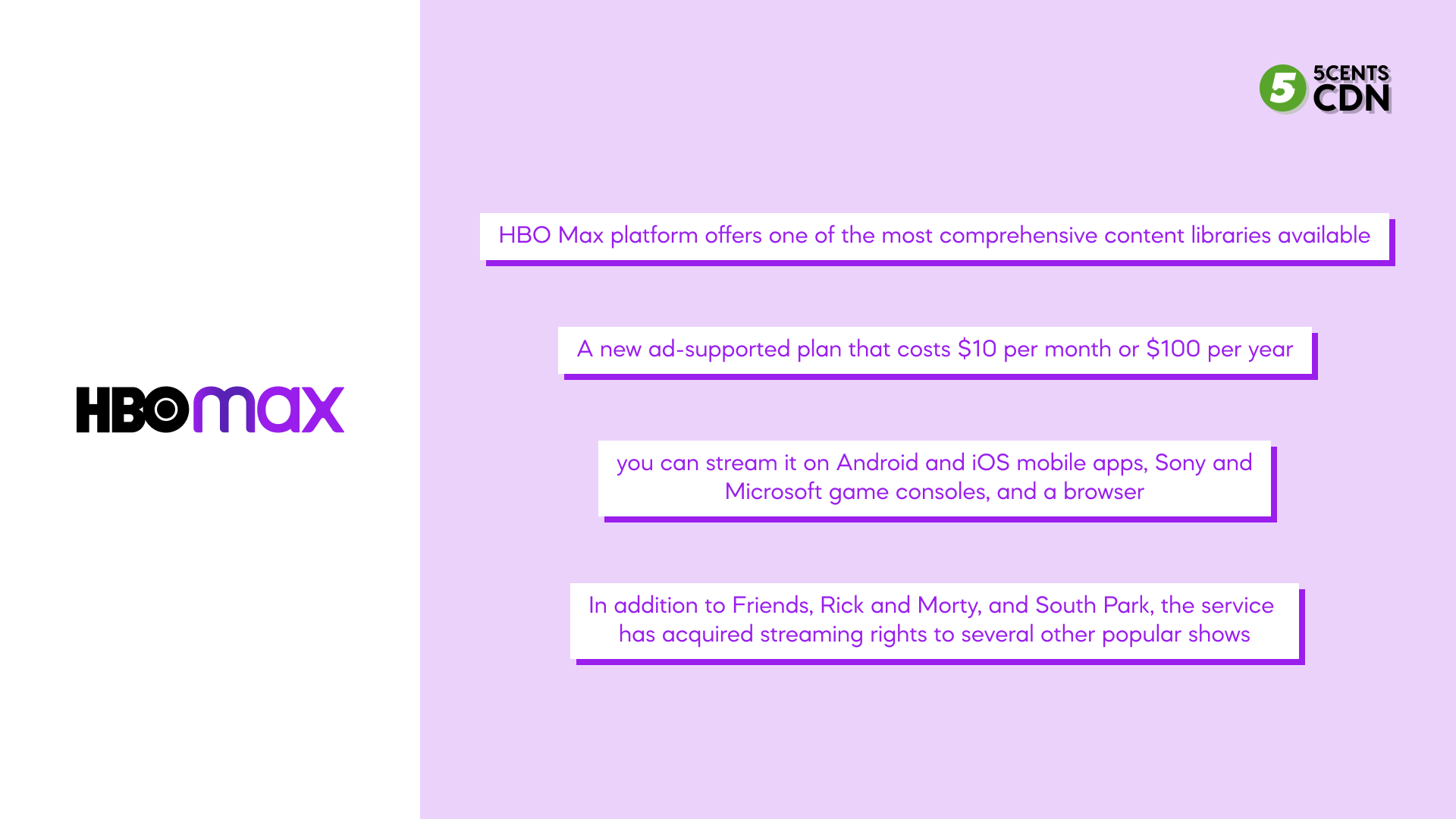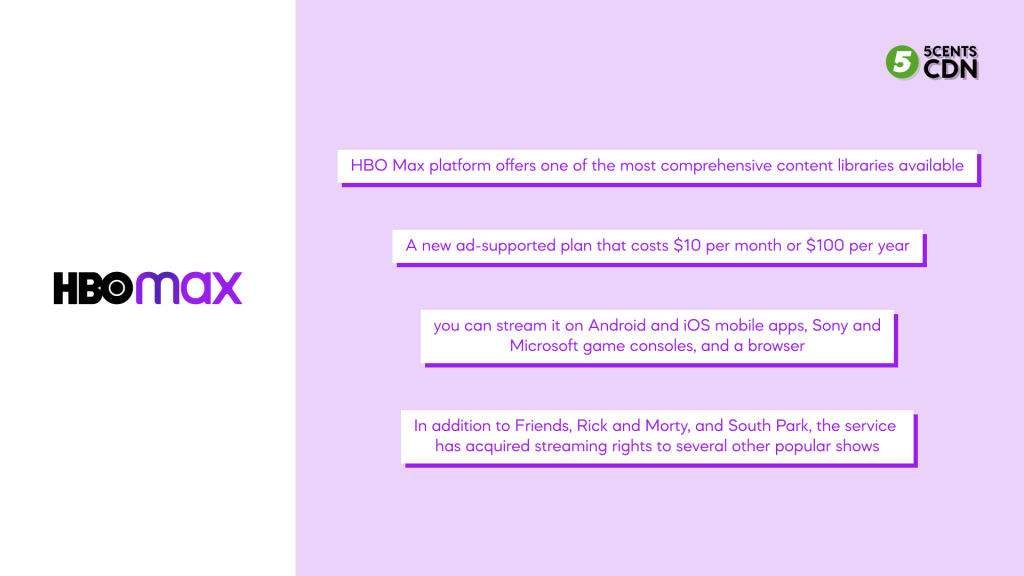 The HBO Max platform offers one of the most comprehensive content libraries available, encompassing content from HBO, Warner Bros., Studio Ghibli, Looney Tunes, Sesame Street, Spike Lee, and Turner Classic Movies.
A new ad-supported plan that costs $10 per month or $100 per year has just been released by the company. Aside from ads, you cannot download content for offline viewing. Ad-free HBO Max subscribers are the only ones who can watch certain content in 4K HDR. Profiles can be created individually, and it supports up to three streams at once.
In addition to Friends (including a reunion show), Rick and Morty, and South Park, the service has acquired streaming rights to several other popular shows. CNN, Crunchyroll, DC Comics, and Looney Tunes are some other content sources within the greater WarnerMedia universe that are included with HBO Max.
HBO now supports Roku, Apple TV, Android TV, Samsung, and other TV platforms since its launch. Additionally, you can stream it on Android and iOS mobile apps, Sony and Microsoft game consoles, and a browser.
Cons
HBO subscriptions are relatively expensive. Pricier subscriptions, even with ads, are a real deal breaker for most users.
There is no offline download support in the ad-supported tier.
There are limited 4K titles available on this streaming service.
Libraries could undergo dramatic changes without notice and on short notice.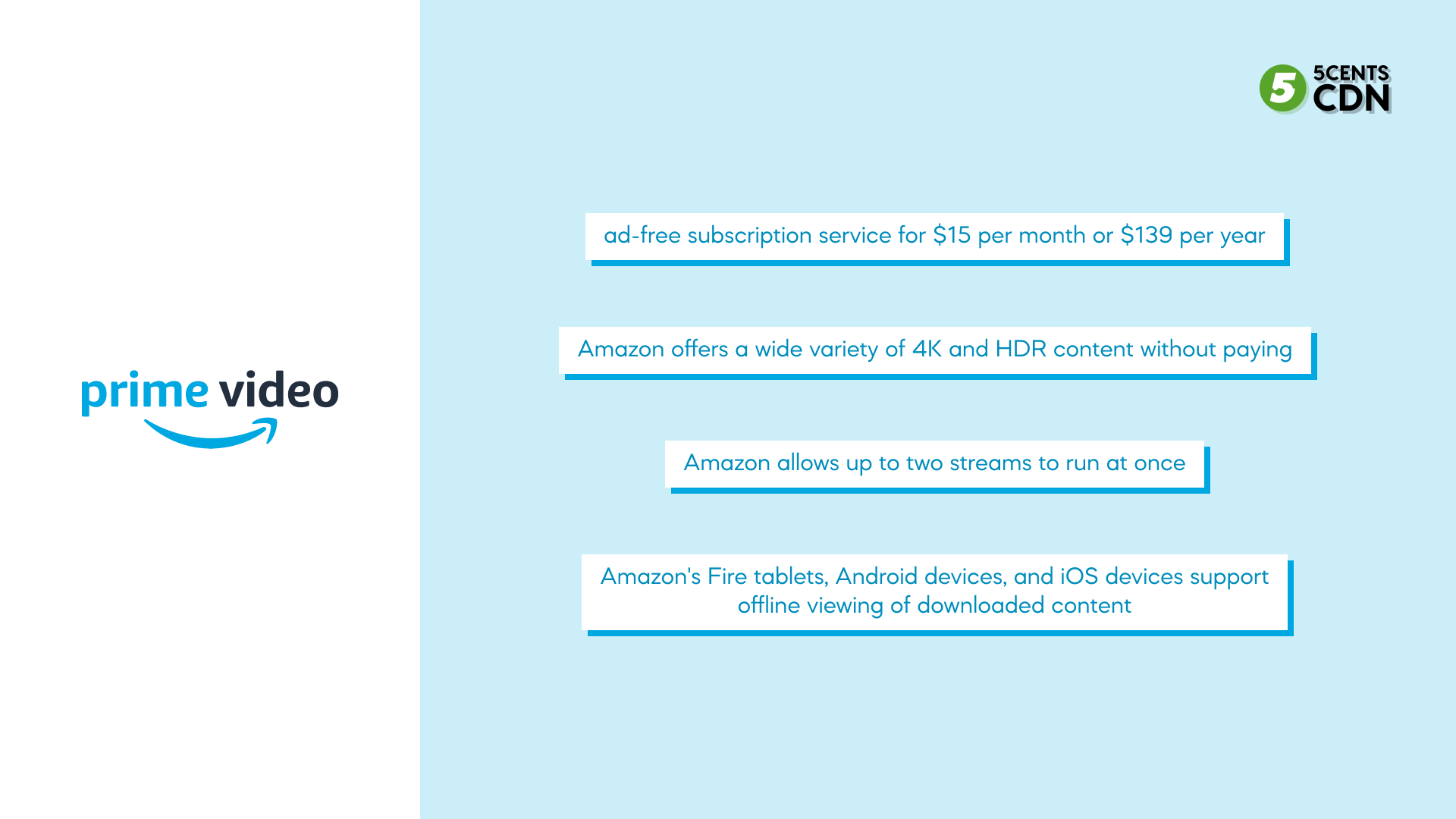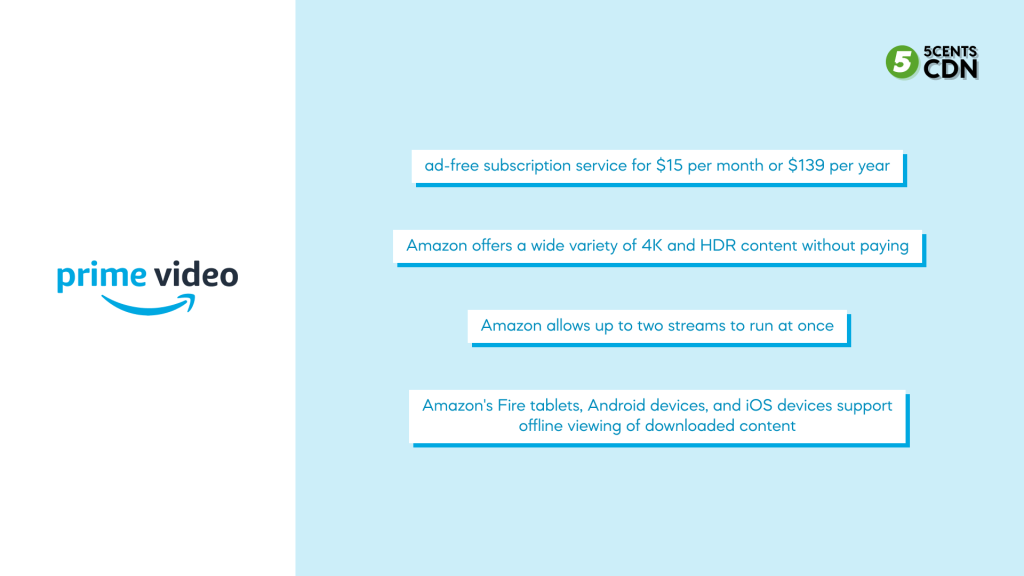 Prime Video may seem like Netflix-lite to those who have only tried it once or twice, but you may be underestimating its capabilities. Amazon Prime members can purchase the ad-free subscription service for $15 per month or $139 per year, which is a great deal.
The Marvelous Mrs. Maisel and The Expanse are well-regarded genre shows that Amazon Prime has added to its original content over the past year. Amazon Prime Video rivals Netflix when it comes to top streaming options. It's no secret that streaming boxes and smart TVs are becoming more and more popular, and one day might displace traditional television.
In addition to this, Amazon offers a wide variety of 4K and HDR content, which you won't have to pay for, unlike Netflix. The same goes for concurrent streams – Amazon allows up to two streams to run at once. Amazon's Fire tablets, Android devices, and iOS devices support offline viewing of downloaded content.
Cons
Other services continue to overtake Amazon Prime in terms of third-party content.
Compared to competitors, there are fewer high-quality TV shows available.
Compared to Netflix, Amazon's apps aren't as user-friendly.
Amazon frequently adapts its Fire TV-style interface to other platforms rather than using native controls. That can make it more difficult to use.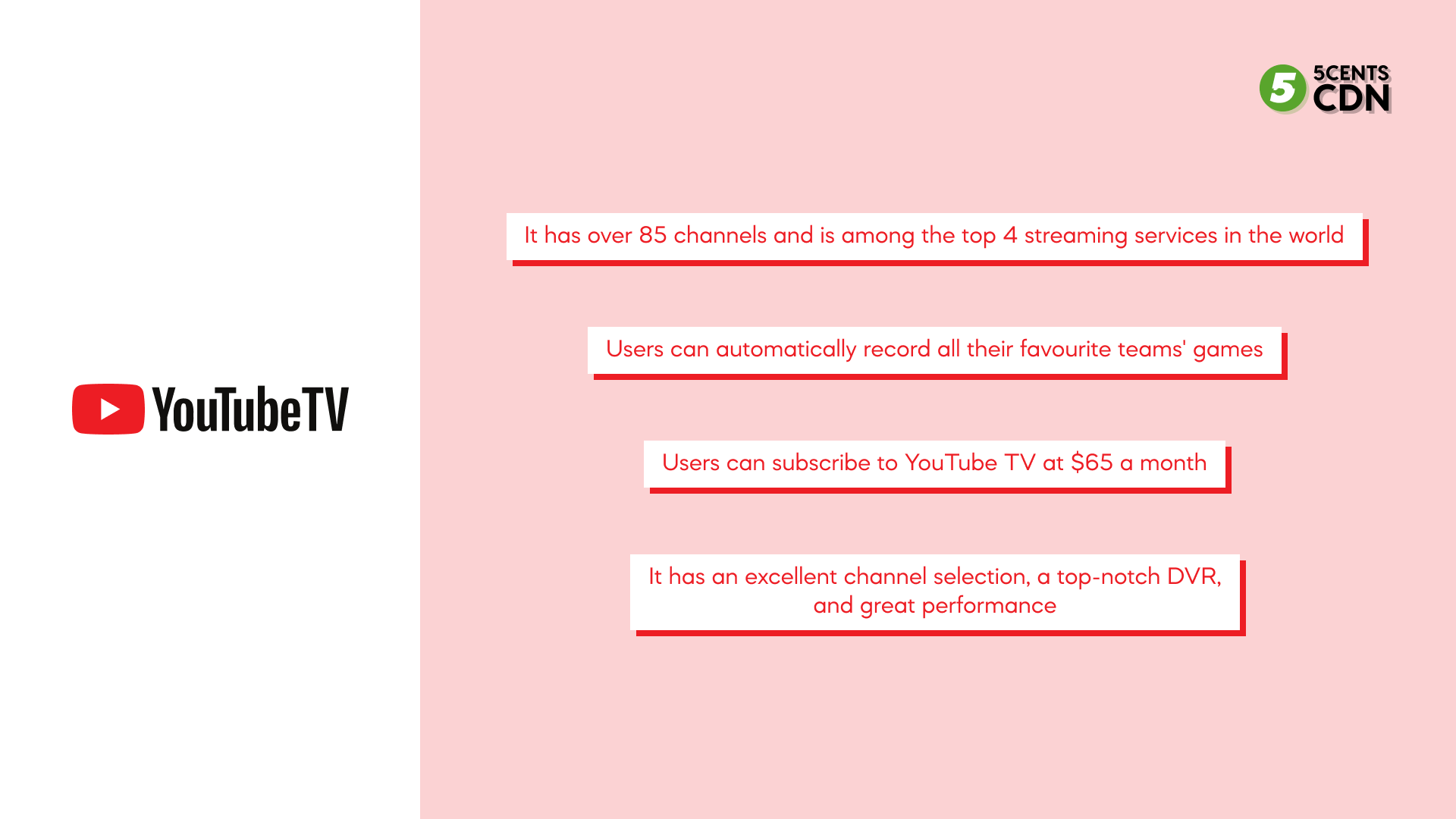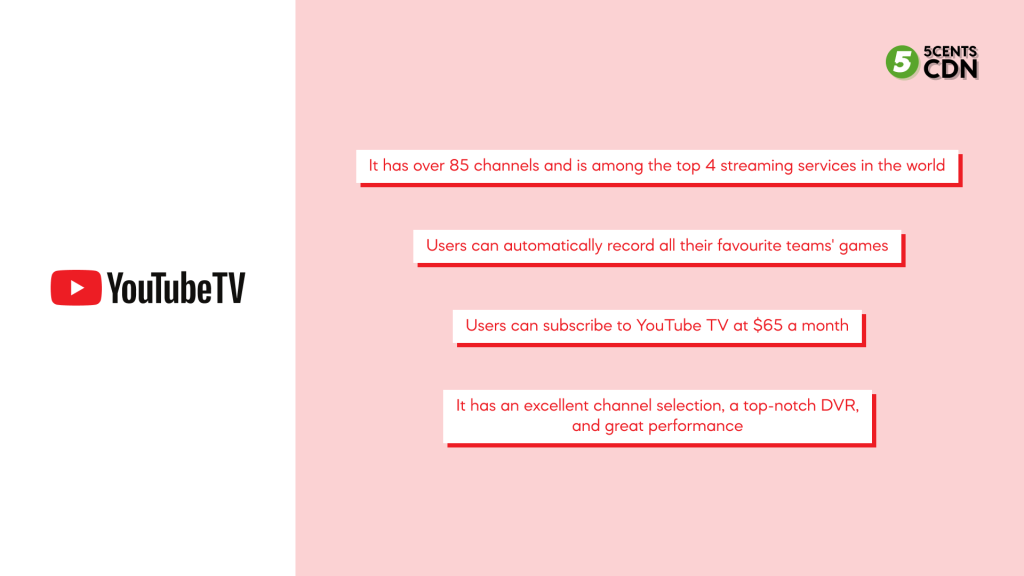 Youtube TV is a viable option for those who still want to watch live TV without getting locked into a contract. Considering it has over 85 channels and is among the top 4 streaming services in the world, switching from cable or satellite is highly unlikely to be a problem. A rarity on streaming services is that YouTube TV even has your local PBS stations.
Sports fans will particularly appreciate the fact that they can automatically record all their favourite teams' games instead of having to remember to record each one manually. Additionally, if you arrive late, you can catch up on all the highlights so you're up-to-date by watching the "catch up with key plays" feature.
It may not cost much more than your basic cable package to subscribe to YouTube TV at $65 a month. To add 4K viewing or unlimited streaming, you'd have to pay an extra $20 per month.
Overall, there is an excellent channel selection, a top-notch DVR, and great performance when it comes to YouTube TV.
Cons
One of the biggest deal breakers is the lack of most SportsNet and all Bally Sports RSNs shows
If you're a parent and want to limit your child's access to shows, this may not be the best option for you.
Youtube Tv only has basic parental control options.
YouTube TV is a bit expensive as compared to regular cable – $65 a month.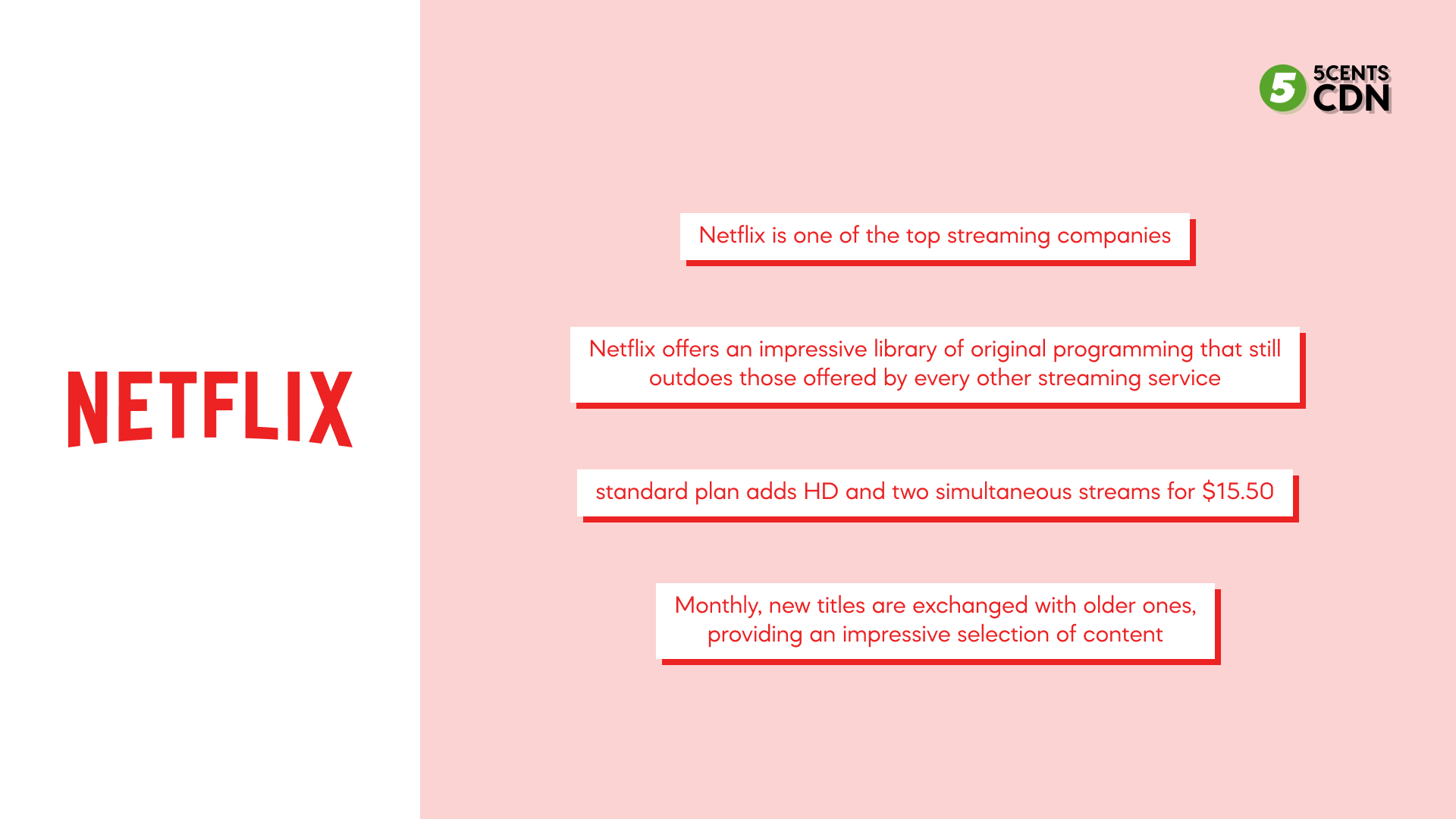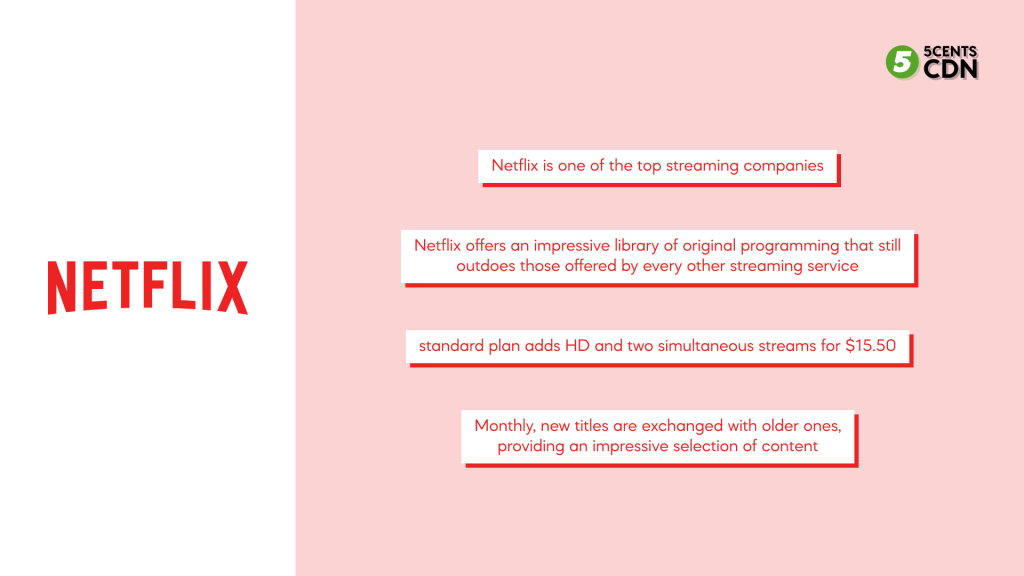 It's no coincidence that Netflix is one of the top streaming companies. It's a must-have service in 2022 after years of being one of the best streaming services. Monthly, new titles are exchanged with older ones, providing an impressive selection of content.
In addition, Netflix offers an impressive library of original programming that still outdoes those offered by every other streaming service. However, over the past new months, Netflix has lost a number of key back catalogue titles of TV series favourites including The Office and Friends to HBO Max.
Still, the streaming service remains a provider of familiar network shows and original series, films, documentaries, and specials. It is estimated that 70 brand-new original movies aired on Netflix in 2021 alone, with new shows and movies arriving every week.
In terms of basic plan price, the standard plan adds HD and two simultaneous streams for $15.50. Ad-supported plans are available for lower-cost members as well. As the pioneer of streaming services we know and consume today, Netflix still has the upper hand over new and old players bringing their A-game.
Cons
Netflix is expensive compared to many of its competitors.
They no longer offer a 30-day free trial.
The availability of content has not changed much in recent years.
On a concluding note
We believe that the increasingly competitive streaming market is not without consequences. Top streaming companies have initially appealed to consumers due to their flexibility, but now they must navigate a crowded and constantly mutating nightmare of streaming rights and new services, which are increasing in cost. As the cost of broadcast rights from cable channel owners rises, live TV streaming services are also finding it harder to adjust. Over time, the cost of almost every one of these services has increased. Therefore, choosing the right service is crucial. Go with the one that suits your streaming requirements in the best way possible.
If you are planning to start next top streaming company or services like mentioned above, here is an ebook for you.