VOD Streaming: An Essential CDN Tool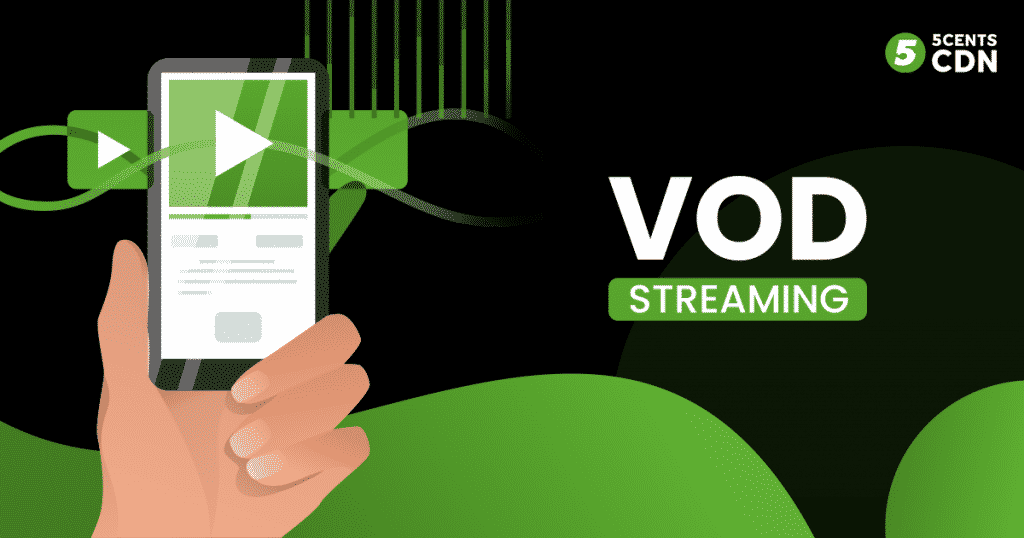 What Is Video On Demand Streaming?
VOD means click-to-play video content that's available without any constraints of a broadcasting schedule. This technology innovation has been nothing but convenient for the users in so many ways. With VOD Streaming, viewers have the freedom to choose whatever they want to watch, regardless of their location and timezone. And also, it doesn't matter which device they're using at a particular time. To understand VOD streaming a bit better, one must know that it is never live. Also, it doesn't require a physical copy of the content that is being broadcasted.
Booming Businesses With VOD
Over the past few years, especially in COVID times of social distancing, VOD has taken over. Many major broadcasting platforms have seen a major boom in their business, Netflix and Amazon prime being the biggest examples. It has saved you the trouble of booking a ticket or having to leave the comfort of your cozy couch. Apart from that, it also has unlimited options for streaming content at your leisure rather than as dictated by static showtimes.

Major Beneficiaries Of VOD
As per the latest and modern definition, VOD refers to content that's distributed to viewers via streaming on internet-connected devices. Not only that, but it also includes the downloaded files and recorded DVR content. One might believe that VOD is all about entertainment and educational content. That is not true, social media businesses and enterprise brands are major beneficiaries as well. VOD helps to build meaningful connections with the audiences by giving them access to the content of their choice at all times.
Difference Between VOD And Live Streaming
We are super grateful for the modern innovations. When it comes to digital technology, most of us are now familiar with different types of content delivery. Let's get into the depth of both VOD and live streaming. Only then, we can reach a conclusion that which one of these is better for a particular business.
VOD (On-Demand Videos)
As far as On-demand videos are concerned, they are just like the traditional way of creating and sharing content. You can simply make a video clip using your cell phone, upload it on a video platform, and make it available for your viewers. VOD streaming has evolved over the past few years. It has completely transformed the way videos are viewed and broadcasted across the globe. In simple words, VOD is the name of the convenience by which anyone can view any content virtually from anywhere in the world. On-demand videos are pre-produced, hence there is always a chance for improvements and polishing the content. Special improvement tools are used before the content goes on air.

Live Streaming
Coming to live streaming, it is the latest way of digital communication. It is safe to say that you can reach your audience anywhere in the world with just one click. Live streaming is getting popular with each passing day. However, beyond this huge user base, millions of views, and many other marketing perks, live streaming is a great way to drive revenue for your business. Broadcasting live videos can be super fun and interactive. But having a proper live streaming strategy that aligns with your business objectives is essential.
3 Platform Offering VOD Streaming
Before we get deep into the discussion of which are the top three VOD streaming platforms everyone should subscribe to them. Let's learn more about how these platforms work. VOD platform is basically a tool that delivers pre-recorded video content to a specific audience. Viewers have the freedom to choose any video from their online content list using any device. Such as a laptop, mobile app, or connected TV. There can be many benefits of VOD streaming based on your preferences. For example simply sharing your content for entertainment, monetizing your content for online business, etc.
Youtube is literally the other name of VOD streaming. It is the second most used search engine in the world after Google.
A study shows that around 1 billion hours are spent watching YouTube video content every day across the globe. It is more than any other VOD platform i.e. Netflix or Facebook
Wowza is a video streaming platform that offers live streams along with an array of tools. These tools can be super fun and useful for developers. You can either opt for the simple services and deliver yours at below $85.
However, for the more advanced version, you can have more content management and customization control. The pricing starts at $125 per month.
Vimeo is another VOD platform that offers content management tools for small creators and larger content distributors. To ensure that your VOD content meets your team's needs, Vimeo offers workflow assistance with sharing and annotation tools.
5centscCDN VOD Streaming
Video on Demand (VOD) at 5centsCDN enables your viewers to watch video content on-demand. They encode your video and deliver it to your end viewers, all you need to do is upload your video content to our origin servers.
Video Transcoding: For an enhanced streaming experience, 5centsCDN Transcoding services let the broadcasters convert their media files to MP4 format to make the videos viewable across multiple platforms and devices.

Auto Video Transcoding: Enable automated video and audio transcoding that helps you convert all types of audio and video files in the most convenient way.

Delivery On Apps And Other Platforms: Delivery your content in a swift and uninterrupted manner with minimum effort. We offer content delivery on apps as well as any other platforms your audiences prefer.

Full API: VOD Streaming at 5centsCDN allows applications to access data and interact with external software components, operating systems, or microservices.
VOD: A valuable Tool

VOD streaming is valuable in all industries as time is changing and digital technologies constantly evolve. It allows viewers to enjoy the content whenever and wherever they want. Convenient and choice is what VOD is all about and we simply cannot deny that.