Content delivery networks (CDNs) are systems that enable high-quality content delivery with minimal latency while supporting multiple concurrent users. By caching files on servers around the globe, CDN providers can speed up nearly any website. It's no wonder that the best web hosting and website builder providers now use it as a critical component for delivering content from the nearest location to your visitors, regardless of where they come from. So it's justified if you're looking for the best CDN providers for your business to choose from.
There's no question that the prices of these technologies can be high, but don't let that discourage you. The outcome is worth every penny you spend on a reliable content delivery network platform. Companies of all sizes can benefit from a CDN. It might not cost you much if you choose the right plan, and you can set up the simplest services in less than five minutes.
Technology can be intimidating to people who are new to it, and prices can be high, but rest assured that corporations of all sizes can benefit from a CDN.
Features You Must Consider When Choosing CDN Provider
Every region you intend to reach must be served by the network. Data centres and servers can be established by the provider, or partnerships can be forged with public clouds or local carriers. Virtual machines can also be used.
The latency of content delivery is the time between the gap between data origination and its delivery at the consumption endpoint. In addition to locating its centres near users, a CDN can optimize its routing to minimize latency.
Security measures are essential when dealing with online content since it can be exposed to a variety of threats. You can also have firewalls, threat intelligence, and security analytics in this context if you support hypertext transfer protocol secure (HTTPS).
Public, private, hybrid, and multi-cloud environments should be supported by the CDN. It is also recommended that the CDN be hosted in the cloud so it can be managed more easily.
Performance metrics, audience behaviour, and bottlenecks can be revealed by CDN metrics. Real-time key performance metrics can be a real game changer.
The options for CDN platforms are unlimited, but we have narrowed down your options to the top 10 CDN providers so you can make an informed decision.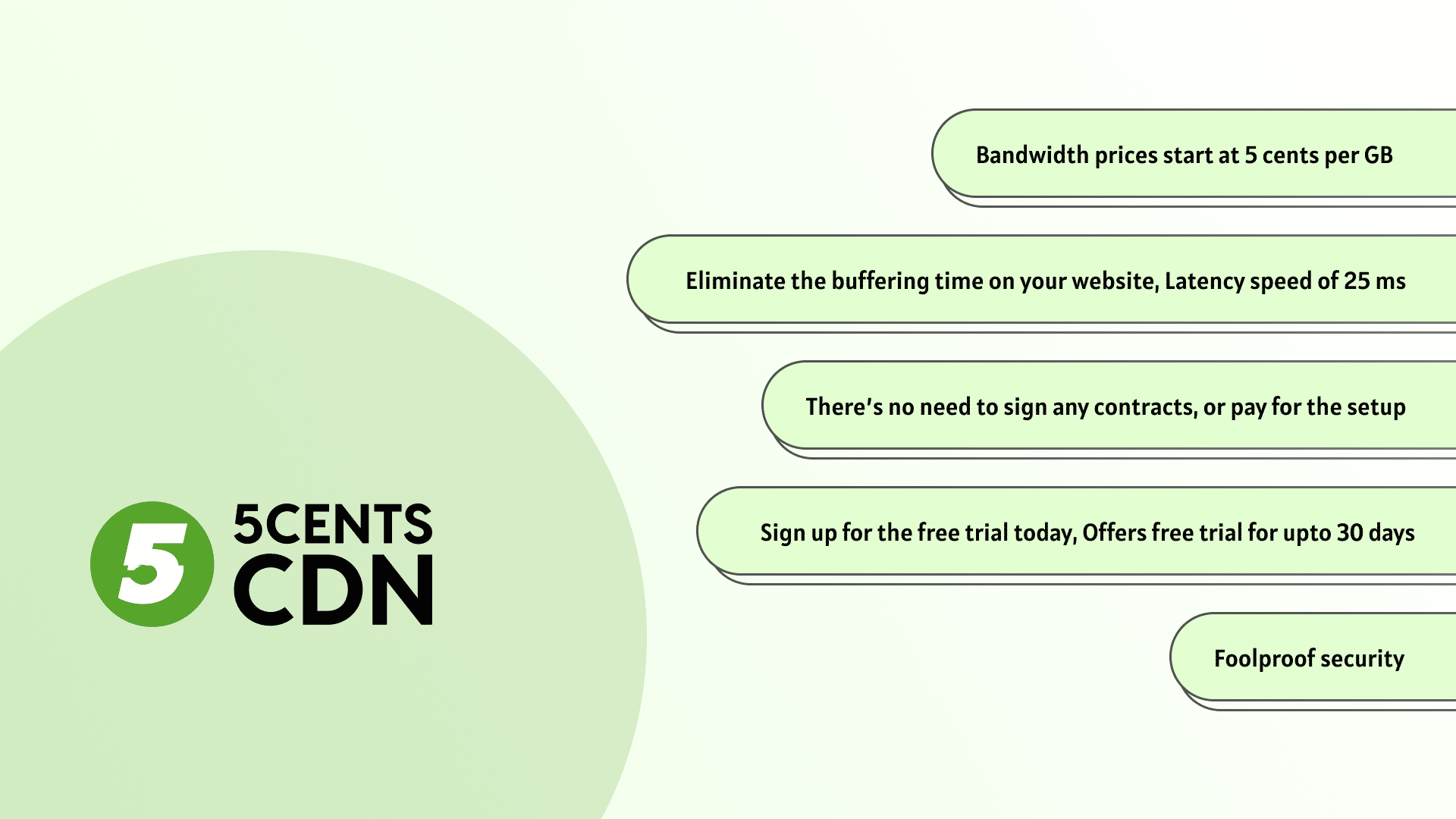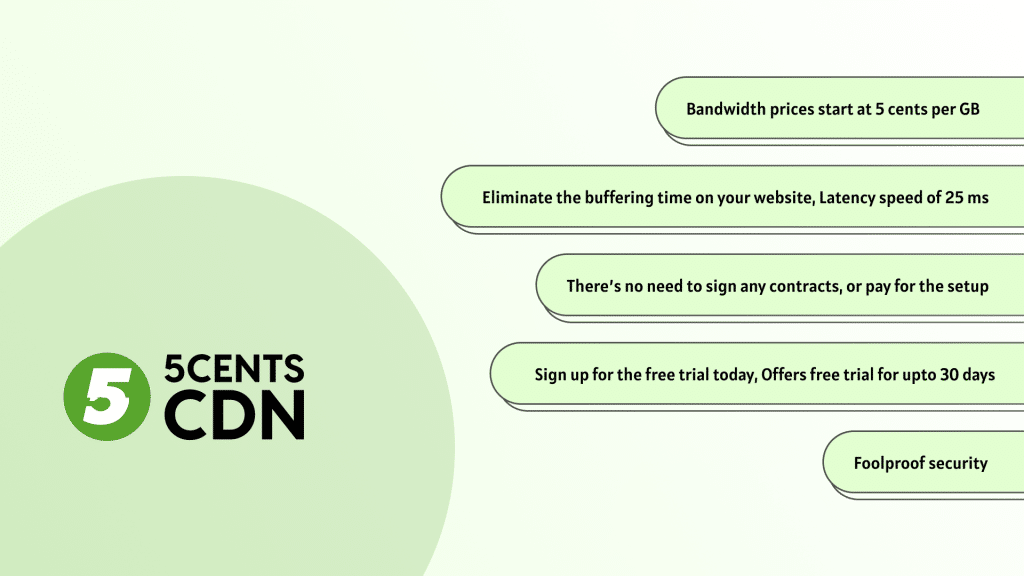 5centsCDN has proven itself in 2022 with 5 awards as the industry leader and has already been honoured with the Winter 2023 Award.
Through its advanced infrastructure, 5centsCDN offers remarkable content delivery across the globe at the most affordable price. Bandwidth prices start at 5 cents per GB. With the fastest streaming, you can eliminate the buffering time on your website and provide your audiences with a world-class experience. Moreover, what sets 5centsCDN apart from the rest is that to apt-in, the clients don't have to make any commitments, and there's no need to sign any contracts or pay for the setup. 5centsCDN has more than 1400 POPs all over the world, including places like Antarctica.
Sign up for the free trial today and explore all the robust features, exceptional customer service, and foolproof security.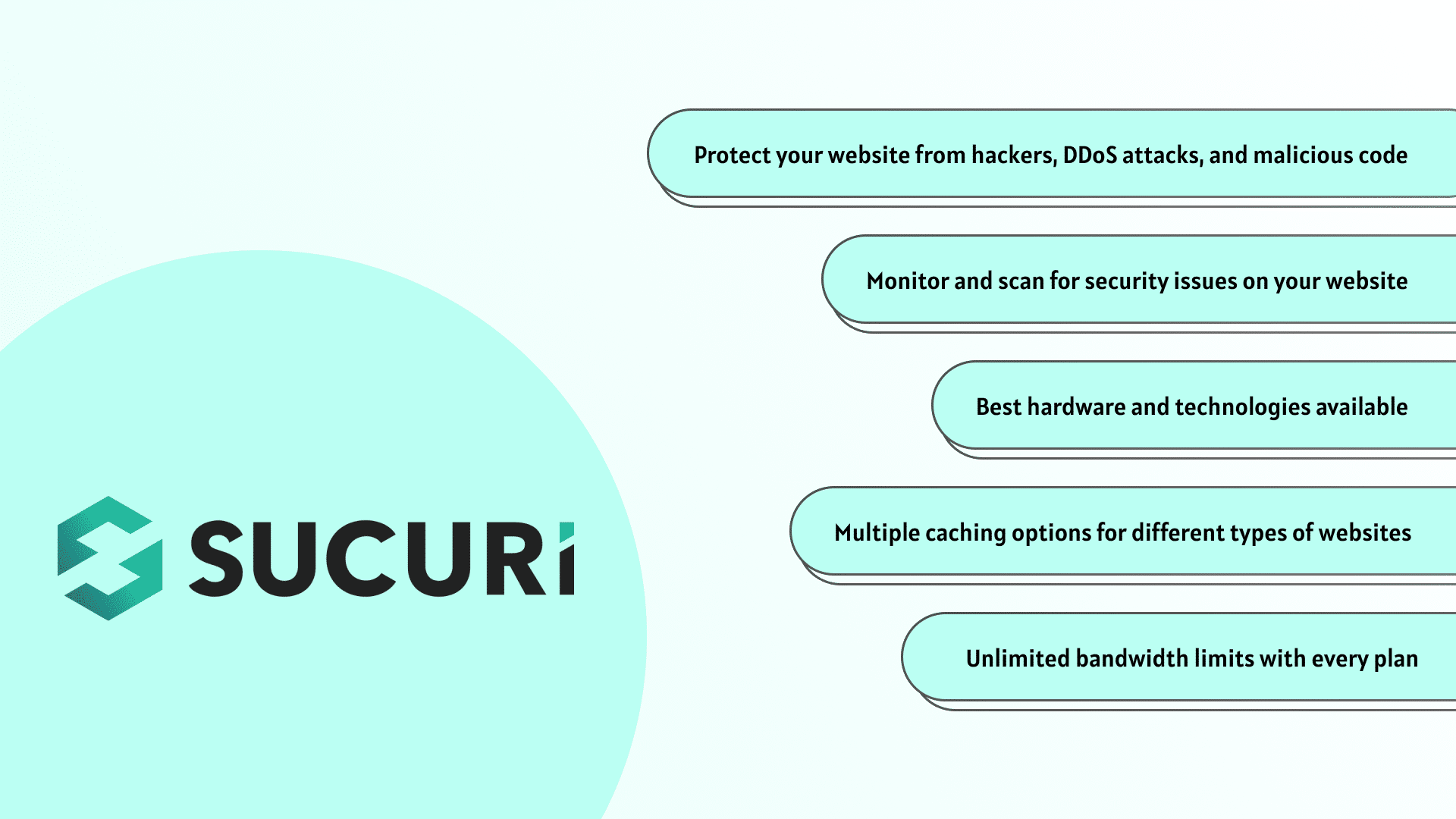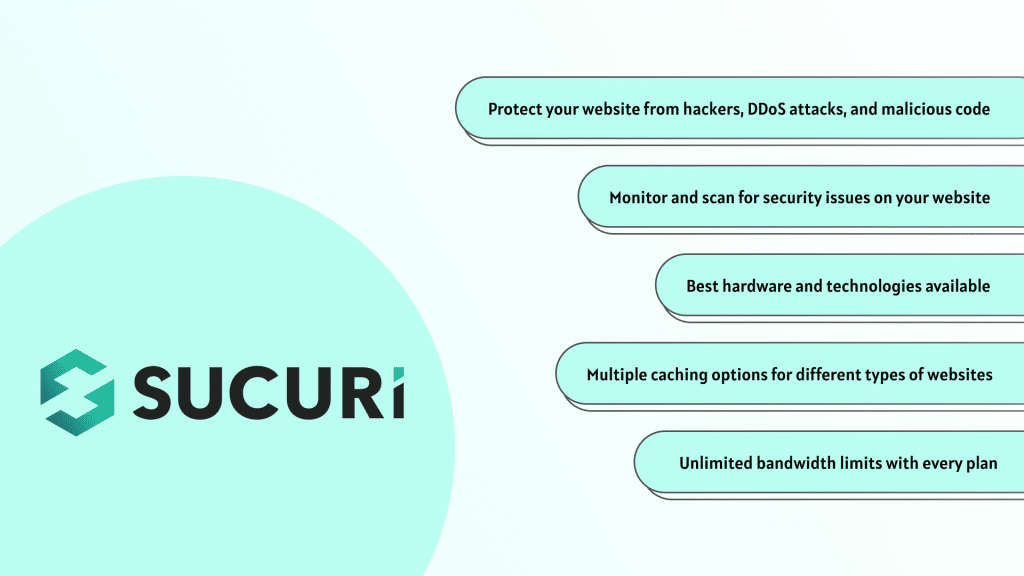 Apart from fast content delivery, with Sucuri, you can also protect your website from hackers, DDoS attacks, and malicious code. It is possible to monitor and scan for security issues on your website using their WordPress plugin. They know the importance of a fast web and how SEO and tons of other reasons make site speed optimization super important.
You are sure to experience enhanced performance on your site thanks to their use of the best hardware and technologies available. And they offer multiple caching options for different types of websites. They do offer unlimited bandwidth limits with every plan as well as reliable website uptime. However, it's a bit overpriced and doesn't have a free trial plan.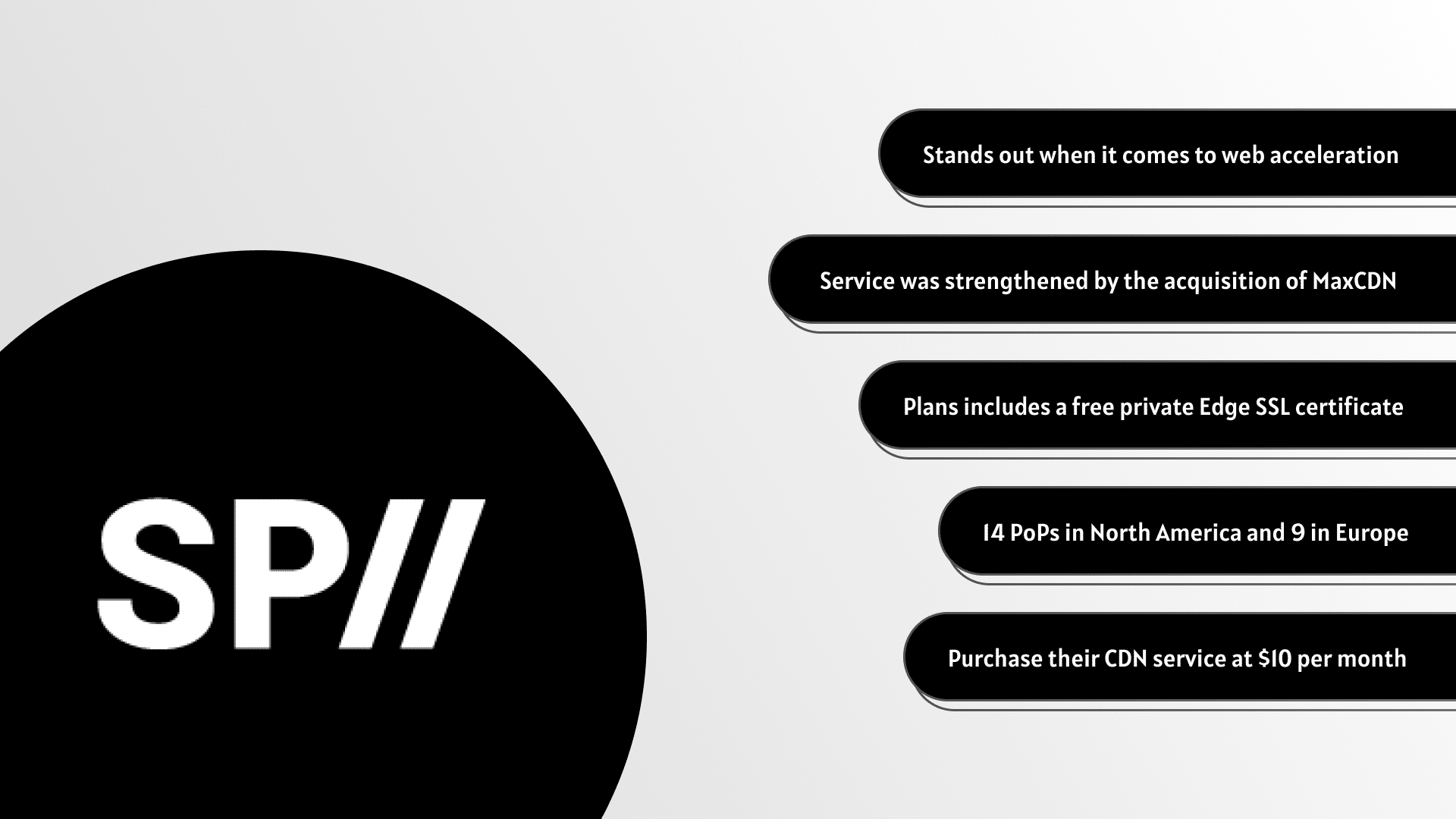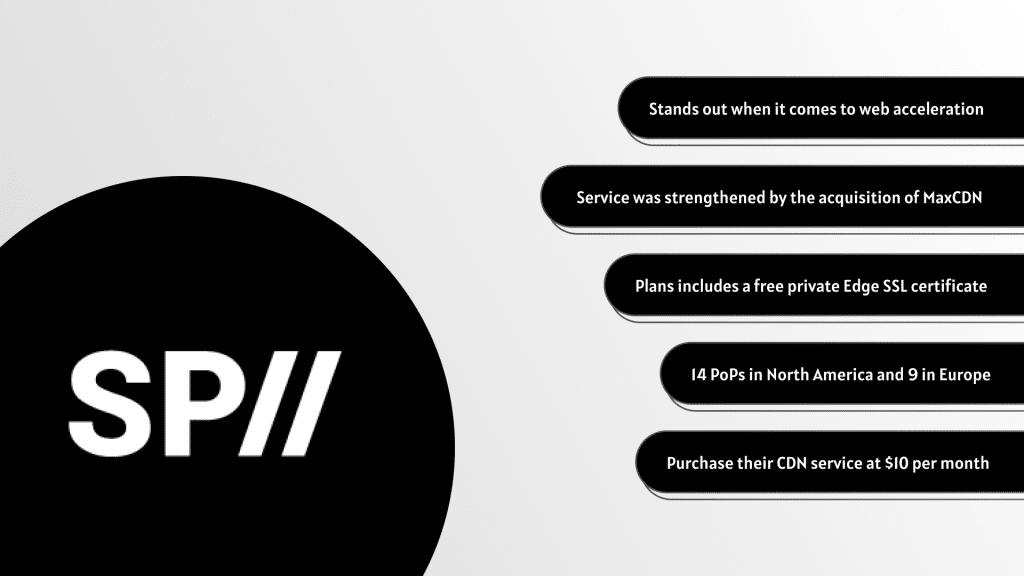 There are many CDN providers on the market, but StackPath stands out when it comes to web acceleration. Their service was strengthened by the acquisition of MaxCDN a few years ago.
It has multiple data centres around the world, so your website will load faster. Additionally, their plan includes a free private Edge SSL certificate.
StackPath provides DDoS protection and load balancing features, as well as a web application firewall, along with other services. It is a great pick for those in the west, as they have 14 PoPs in North America and 9 in Europe. However, you can only purchase their CDN service at $10 per month.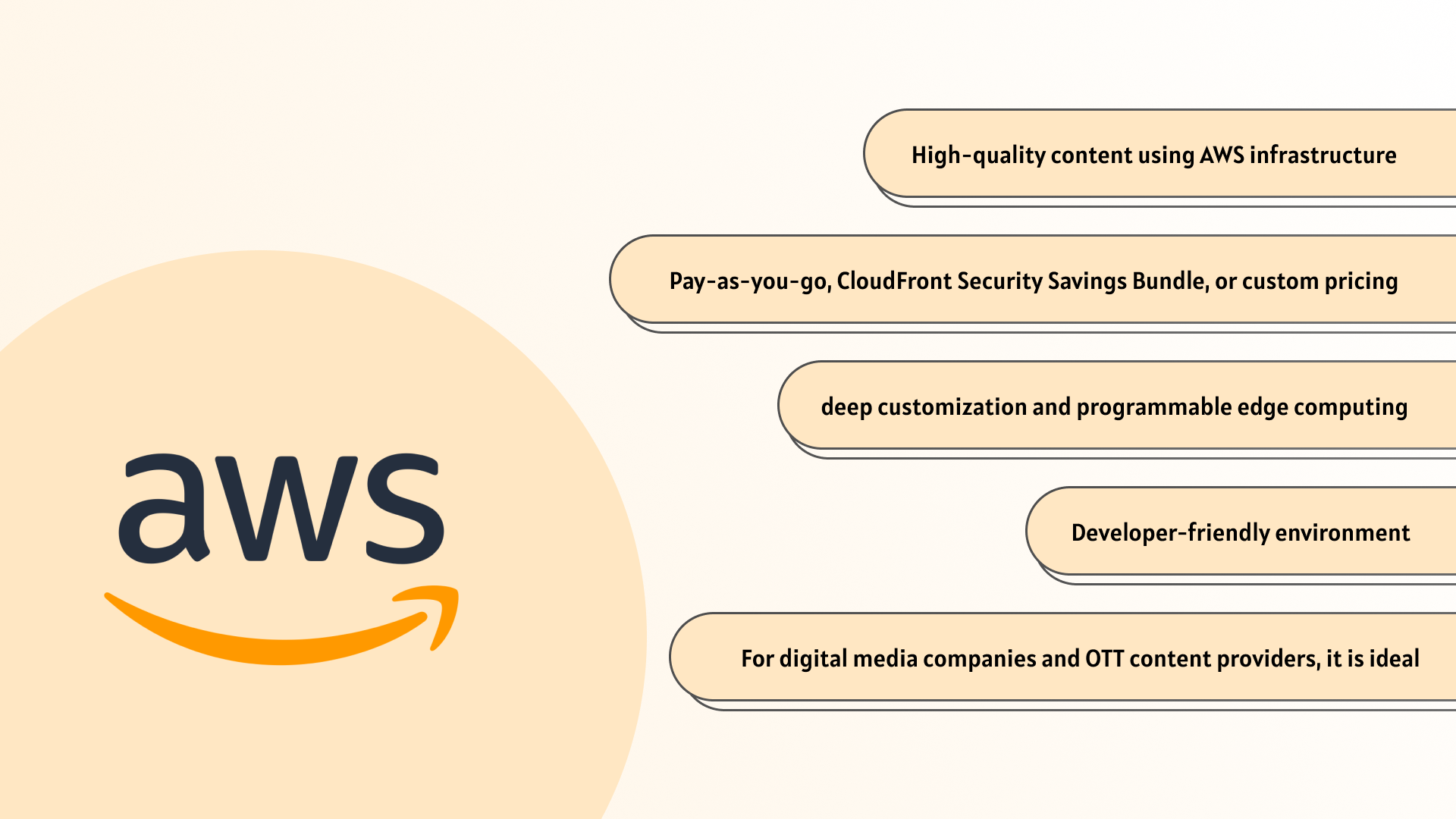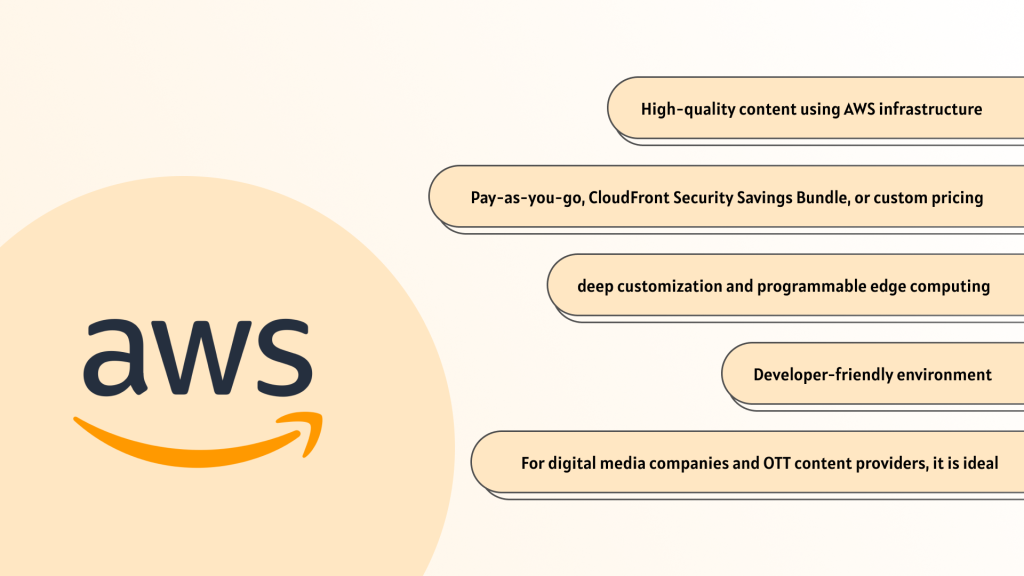 First launched in 2008, Cloudfront is a CDN powered by Amazon Web Services (AWS). The site delivers high-quality content using AWS infrastructure, including Amazon S3, Amazon EC2 and Elastic Load Balancing. Developers with deep customization and programmable edge computing will benefit from Amazon CloudFront's developer-friendly environment.
For digital media companies and OTT content providers, it is ideal. As far as the pricing is concerned, depending on your needs, you can choose from three options – pay-as-you-go, CloudFront Security Savings Bundle, or custom pricing.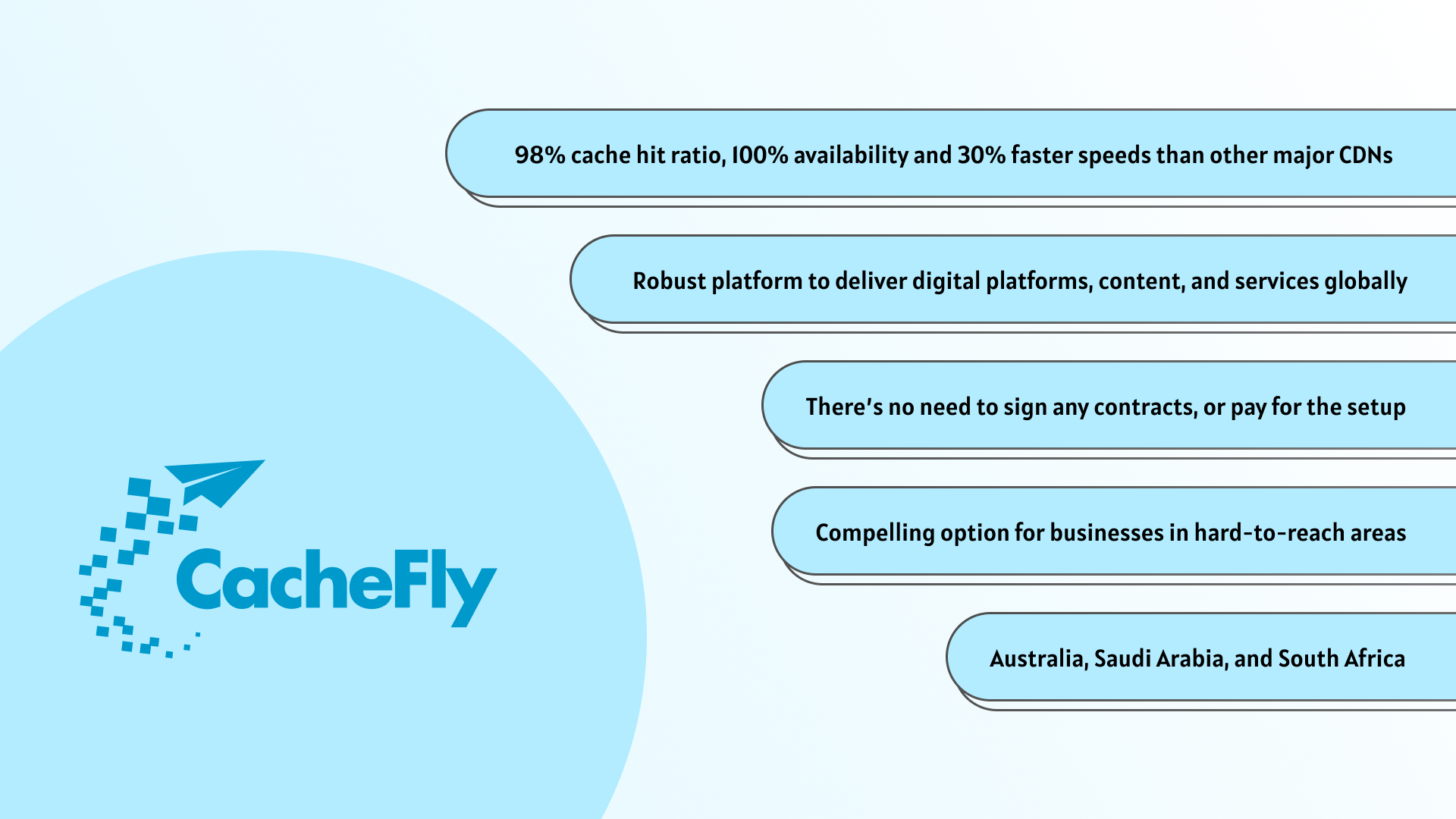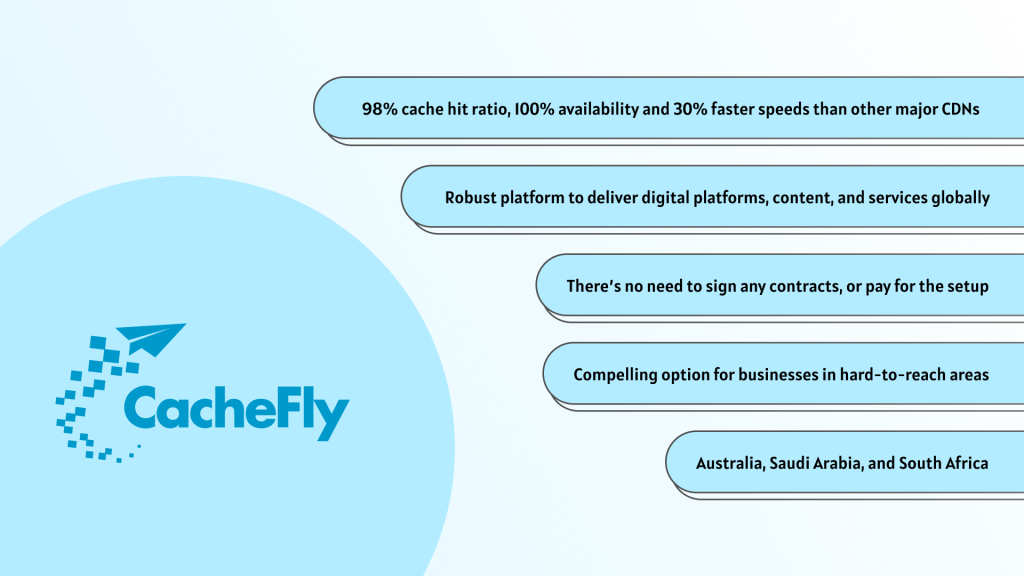 With its creation as the world's first TCP/anycast CDN in 2002, CacheFly emerged as a pure-play CDN provider. With a particular focus on mobile optimization, the company has designed a robust platform to deliver digital platforms, content, and services globally.
According to internal tests, CacheFly shows a 98% cache hit ratio, 100% availability and 30% faster speeds than other major CDNs. CacheFly has fewer POPs than other CDNs, but it is a compelling option for businesses in hard-to-reach areas, including parts of Australia, Saudi Arabia, and South Africa.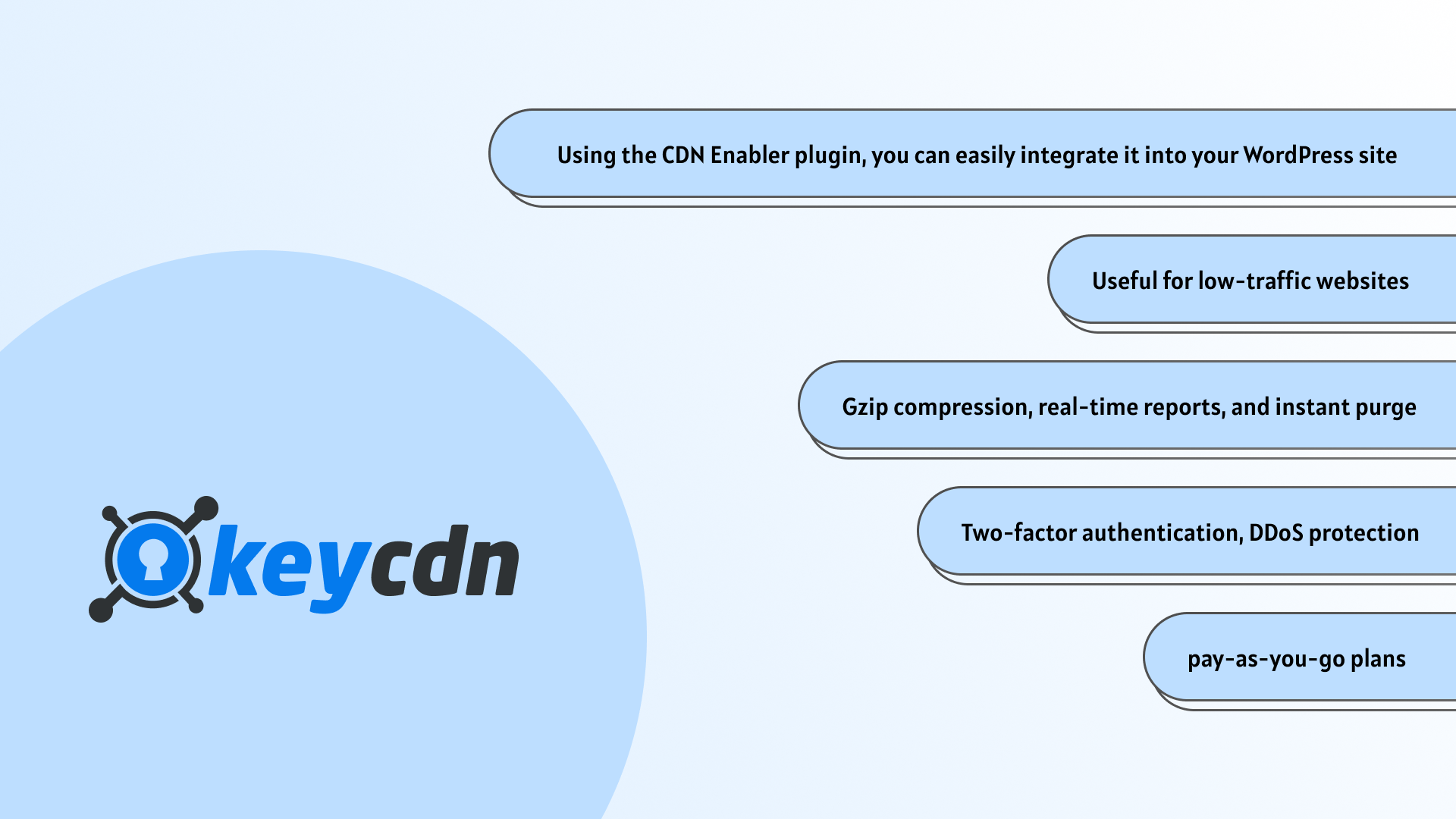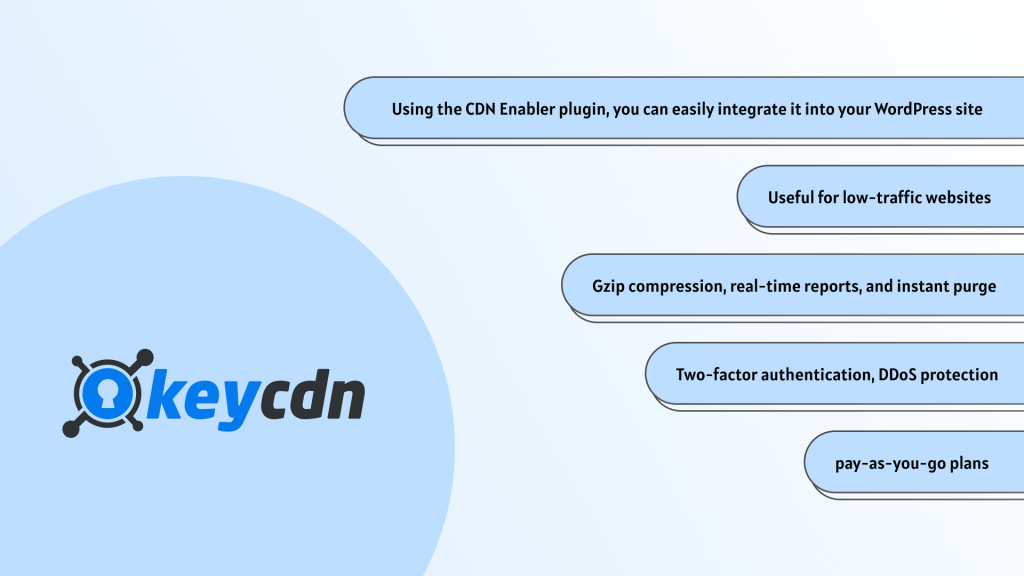 Among the list of the best CDN providers, KeyCDN is another popular choice. Using the CDN Enabler plugin, you can easily integrate it into your WordPress site. They offer pay-as-you-go plans for their customers, so they only pay for what they really use. Though this can be useful for low-traffic websites, the monthly bill may increase if you receive a lot of traffic to your site.
With KeyCDN, users can not only get Gzip compression, real-time reports, and instant purge options, but also benefit from two-factor authentication, DDoS protection, and much more. Apart from all the benefits, they do, however, have limited security features compared to others.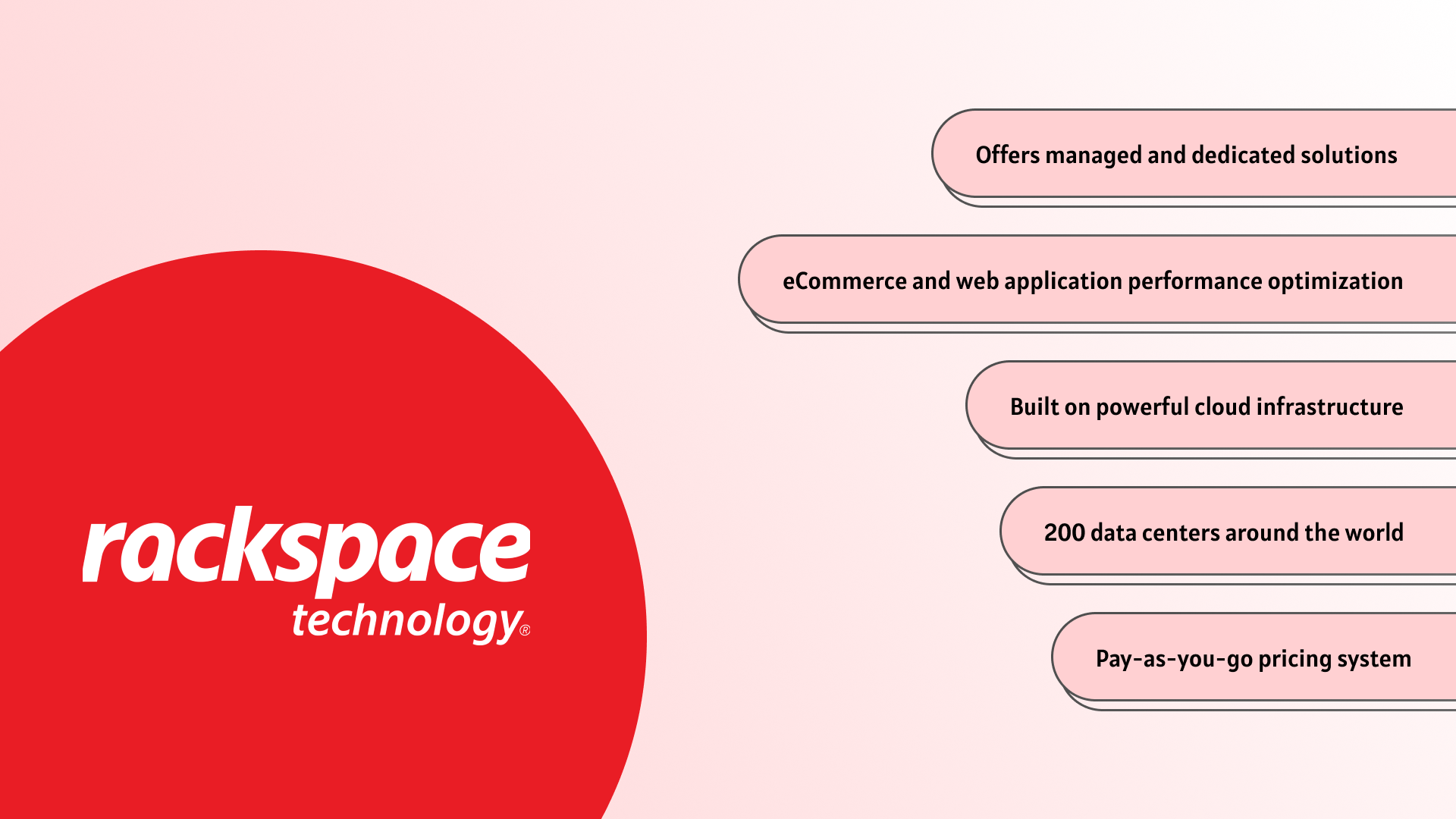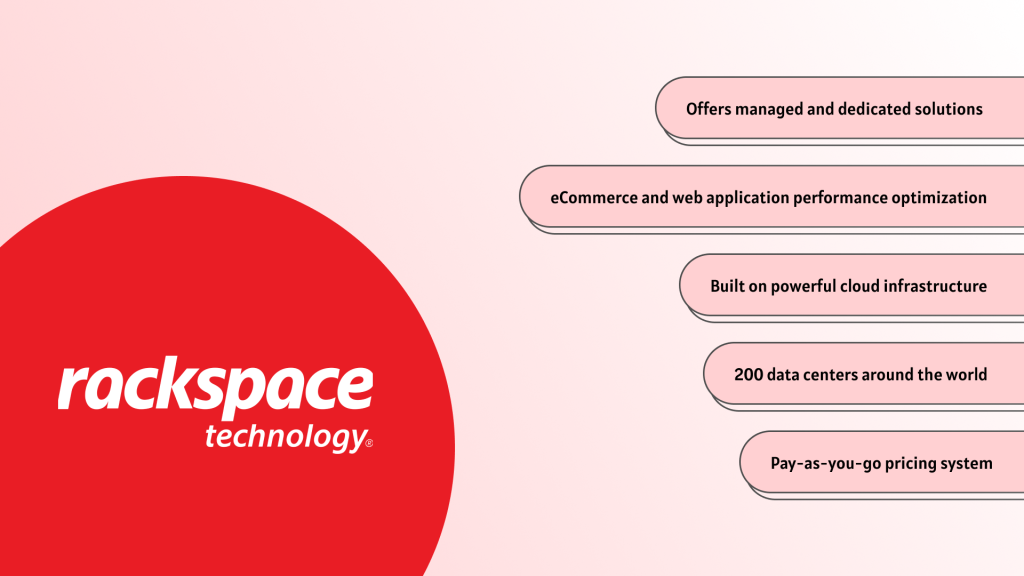 Cloud computing services provider Rackspace offers managed and dedicated solutions. In addition to CDN service, they offer eCommerce and web application performance optimization as well. With their pay-as-you-go pricing system just like KeyCDN, you can enjoy exceptional service.
You can expect your WordPress site to load quickly on Rackspace because it's built on powerful cloud infrastructure. There are also more than 200 data centers around the world where it is present but configuring their service is a bit complicated.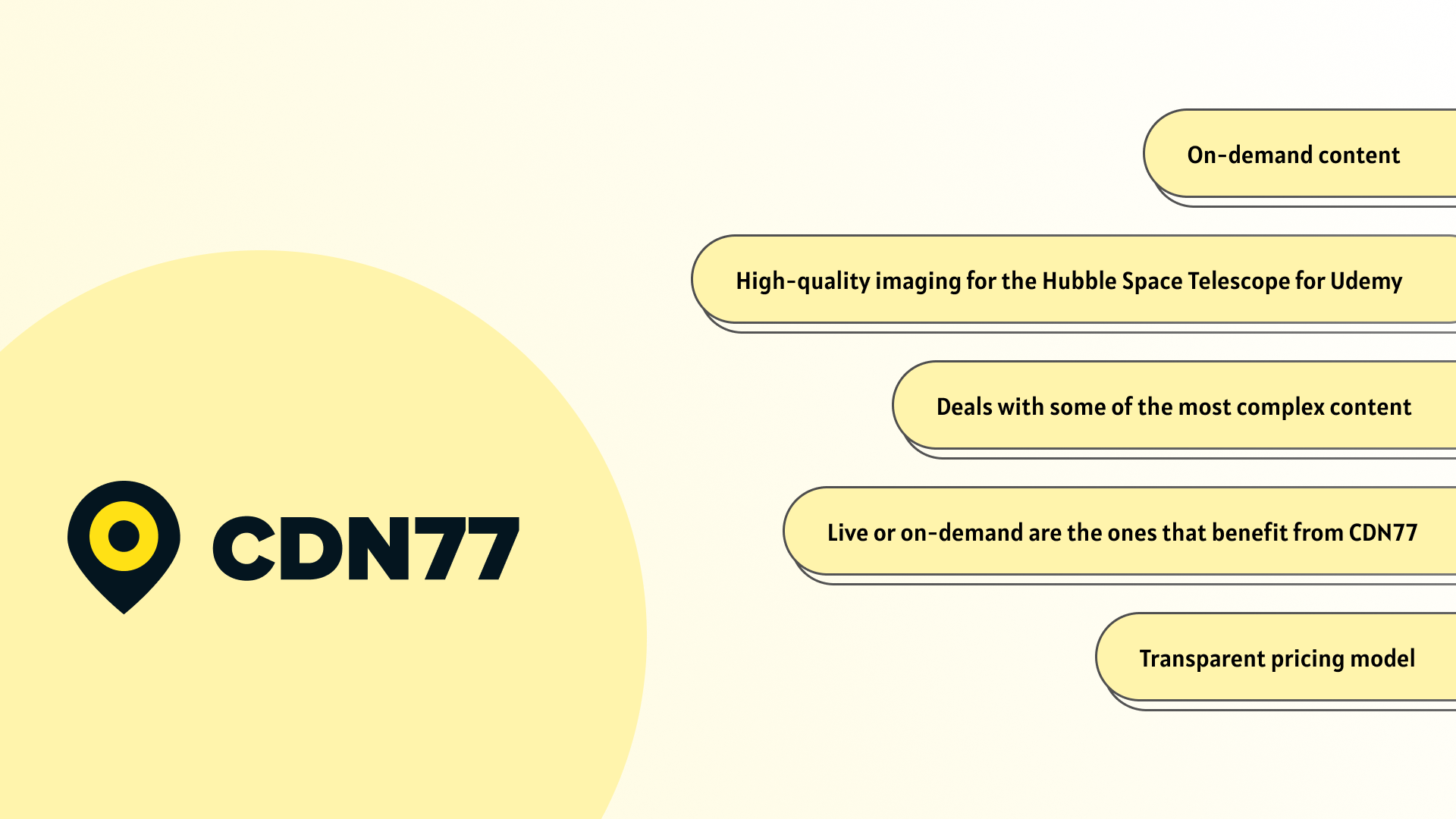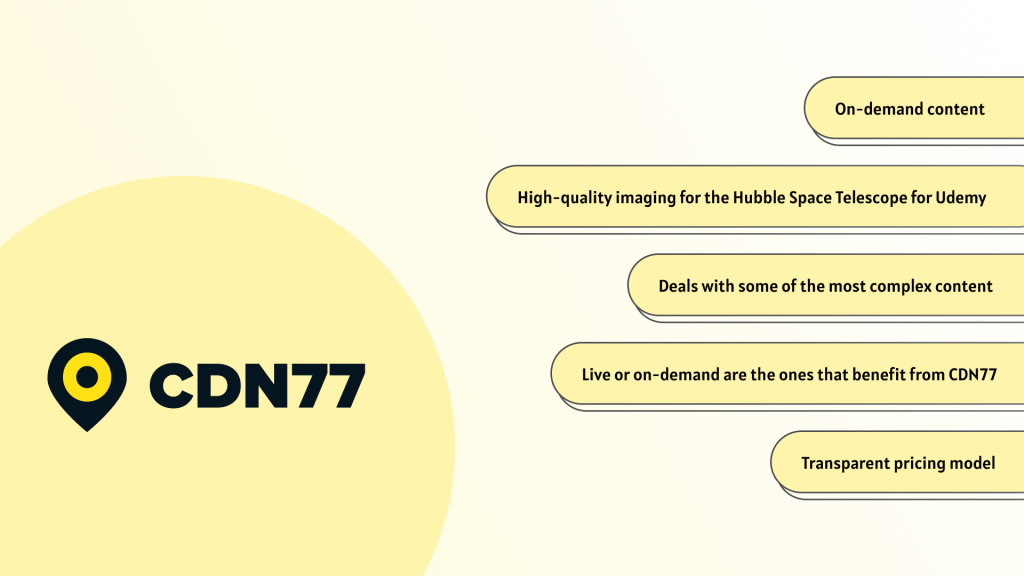 In addition to live video streaming, CDN77 also provides on-demand content. From high-quality imaging for the Hubble Space Telescope to ad-hoc education content for Udemy, this company deals with some of the most complex content requirements of today.
Platforms that stream live or on-demand are the ones that benefit from CDN77 the most. Aside from its other features, CDN77 offers a transparent pricing model that makes it an attractive choice for companies of all sizes.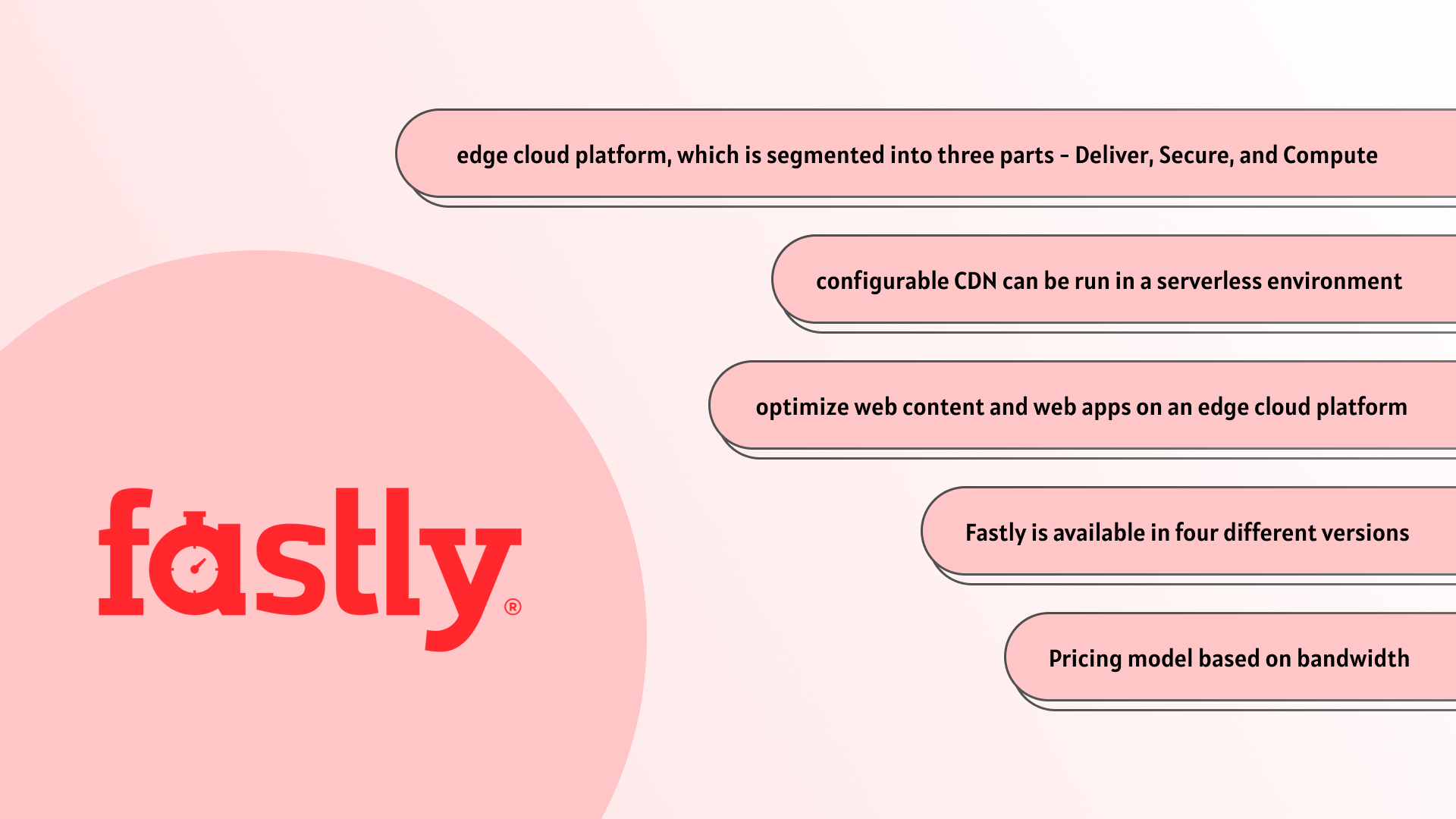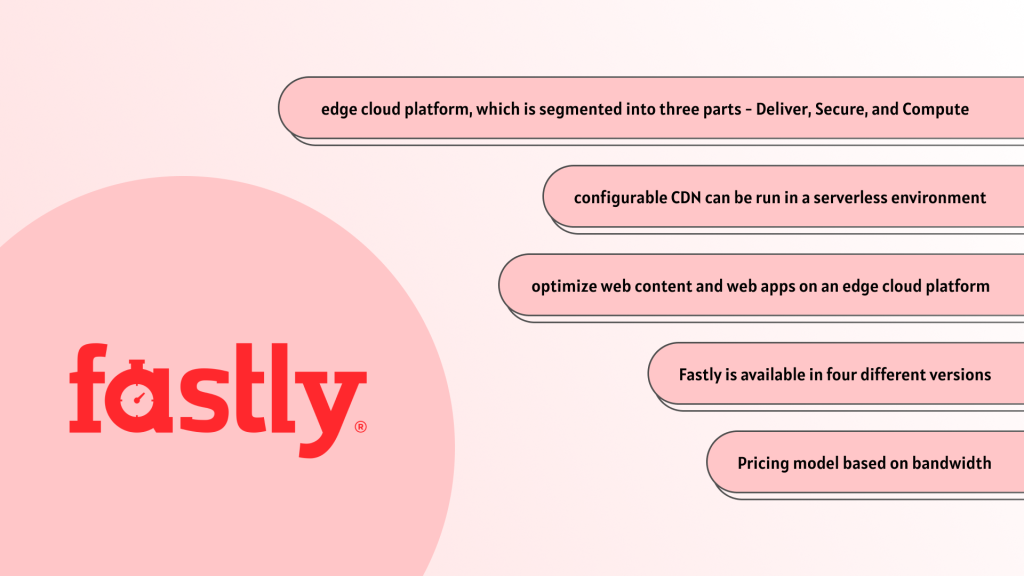 With Fastly, you can optimize web content and web apps on an edge cloud platform. A configurable CDN can be run in a serverless environment with the edge cloud platform, which is segmented into three parts – Deliver, Secure, and Compute.
Online publications and digital mixed-media companies should consider it. Currently, Fastly is available in four different versions, each with a different pricing model based on bandwidth.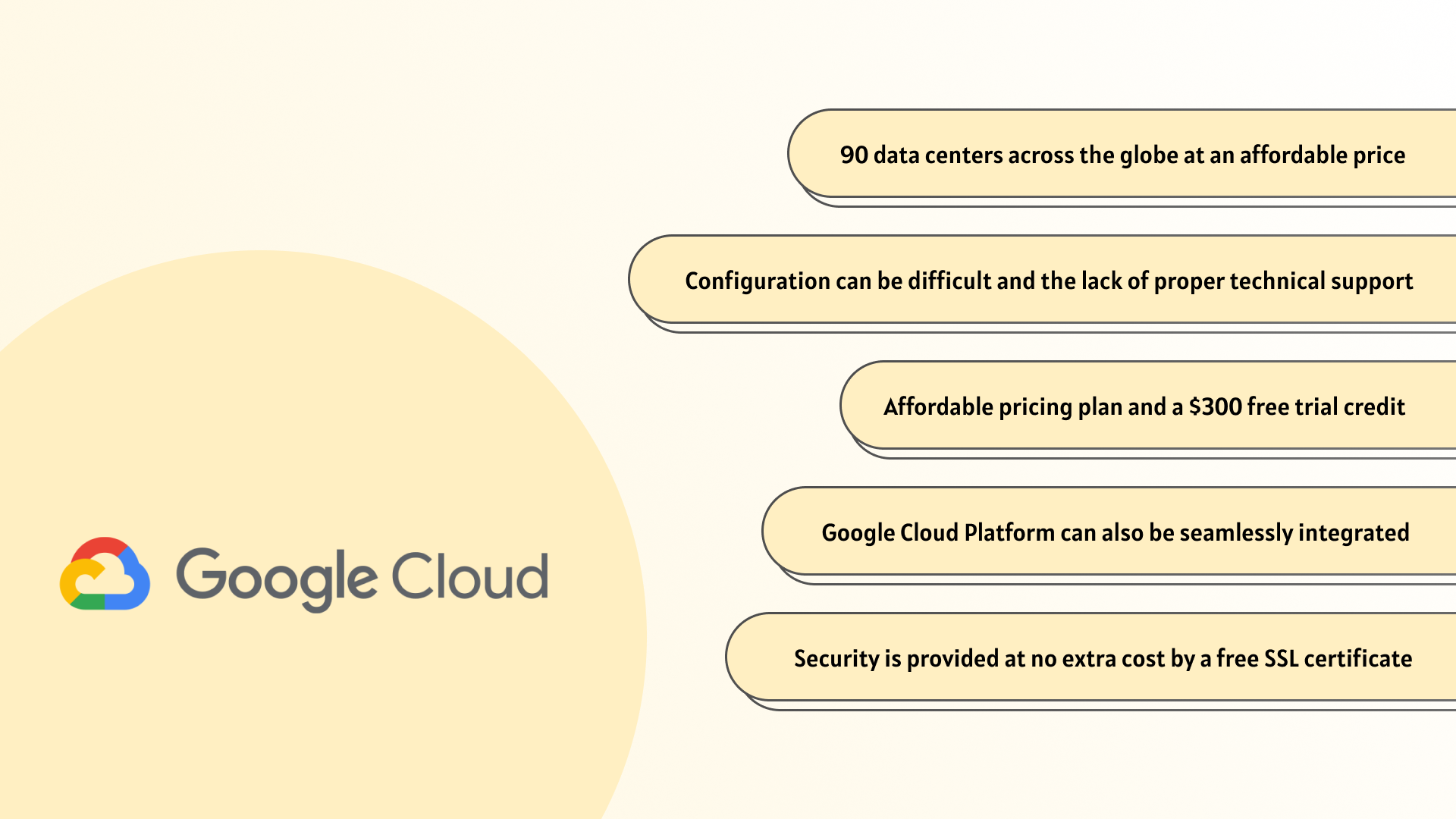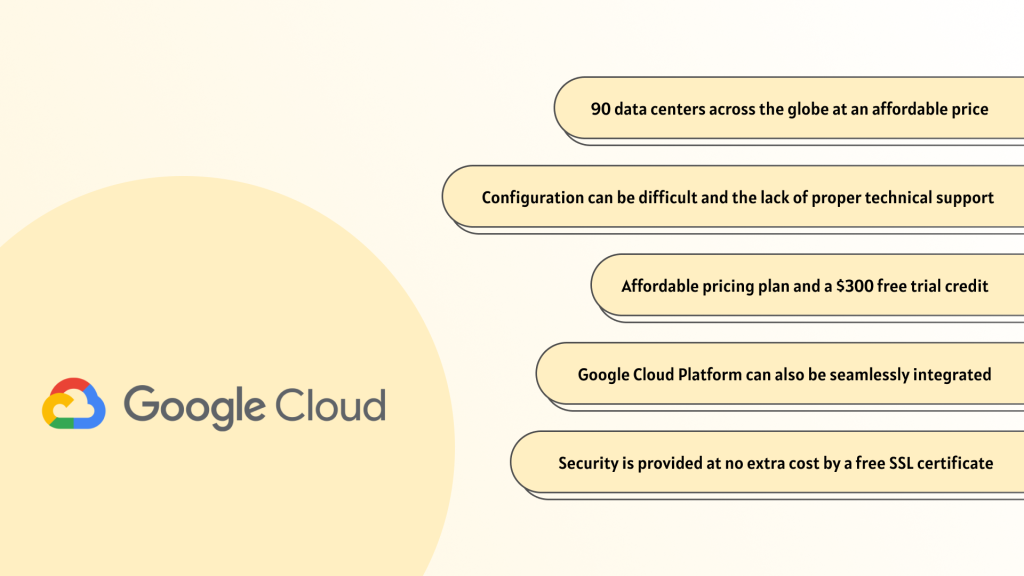 Google Cloud CDN provides content delivery using Google's global network of 90 data centres across the globe at an affordable price. Security is provided at no extra cost by a free SSL certificate. The Google Cloud Platform can also be seamlessly integrated with it.
With an affordable pricing plan and a $300 free trial credit, you can explore all the features to determine whether it's the best pick for your needs or not. However, please note that its configuration can be difficult, and the lack of proper technical support can be a big issue.
Overall, to get the best value for your money, you should entirely base your decision on your requirements. However, 5centsCDN has all the advanced features that you can benefit from. So your search for the best CDN provider can finally conclude here. Their 24/7 technical support can help you run smooth and seamless content, and the affordable pricing is the cherry on top.