In today's digital world, video players are essential for the best content delivery and viewing experience. Streamers can easily reach a wider audience with these players because they are highly compatible and versatile. We have compiled a list of the top 10 video players in 2023 to offer an insight into the amazing features they offer.
Videos can only be seen through a video player, but watching them is a great way to pass the time and learn new things. If you have the top video player apps, watching movies and videos on your phone rather than a computer or TV will be enjoyable.
Choosing the best video player for your modality can be challenging because of the wide range of video player services available for different devices.
1- 5centsCDN
With this service, you are in for an extraordinary viewing experience where videos come to life. The robust video player lets you enjoy an HTML5 framework that includes in-depth analytics about your video across multiple platforms. You can also enjoy powerful video delivery and high-quality streaming paired with a lightweight, cross-platform that loads faster. Apart from that, you can put your video data statistics to best use which helps improve engagement & retention.
Features
Powerful video delivery
HTML5 player
Insightful Analytics
Video Manager
Free Trial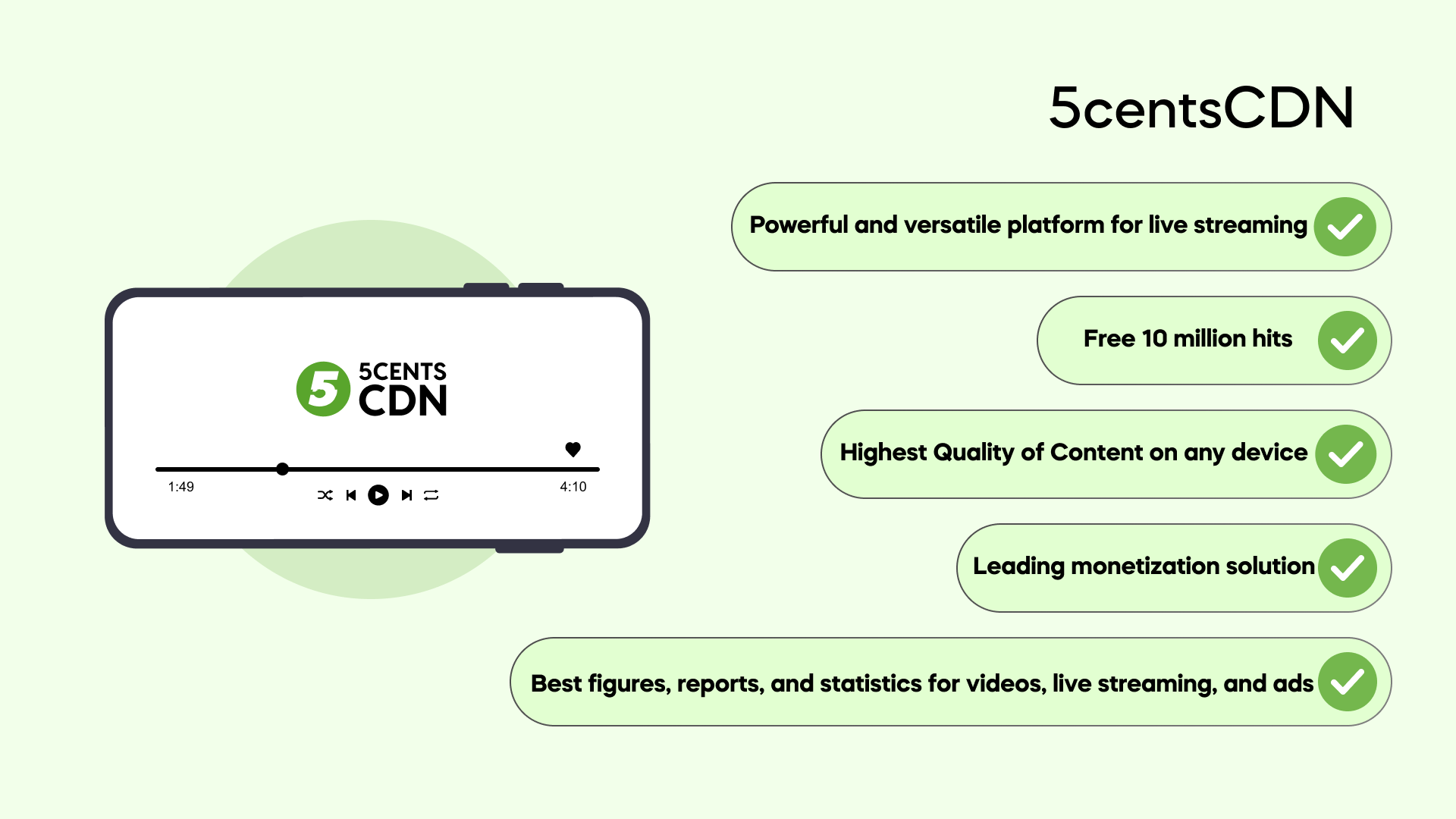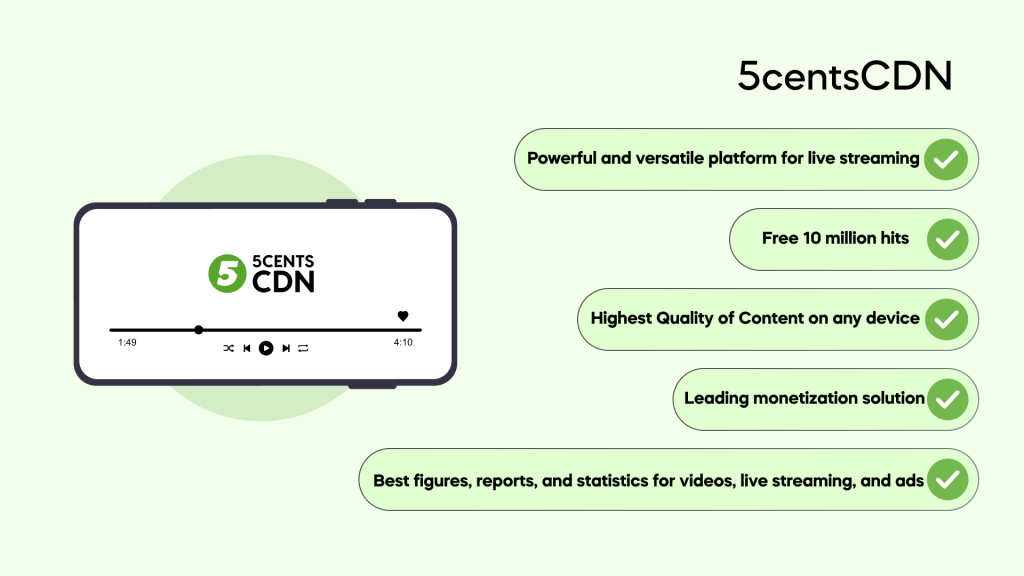 2. MX Player
MX Player is one of the top 10 video players apart from being reliable. It has 500 million users worldwide. This software was among the first to provide hardware decoding, hardware-accelerated playback, and other capabilities. It has robust functionality and supports almost all formats. This program also consists of a kid lock to restrict your children from watching Disney movies and a variety of swipe gestures for zooming in and out, while it also supports nearly every codec available.
Features
Multi-core decoding for better performance.
Online subtitles download
Plug-ins offer fantastic functionality.
Easy control gestures and navigators.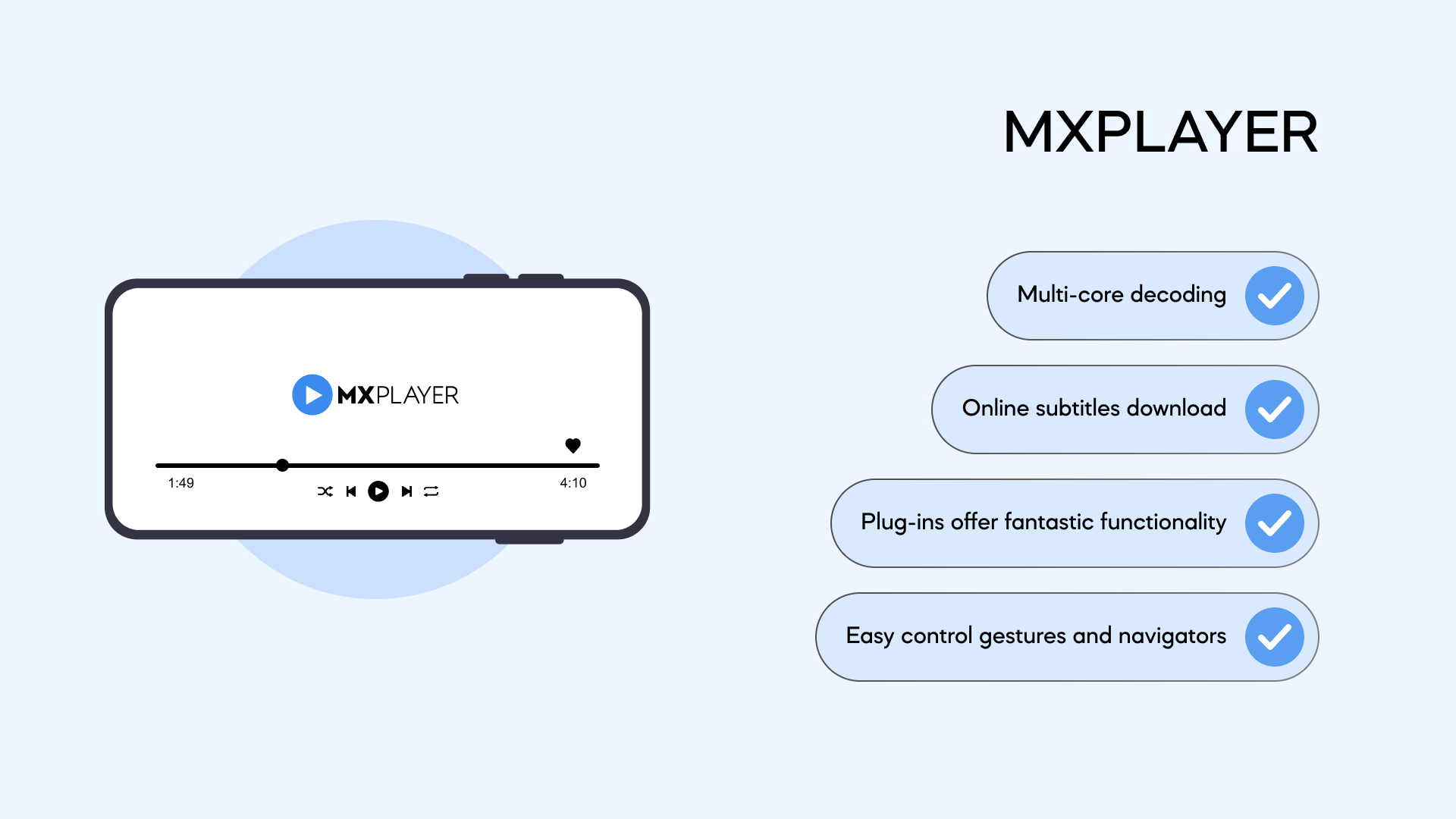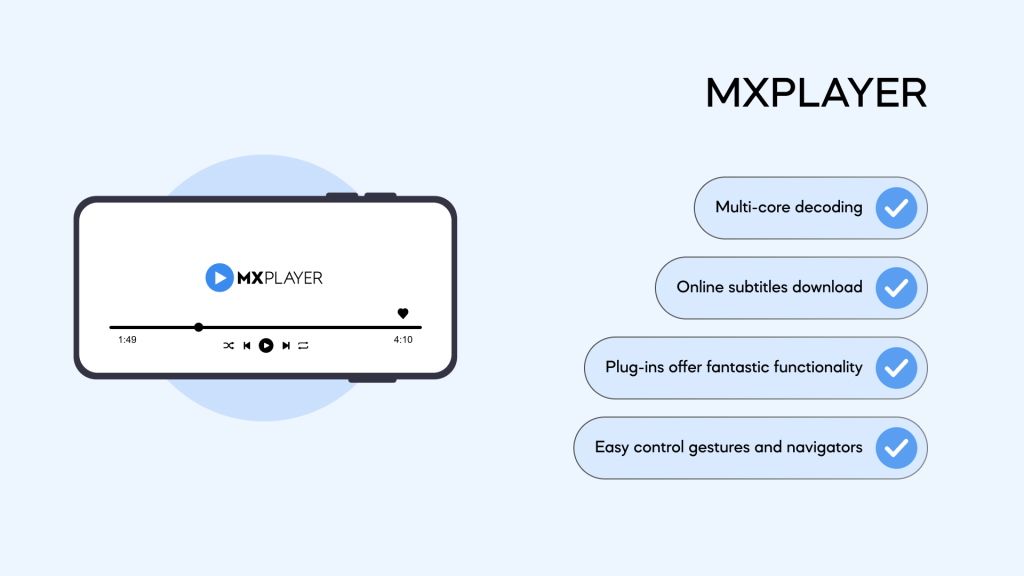 3. VLC Player
VLC player is a free, open-source video player that supports practically all multimedia files, CDs, devices, and network streaming protocols, including MKV, MP4, AVI, MOV, Ogg, and many others. This program is the best video player app for Android/ iPhone 2023 that includes all codecs without needing any other plugins. With easy navigation tools, the software also offers a media library for audio and video files for easy access.
Features
There are no plugins required.
Supports disc sharing and practically all media files.
It allows you to convert video and audio files to any format easily.
Support for subtitles, full media support, multi-track audio, and other features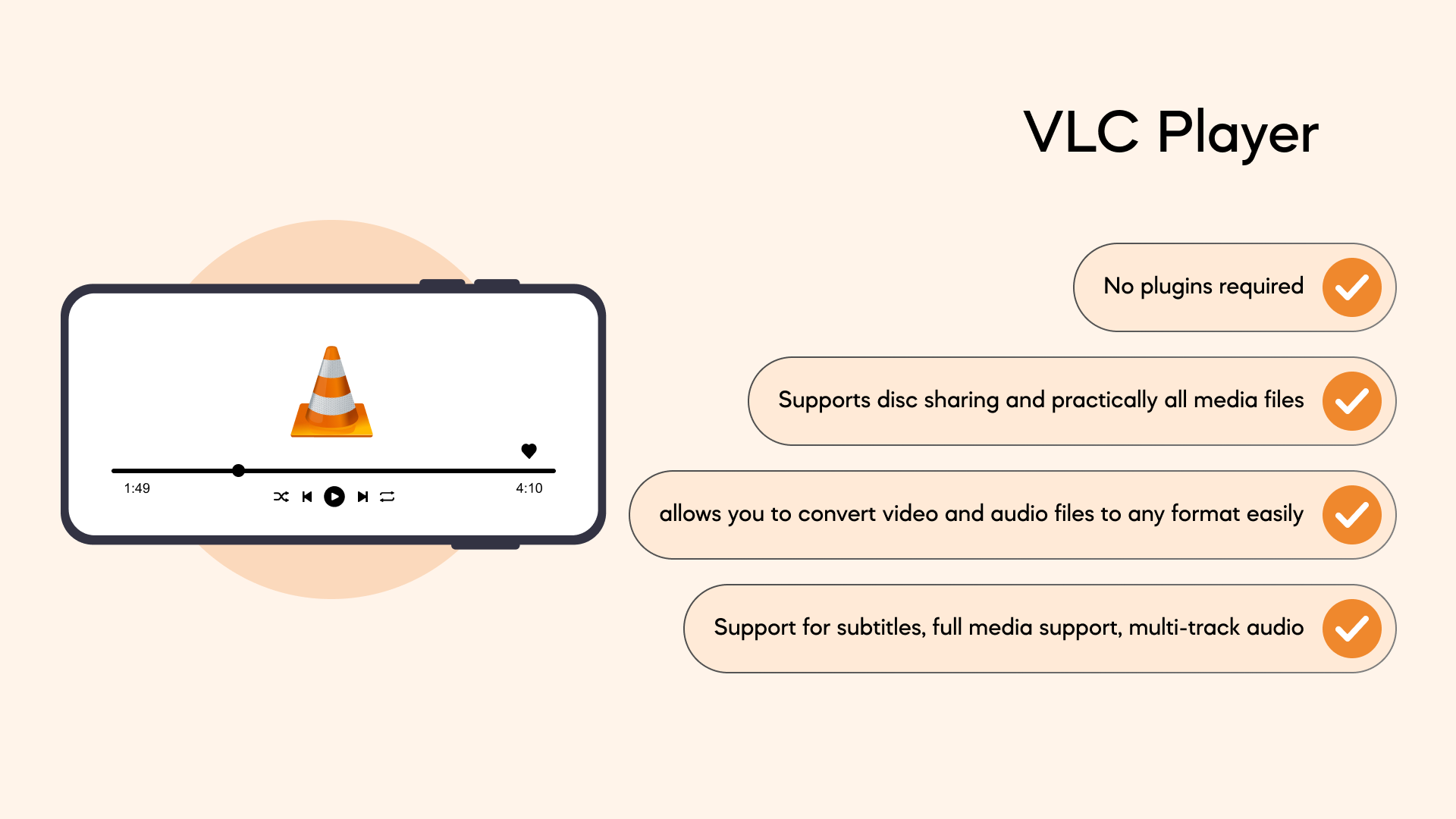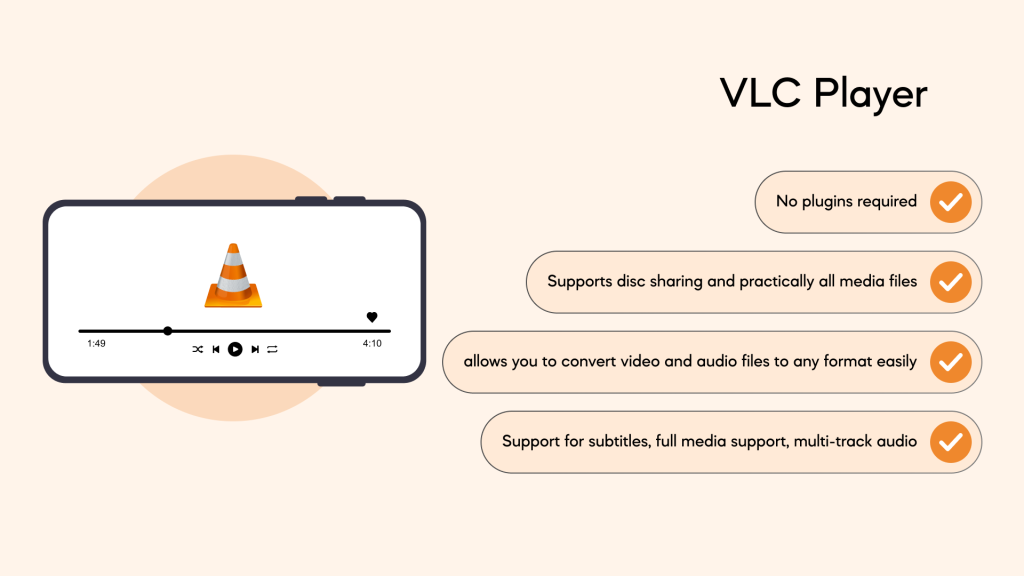 4. KM Player
KM Player is one of the top video players because of its unique features and well-designed UI. Its most recent update introduced a variety of functions for improved usability, such as a fast button, playlist setup, and many more. Since it supports various video formats and can play UHD, 4K, HD, and 8K films, videos from web services and cloud storage may also be played. The video player service, which can be found in more than 225 countries, also offers the mirror effect feature.
Features
Mirror mode and flip upside down option.
For music and video, use an equalizer
Easy to play cloud storage video
Slow-motion playback is available.
Subtitles can be controlled and customized.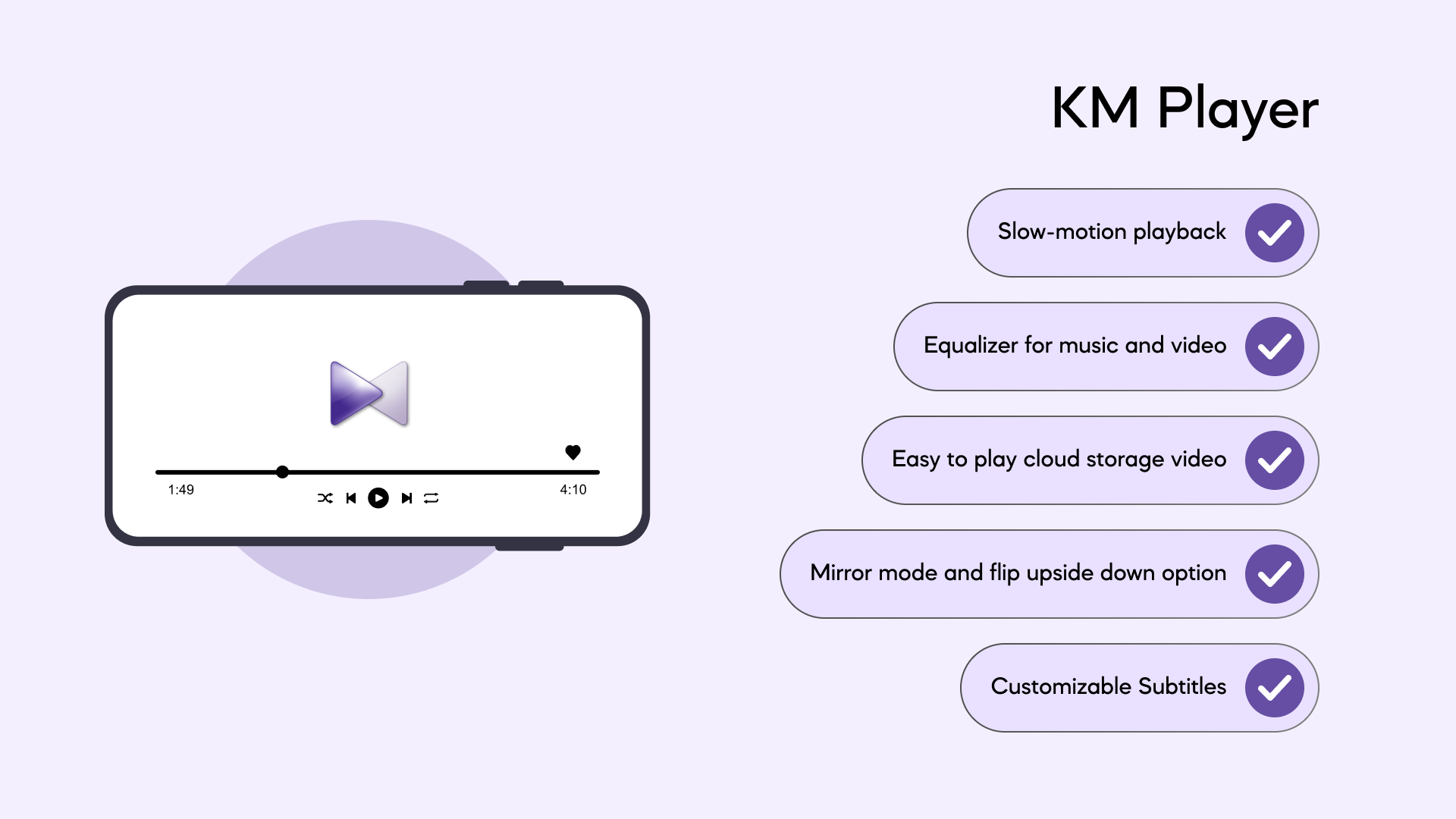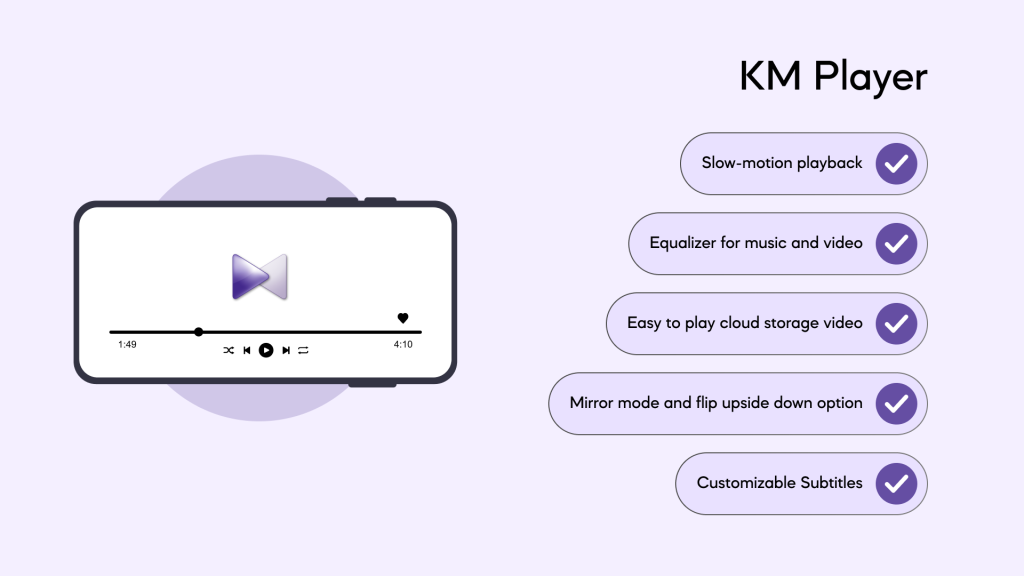 5. X Player
X player is another popular internet video player service for smartphones and tablets. X Player can play various media formats and store all streamed content in a private folder while offering video modifications and subtitle downloads. The video player allows you to manage the brightness, video volume, and playback simply.
Features
Ultra HD video player with 4K capability.
You can play videos in the background or pop-up window.
Download and customize the subtitles
Provide a private folder for video storage.
Provide other features such as quick Mute and playback speed.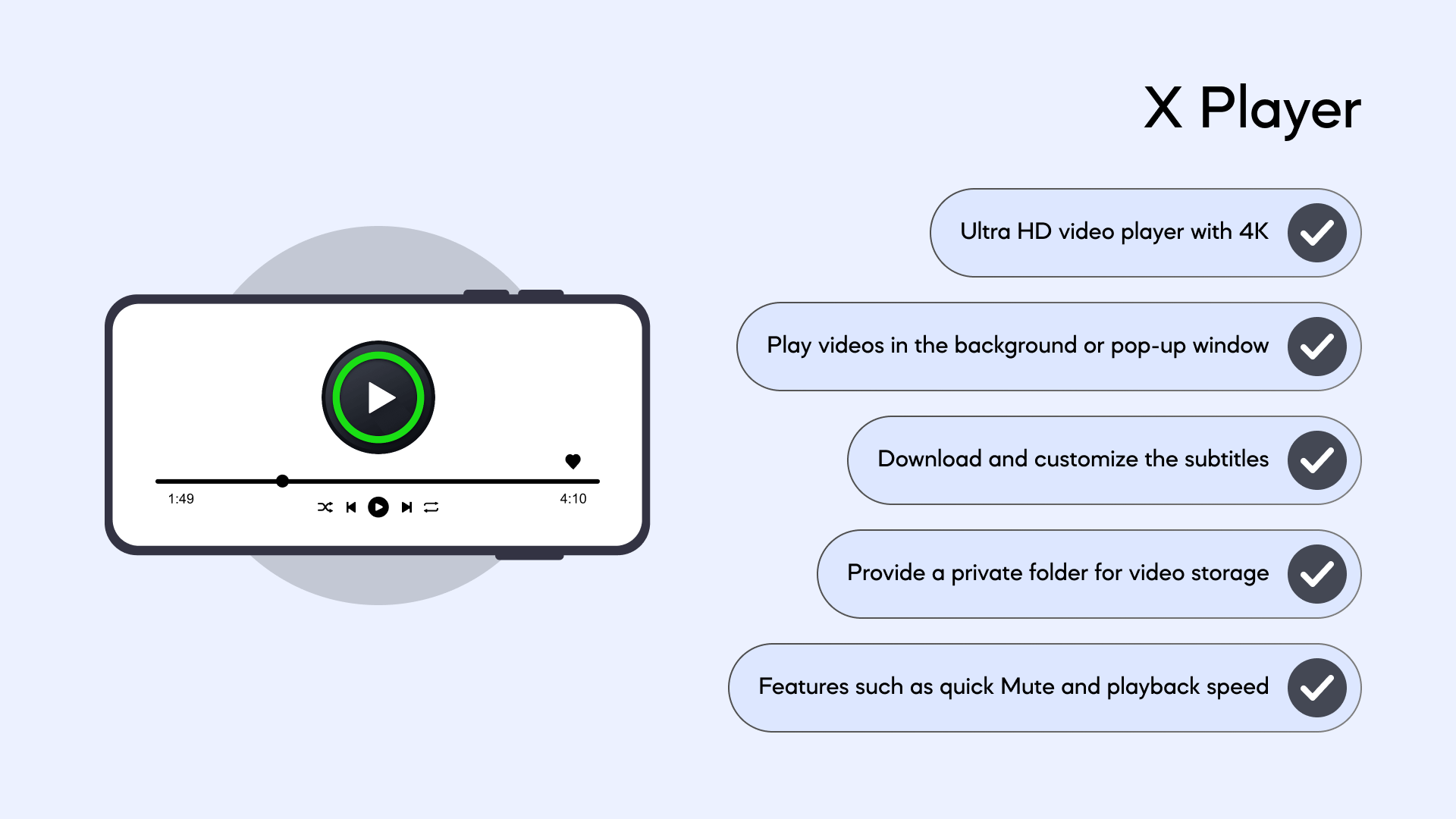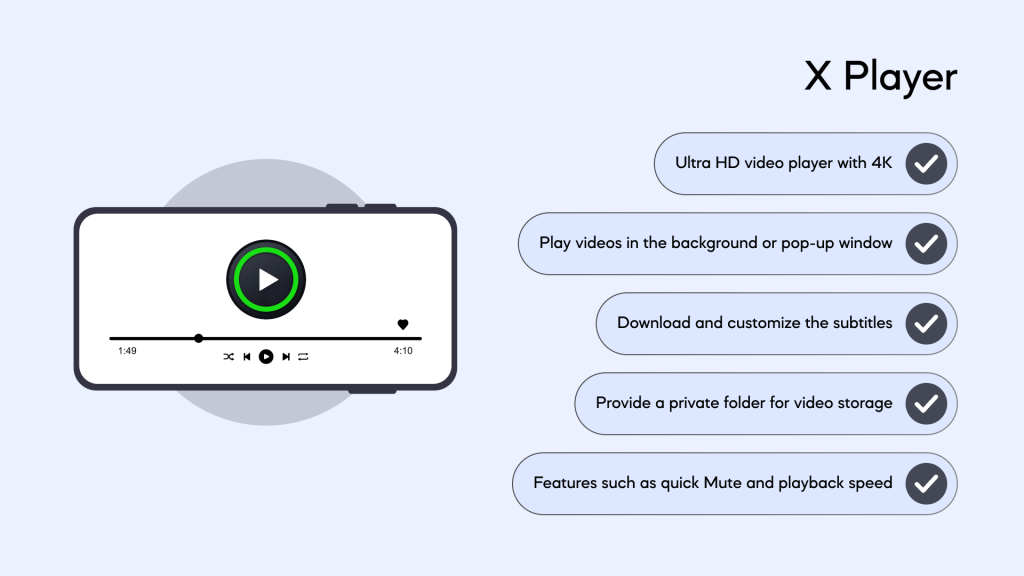 6. PlayerXtreme
PlayerXtreme Media Player is also the finest video player app in 2023, and its UI also makes it simple to browse material, which can be saved to your device for playback. There are more than 30 video formats that PlayerXtreme can play. It has excellent structure skills with folders and straightforward navigation, making it simple to access movies. In addition, this program may download subtitles in real-time, and in case you desire more features, you can also upgrade to the premium version.
Features
Airplay and Google Chromecast casting should be available.
Support gesture-based volume control.
Subtitles should load in real-time.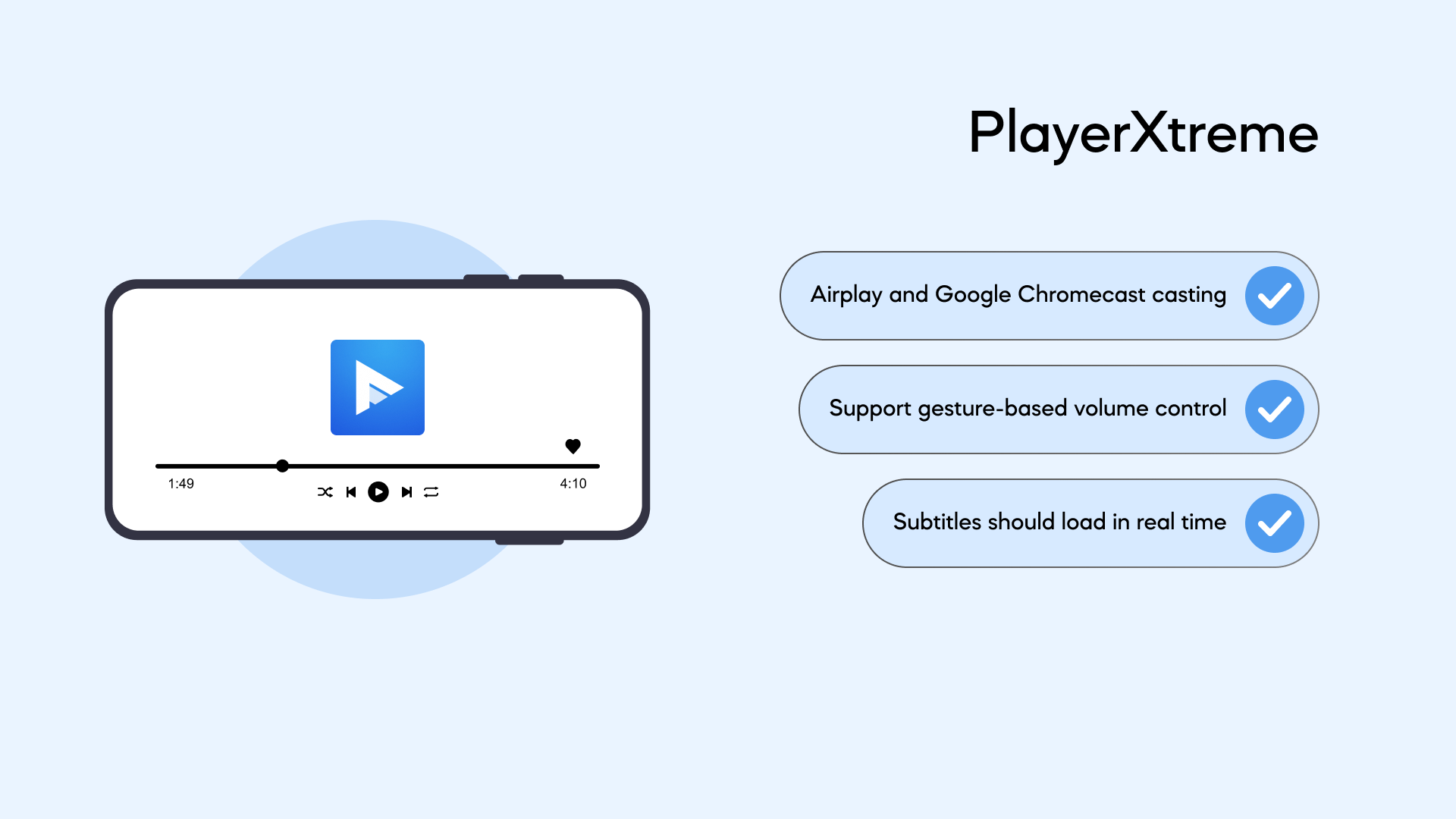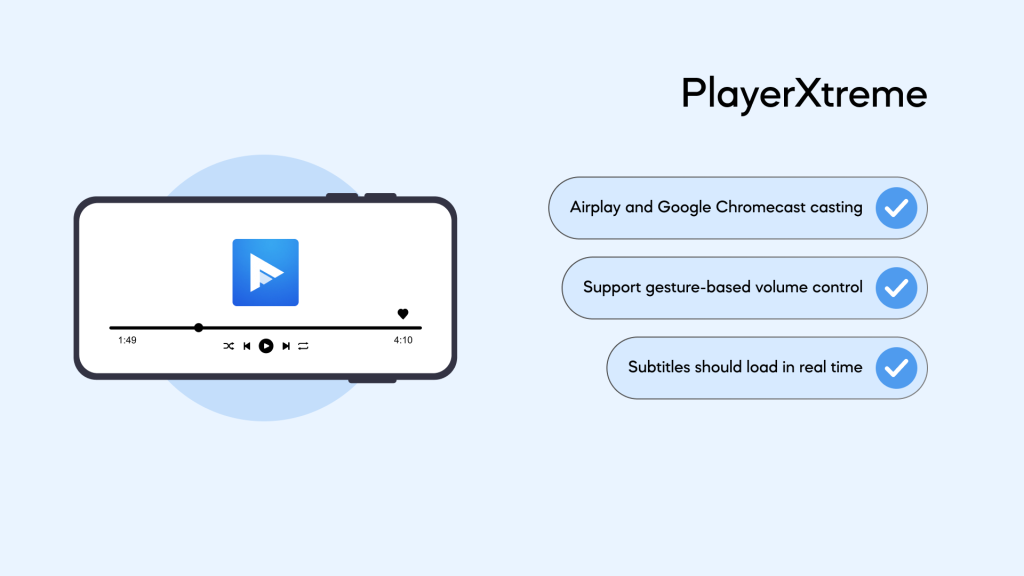 7. JW Player
JW Player offers live streaming and professional video-on-demand services for businesses and startups. They use a data-driven strategy and offer suggestions and analytics data to enhance viewing experience and scalability. The company now provides a fully-featured streaming solution for hosting live and on-demand content. They have several monetization ways for their clients to use, and their simple and effective UI/UX makes video streaming faster and significantly more reliable.
Features
Multiple monetization methods
Cloud-based adaptive streaming with HLS and DASH
includes cutting-edge streaming tools
reputable API access Negatives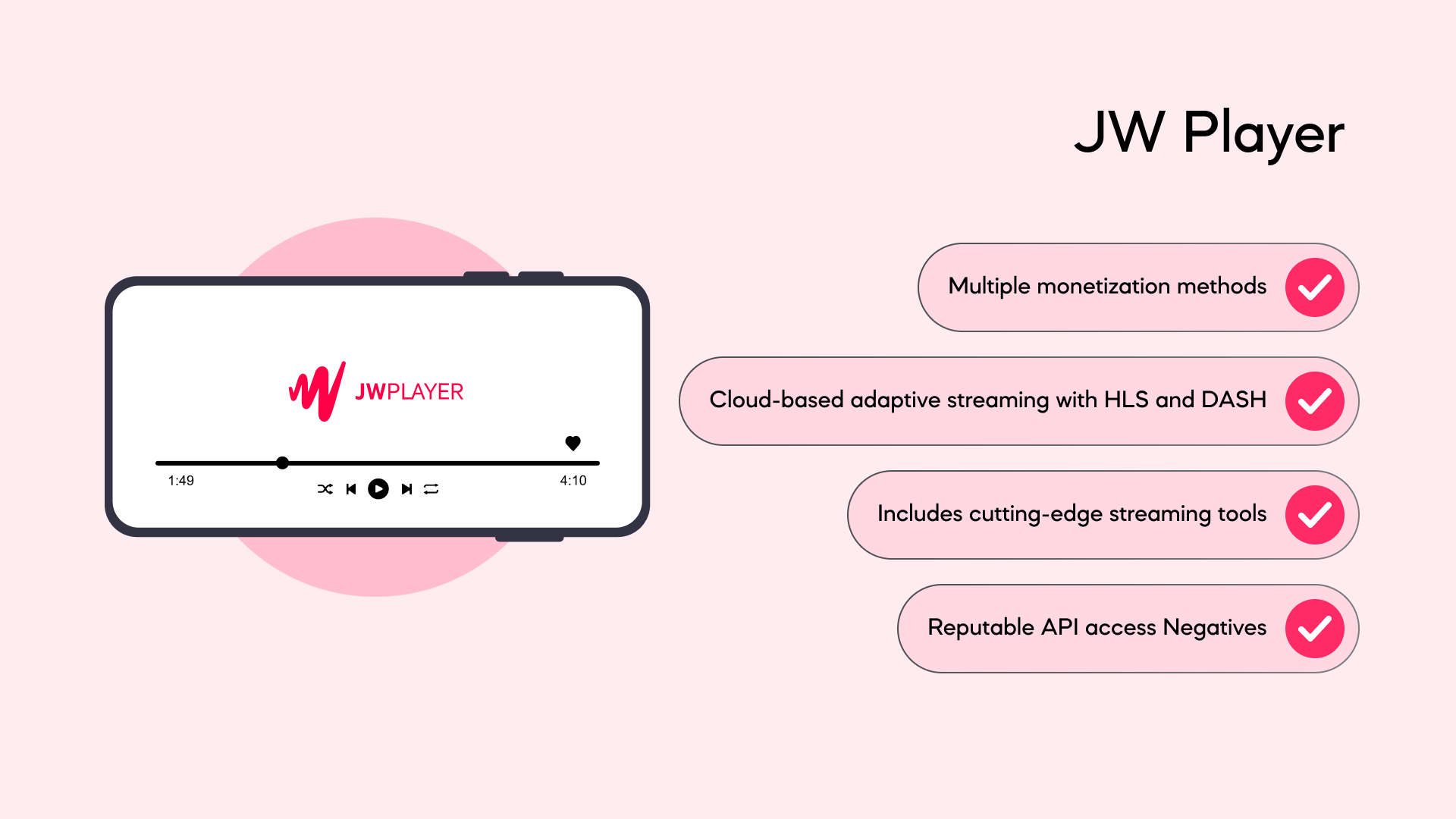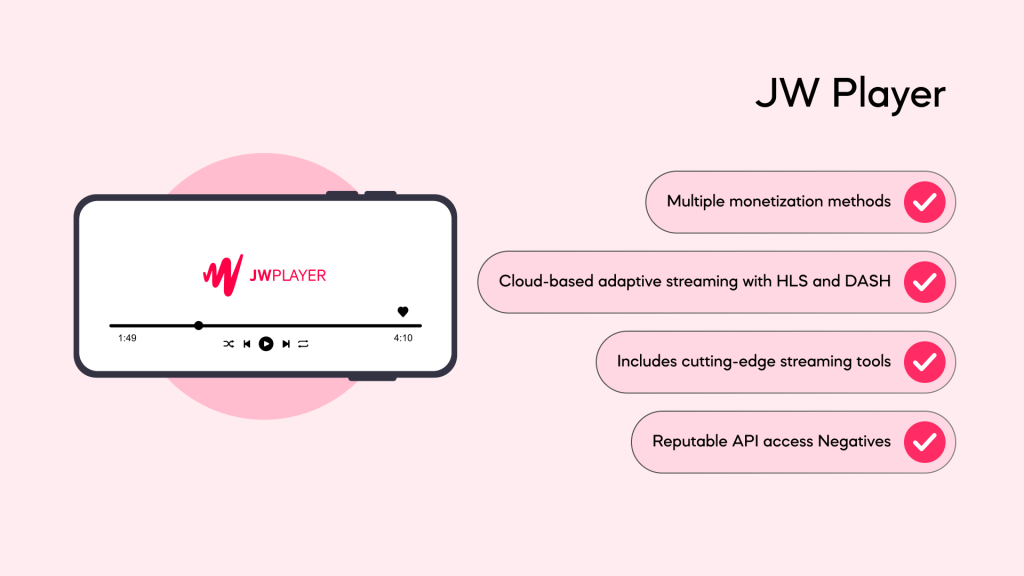 8. BS Player
BSPlayer is a fantastic video player app that is also loaded with so many unique features. This video player has great gesture controls and is clutter-free. Even the UI can be changed to suit your preferences and interests. It has hardware-accelerated playing, multi-core decoding, and compatibility for DLNA devices to stream content over networks. You may playback files directly from RAR files without first converting the video files.
Features
Support for multi-core HW decoding.
Lock the screen to avoid unintentional video switching.
Directly plays RAR files.
Includes subtitles and supports multiple audio sources.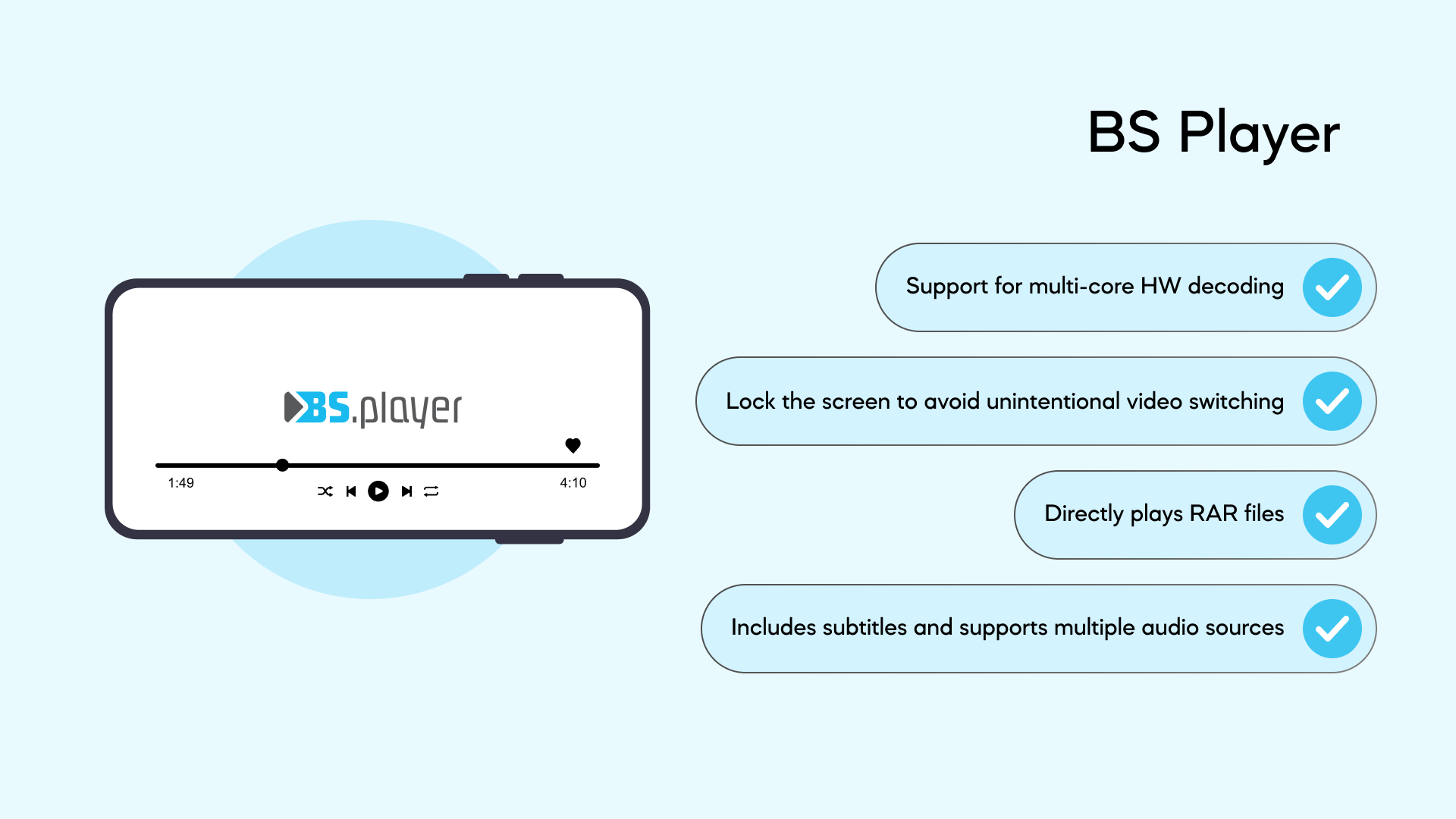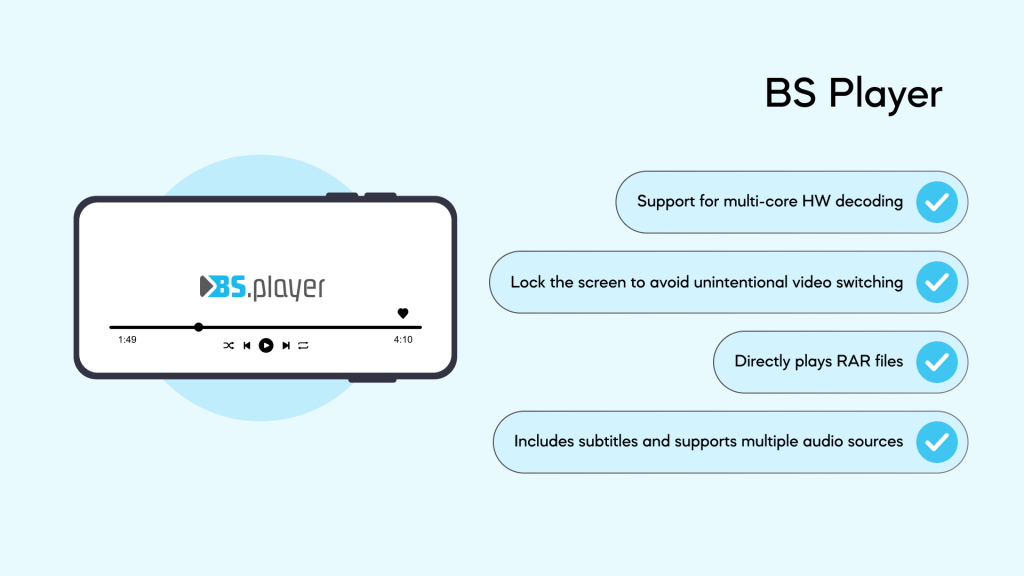 9. Media Player Classic
Media Player Classic – Home Cinema is a version that updates libraries, adds cutting-edge features, and solves bugs. This video player is free and works flawlessly on even the oldest hardware. The program's unique feature enables you to support more formats than VLC while assisting DVD PCD and BCD playing without needing additional codecs or software installation.
Features
DVD playback and VCD support are features.
Customization over toolbars and skins.
Make a strong audio impression.
Movable edition and codec assistance.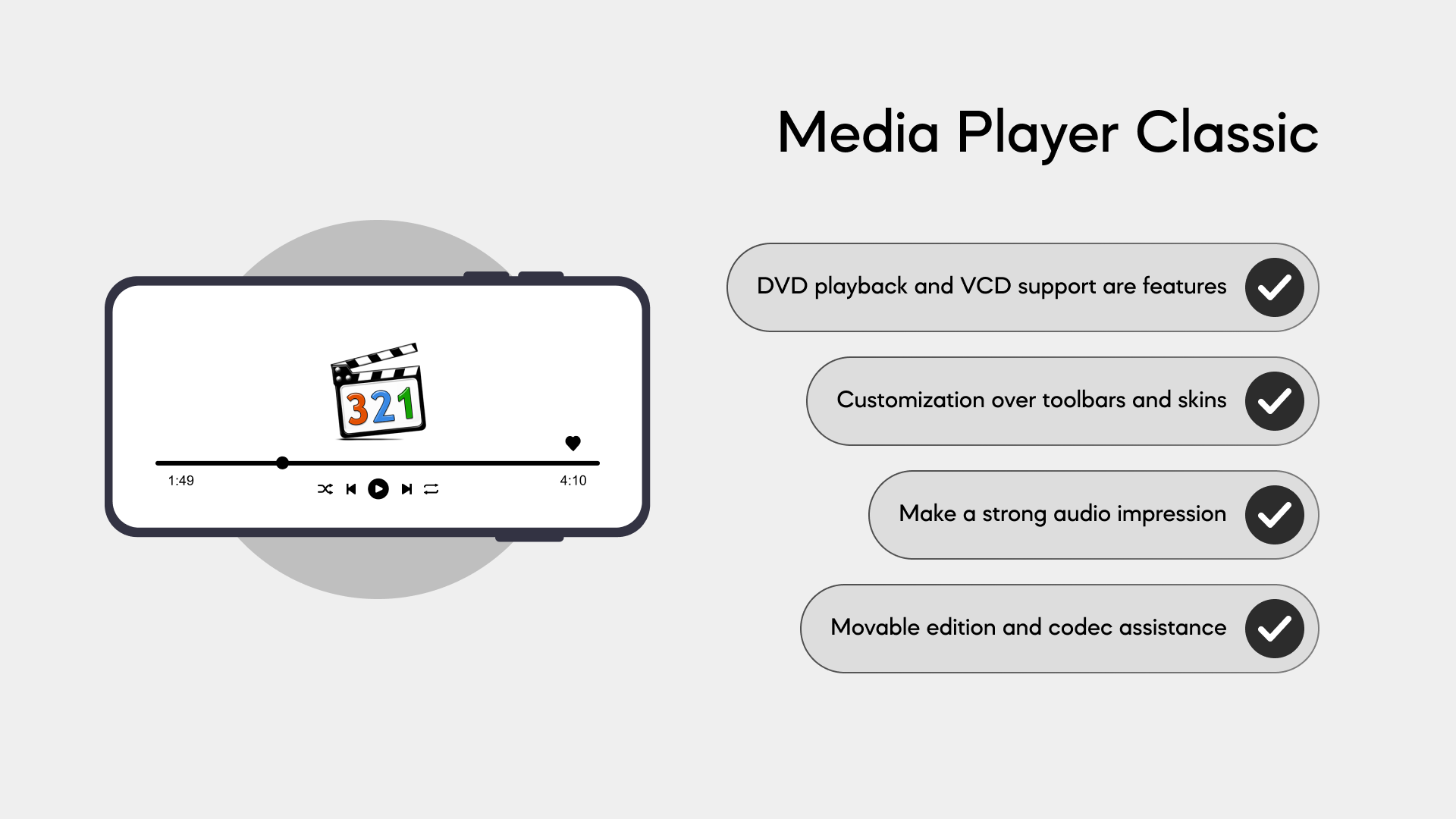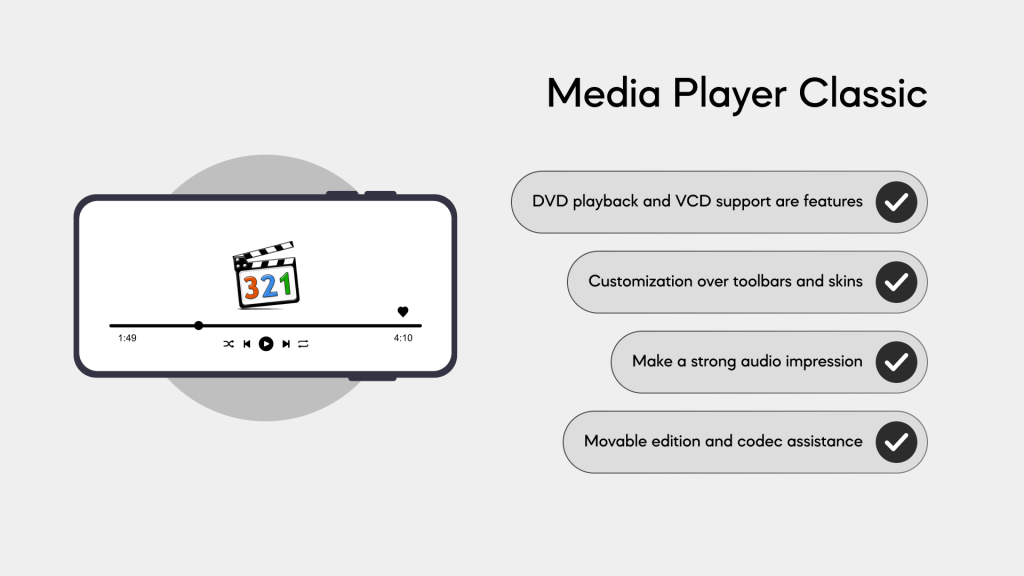 10. 5K Player
Our top 10 video players list in 2023 is complete with a 5K Player, as it is more than just a default player. The video player service offers YouTube downloading, local layback, and video and audio streaming, among other things. It combines a media streamer, free airplay, HD video player, and music player in an ideal way and can play 1080p videos and 4K and 5K ones. Its highly sophisticated design can also connect interactive radio and DVD.
Features
With no quality degradation, wirelessly broadcast movies using DLNA and Airplay.
Download videos from multiple different websites.
5k Player supports all popular video formats.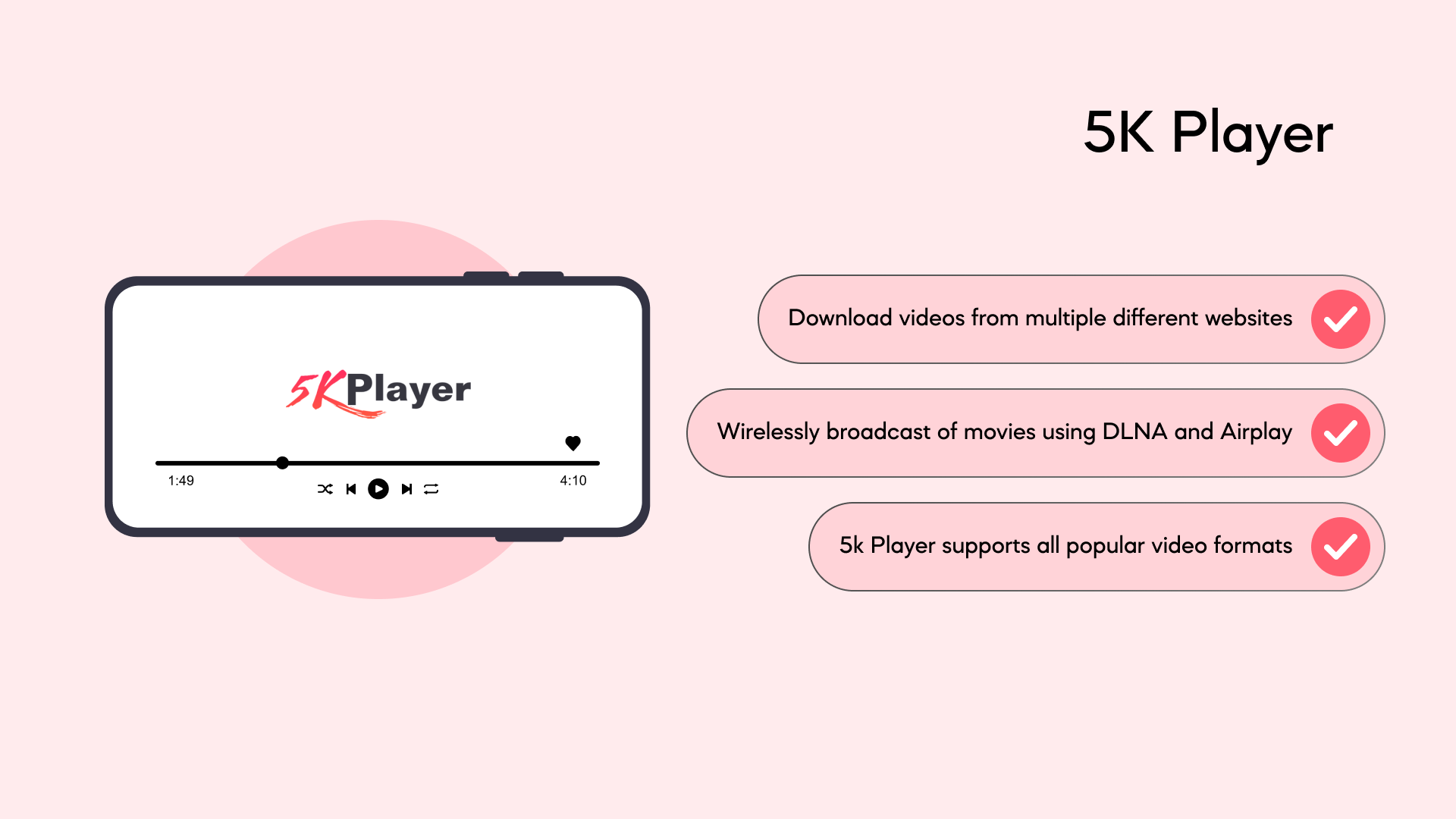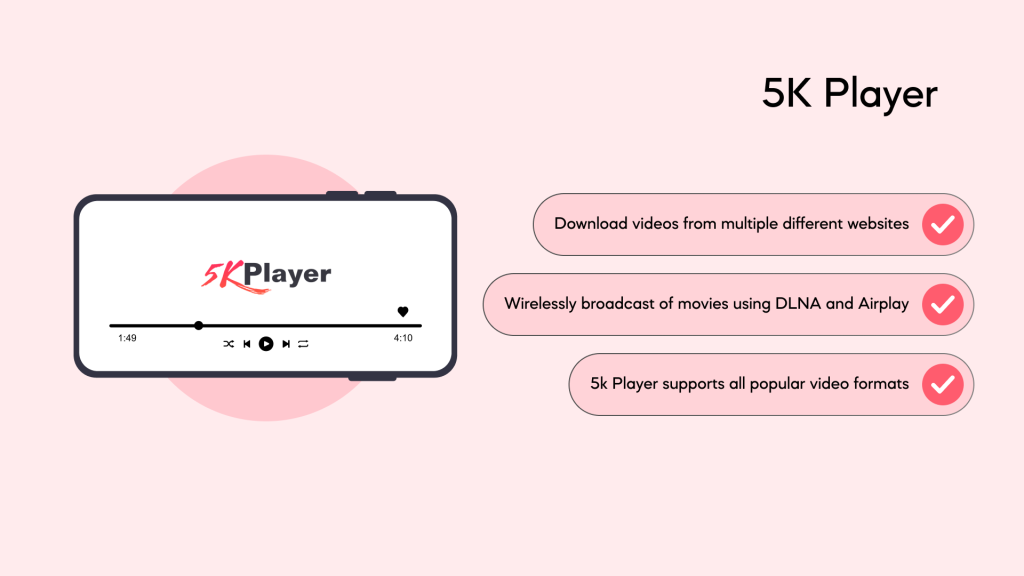 Final Word on Top Video Players of 2023
This list will help you find the right player that satisfies your needs. Give them a read to learn about the specifications and features of top video players and what benefits you get from each of them.