The use of live-stream encoding services is important for real-time streaming. Encoding services providers basically work as a program that can change the format of video files from one type to another.
An encoder is required to record video from a specific device. Next, upload it to your online video platform's CDN (content delivery network). Numerous "Dacast" presenters favour live encoding programs. Most current video streaming services are compatible with the software encoders we recommend.
What is software that encodes data?
Encoding software makes it possible to change video formats. An encoder is a software that takes raw video files and converts them into digital files suitable for streaming.
Using a software encoder, you can transmit the stream from your capture device to a CDN in real time if you wish to live-stream your recording. Encoders can work with almost any VMS. Conversely, encoders are often built into online services' streaming tools.
Difference between Transcoding & Encoding services
Encoding and transcoding, while referring to the same action of attempting to alter a video file's format, use slightly different language to do so. Simply put, video encoding software converts "raw" (analogue) video into an encoded format, while video transcoders do vice versa.
Here is the list of the top 10 Encoding Service providers in 2023 that you can benefit from based on your business preferences and needs: 
5centsCDN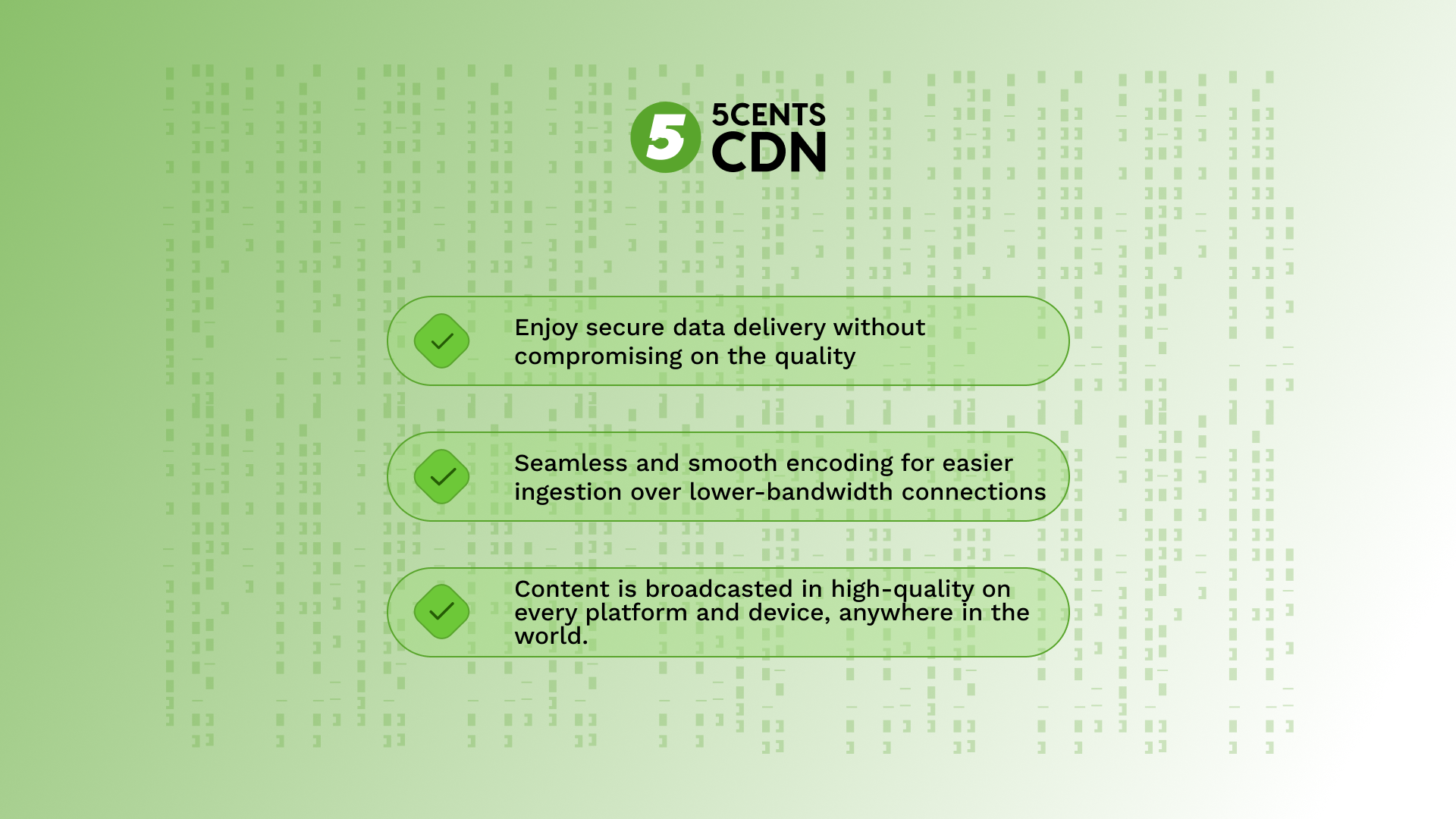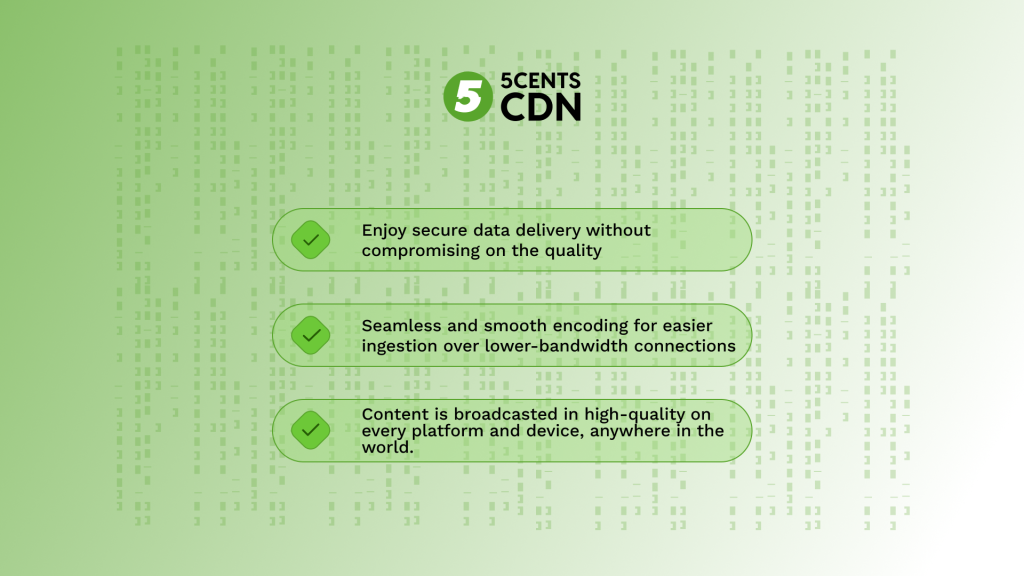 You can enjoy secure data delivery without compromising on quality. It lets you experience safe and secure content delivery with the A-Grade encoding services that 5centsCDN has to offer. Seamless and smooth encoding ensures easier ingestion over lower-bandwidth connections for a global audience.
With features including Live Transcoding and video encoding, you can rest assured that you're getting the best services. Seamless encoding/decoding ensures easier ingestion over lower-bandwidth connections. 5centsCDN Live Transcoding allows you to deliver a live stream in multiple bitrates to match the viewer's connection speed.
VOD source files for distribution with state-of-the-art 5centsCDN encoding are also a part of the package. The services ensure that your video content is broadcasted in good quality on every platform and device, anywhere in the world.
Open Broadcasting System Studio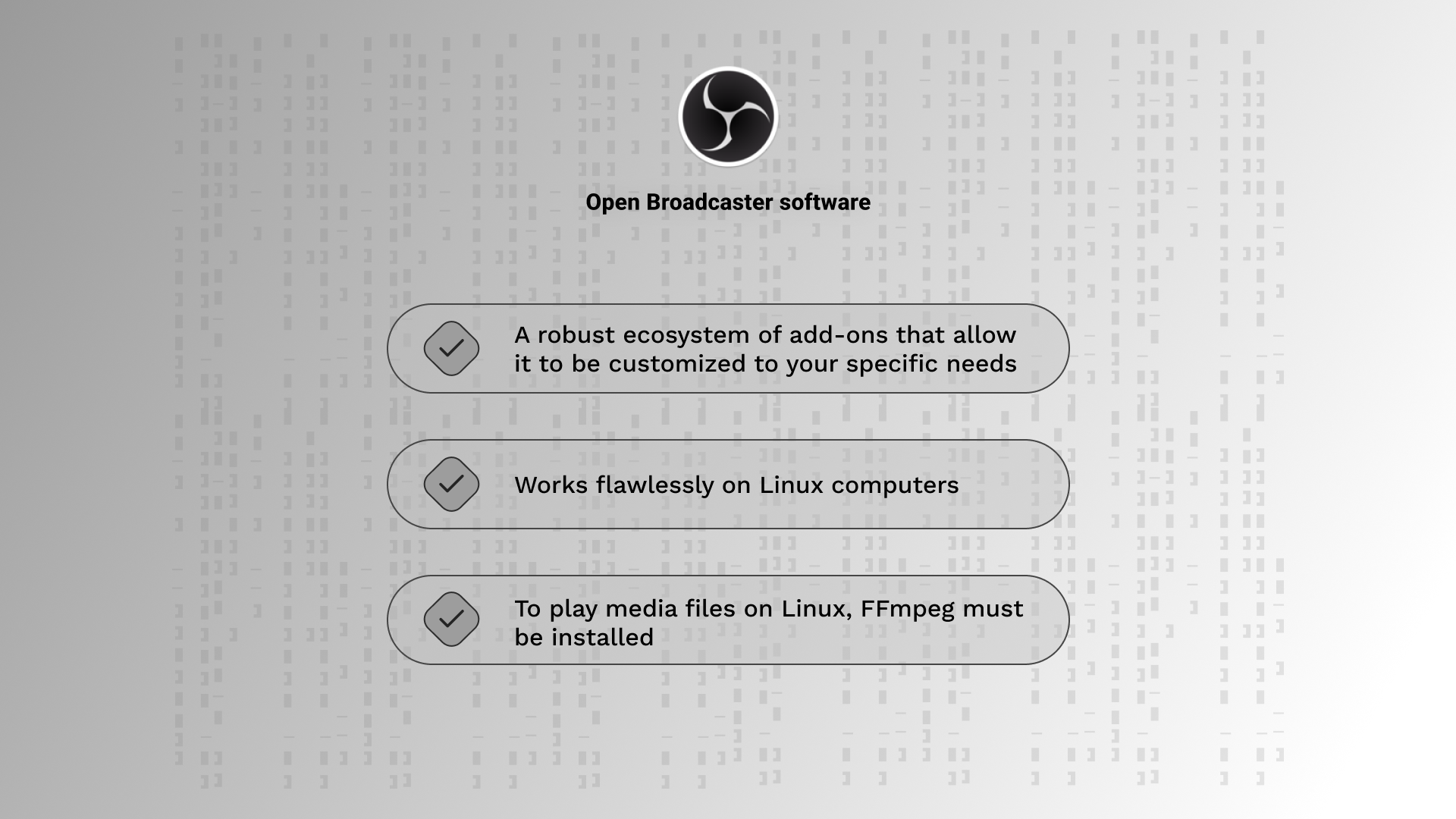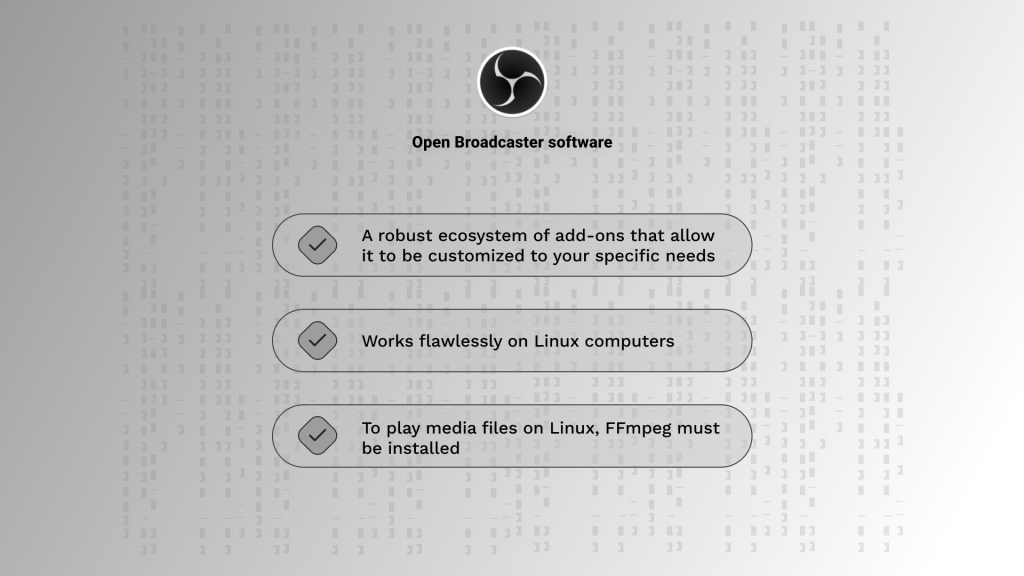 Newcomers widely use OBS Studio to live stream because it is open source and easy to pick up. It has a robust ecosystem of add-ons that allow it to be tailored to your specific needs, and its active user community is there to help you out if you run into any problems. In addition to Mac OS X and Windows, it works flawlessly on Linux computers.
Free and open-source software Open Broadcaster Studio has been around for a while and can now encode media. Designed for use in a professional environment, the software is compatible with macOS 10.13 and later and Windows 8.1, 10, and 11. To play media files on Linux, FFmpeg must be installed.
vMix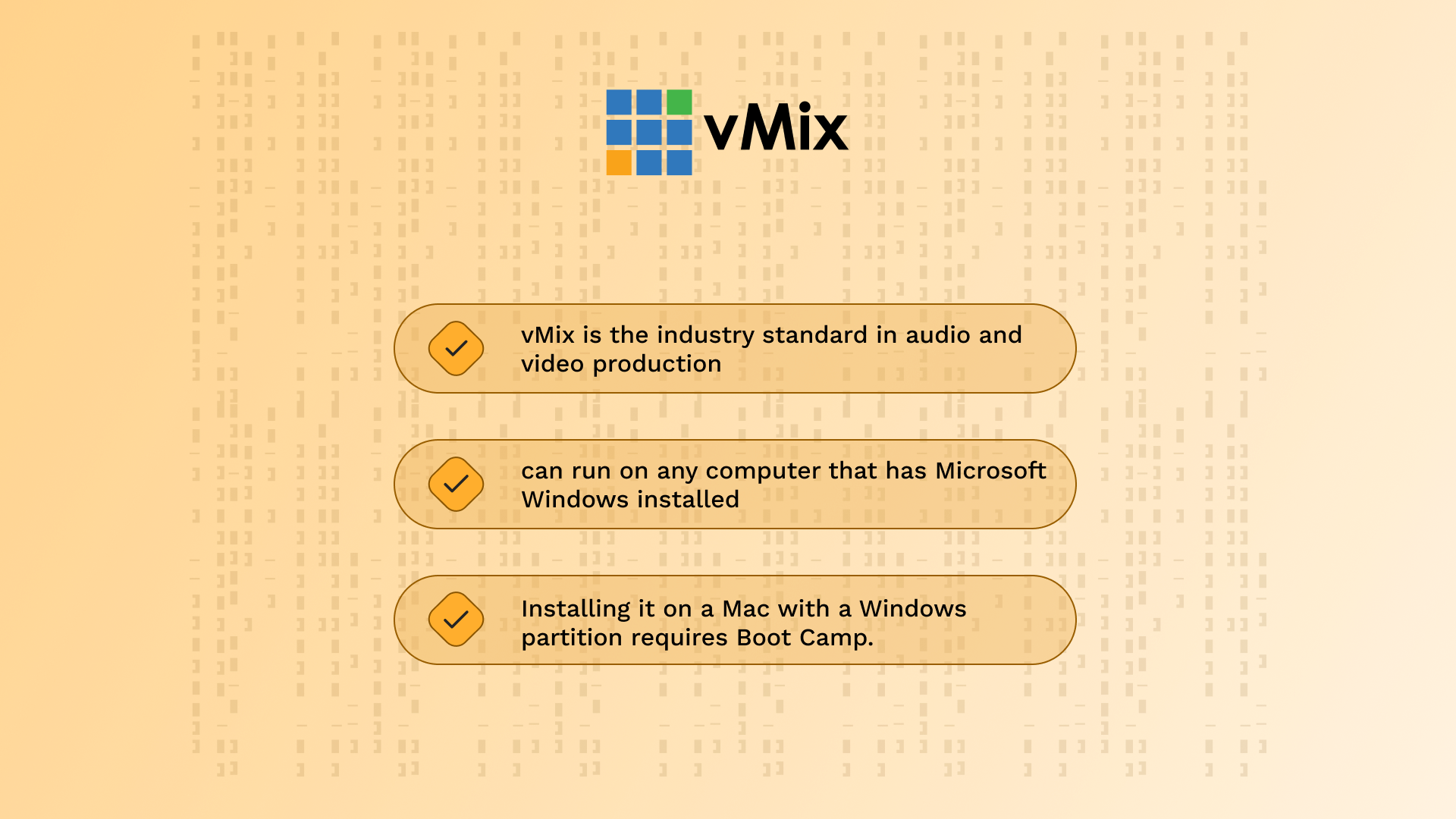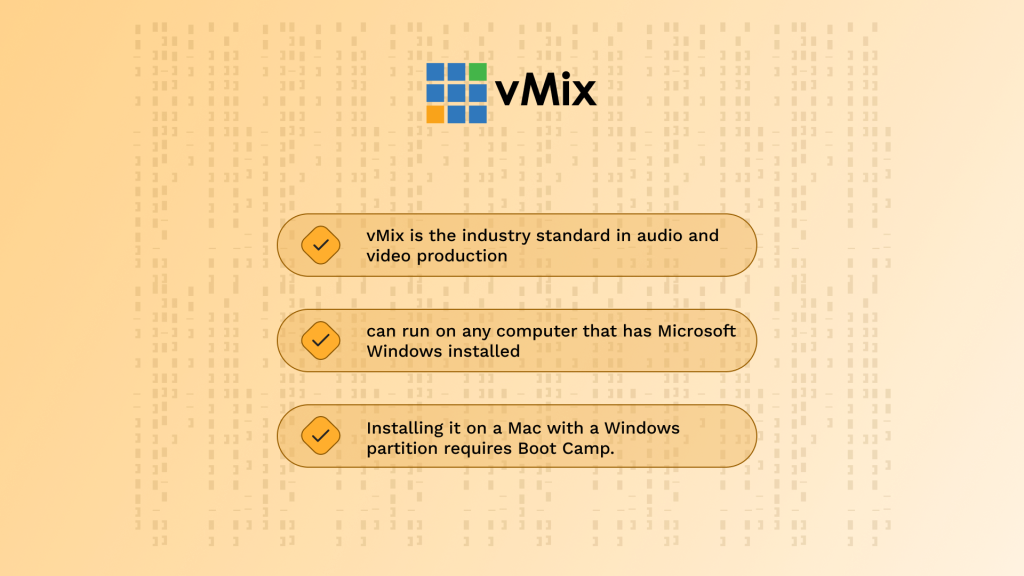 Regarding switching and streaming, vMix is the industry standard in audio and video production. Its widespread use can be attributed to the fact that updates are constantly improving it. Run it on any computer that has Microsoft Windows installed. You can get it for nothing or pay up to $1,200 for the "Pro" version.
To all Windows users: The latest Windows software version is 25.0.0.29 and includes a 60-day trial of vMix PRO. Since vMix 24 is only available for Windows, installing it on a Mac with a Windows partition requires Boot Camp.
Wirecast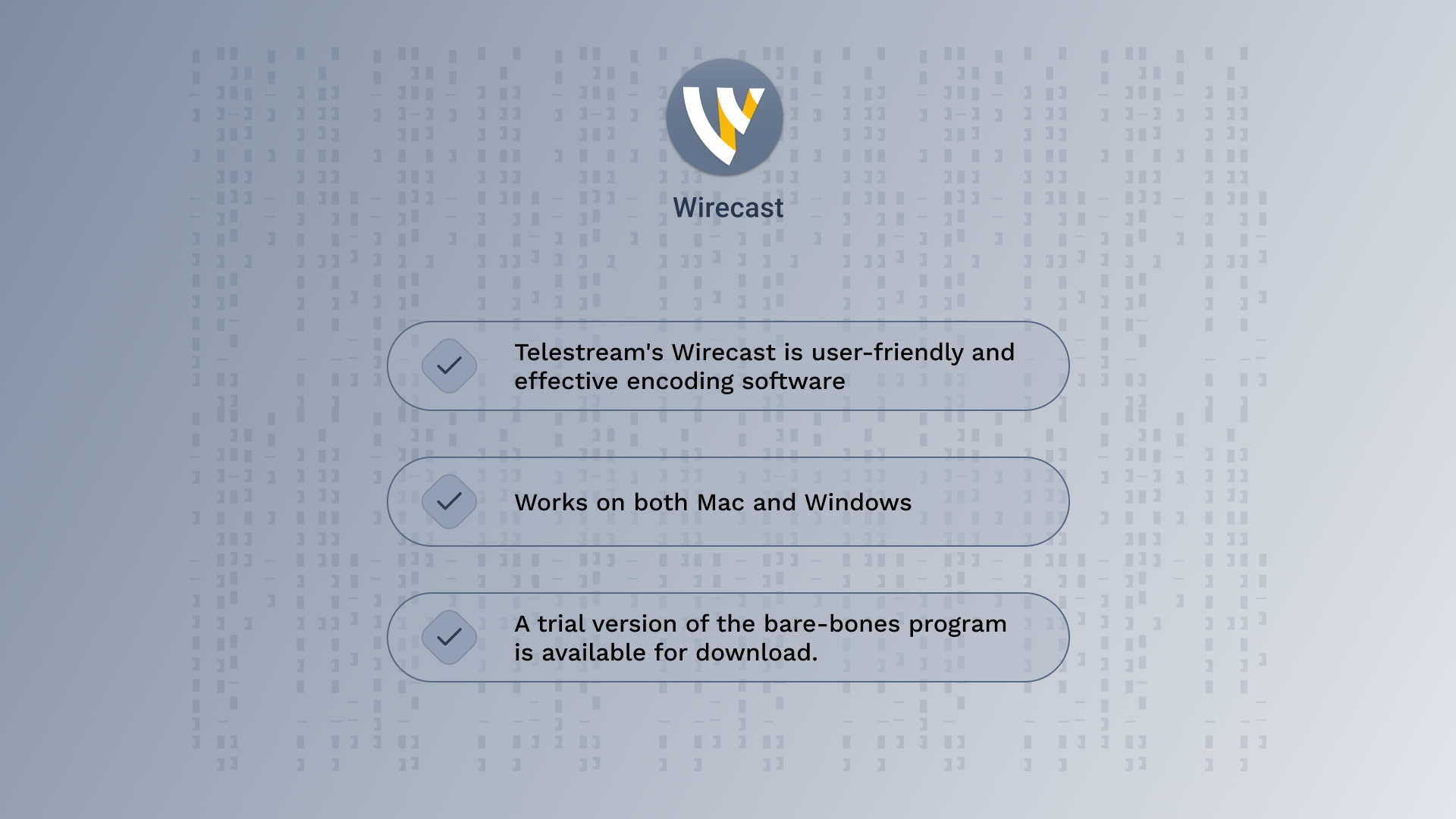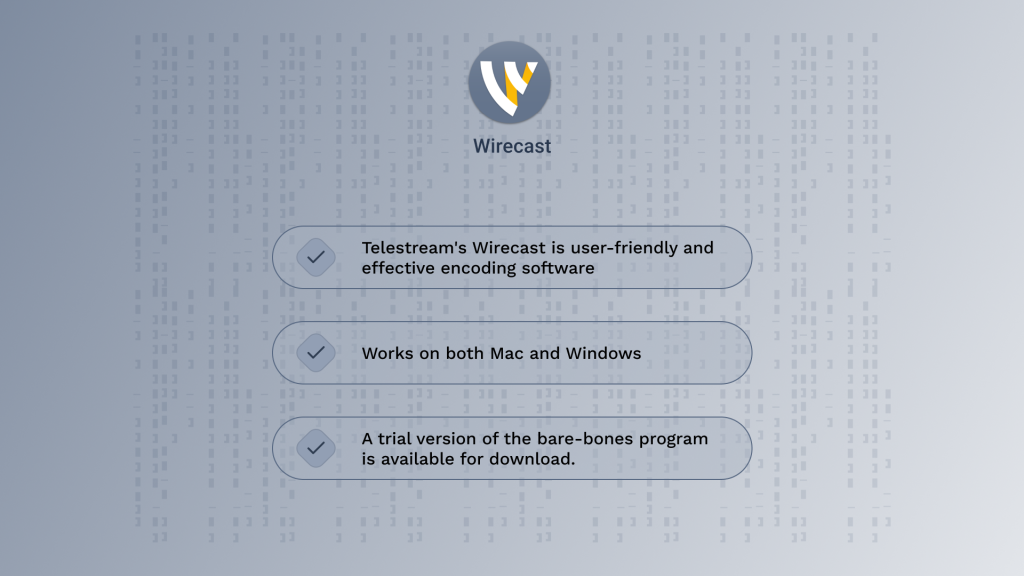 Telestream's Wirecast is a user-friendly and effective encoding service. In addition to Macs, it also works on Windows computers. From instant replay to built-in video conferencing, Wirecast has you covered. The Studio version of Wirecast is complimentary, while the Pro version, which adds premium features, costs $19.
These superior capabilities make Wirecast Pro the best choice over Wirecast for streaming virtually any event live. With so many options, Wirecast's price may be its biggest drawback. To get started, a trial version of the bare-bones program is available for download.
VidBlasterX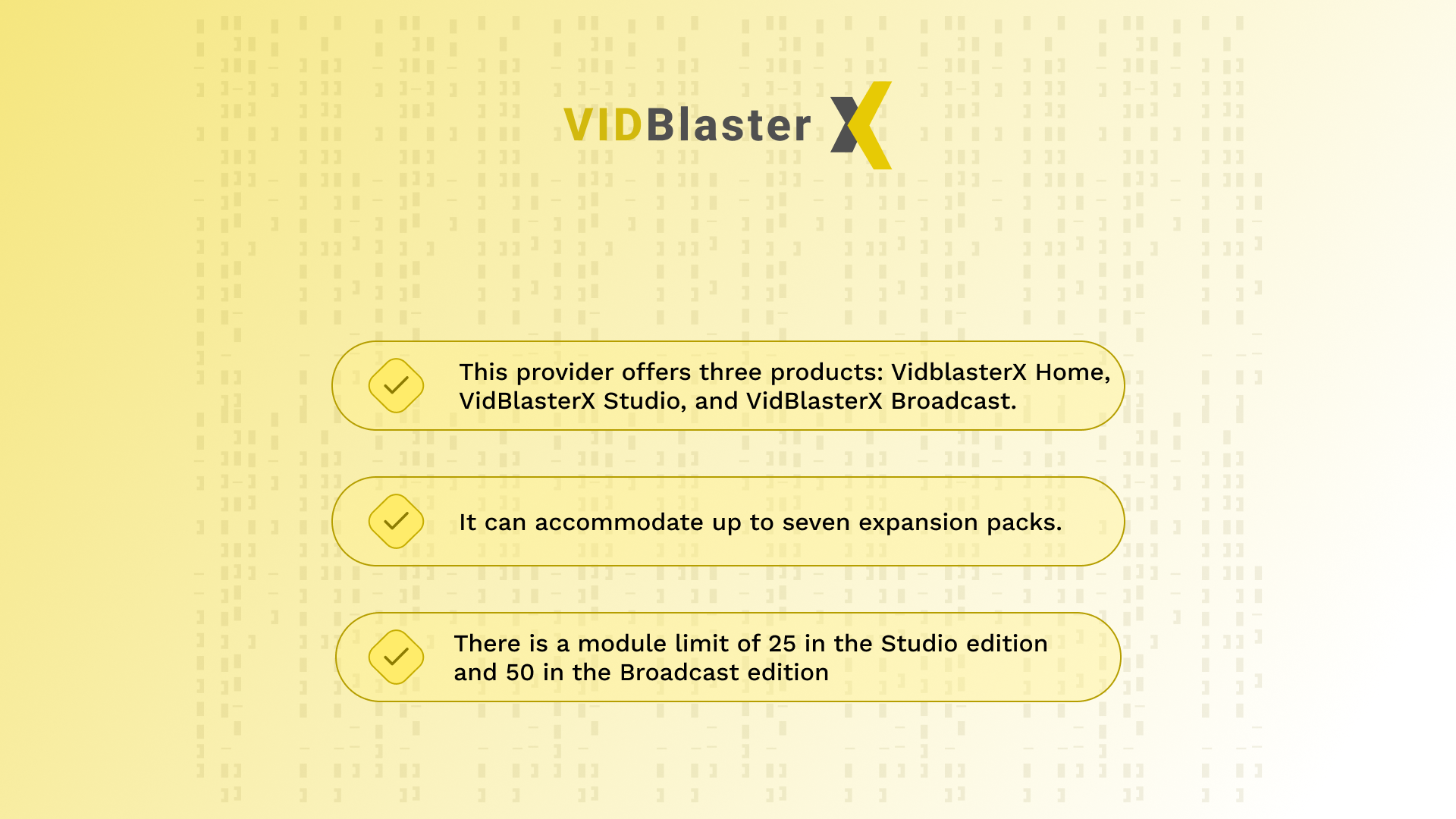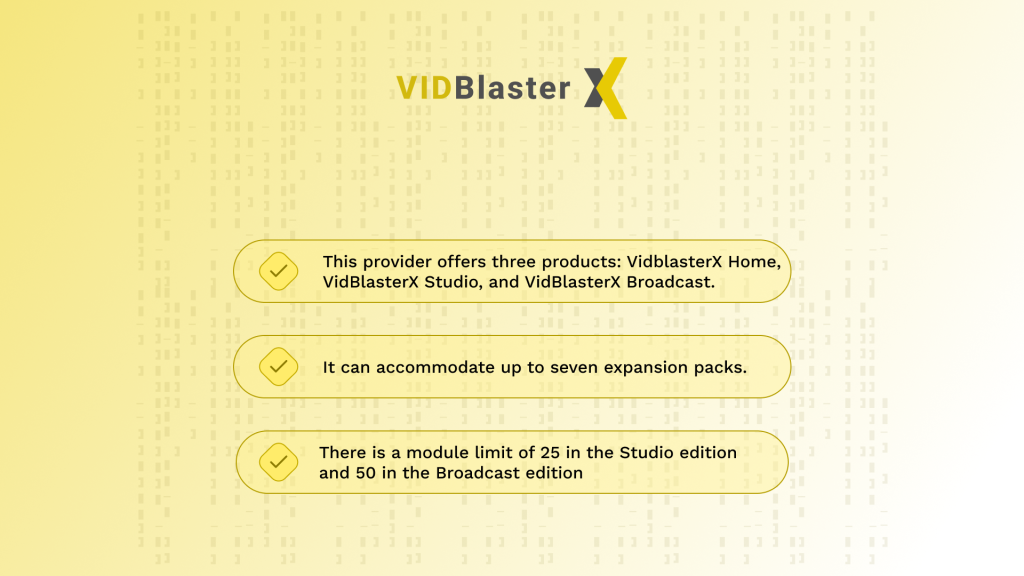 Another tool for live video encoding and mixing is VidBlasterX. The service meets or exceeds requirements for quality, scalability, and adaptability.
This provider offers three products: VidblasterX Home, VidBlasterX Studio, and VidBlasterX Broadcast. The number of modules present is the primary determinant of version differences. Experts in broadcasting can take advantage of increasingly sophisticated tools in subsequent modules.
With all the capabilities of VidBlaster Studio and additional module space, VidBlasterX Broadcast is the superior option for high-end broadcast facilities. Broadcasting services typically feature creator email addresses to respond to viewer concerns.
VLC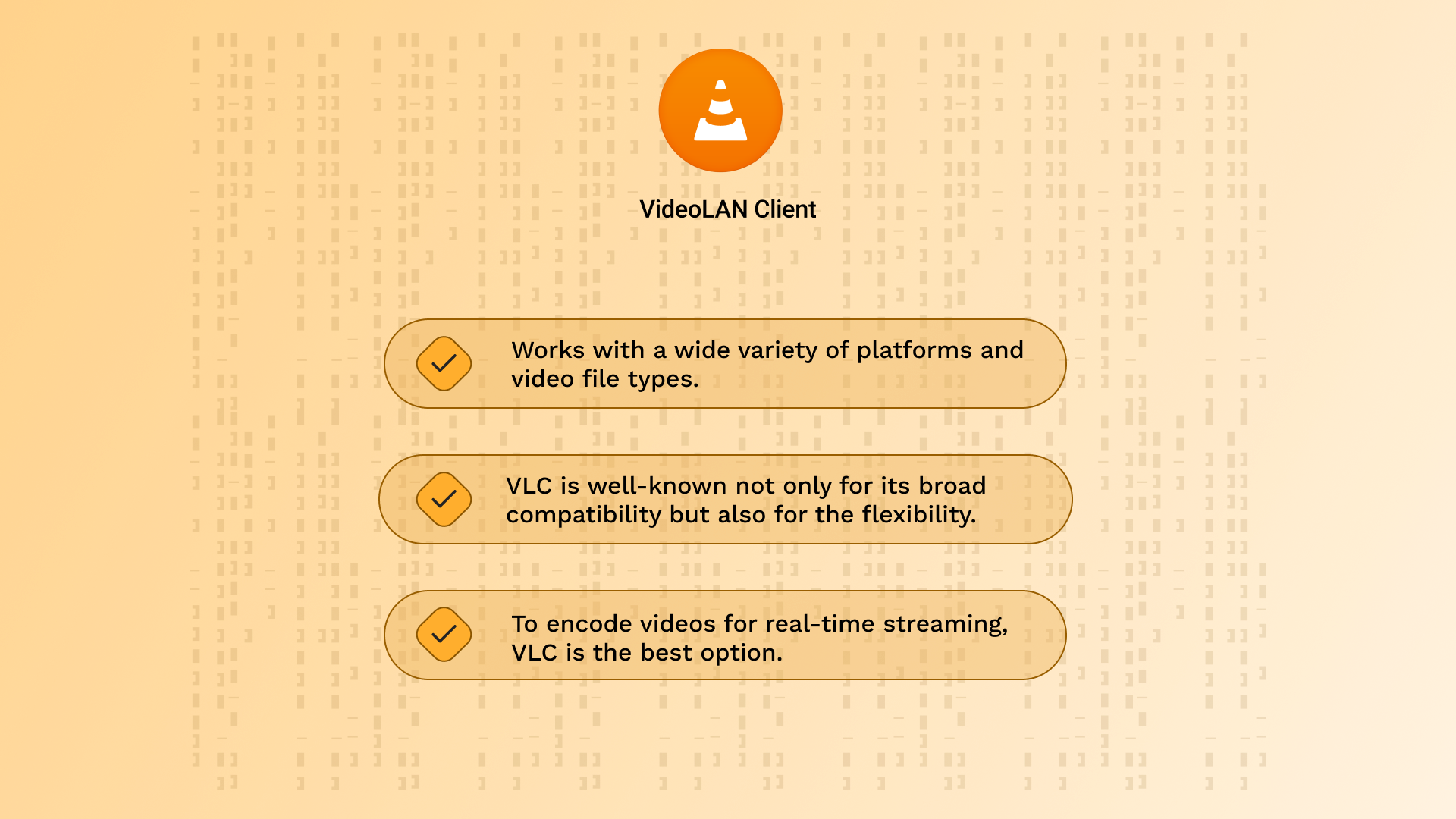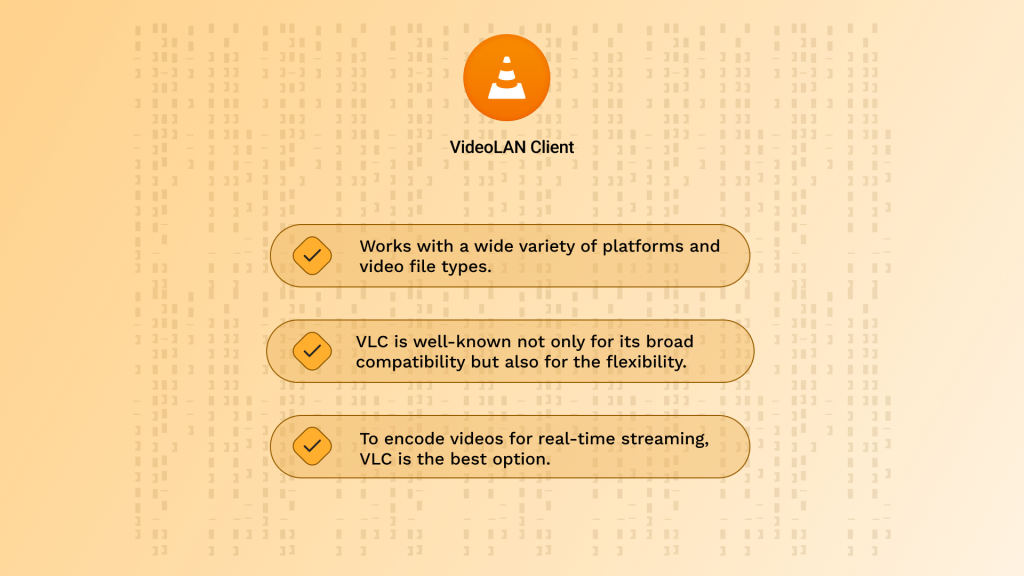 VideoLAN developed a program called VLC that can encode media. This free, open-source project works with a wide variety of platforms and video file types.
VLC is well-known not only for its broad compatibility but also for the flexibility with which it can be configured. Flexible configuration options let it broadcast the programs of varying experience levels. To encode videos for real-time streaming, VLC is the best option.
FFmpeg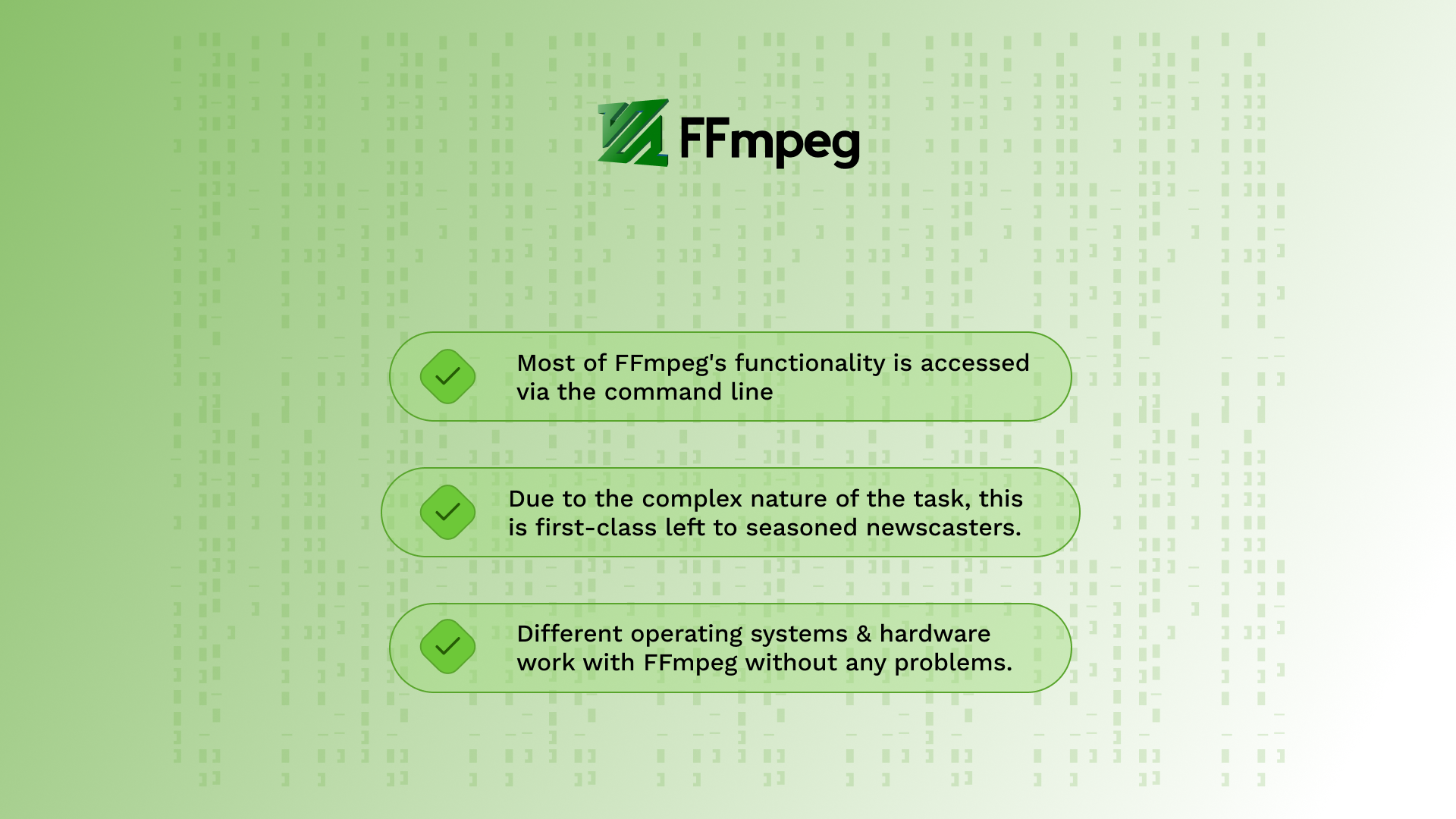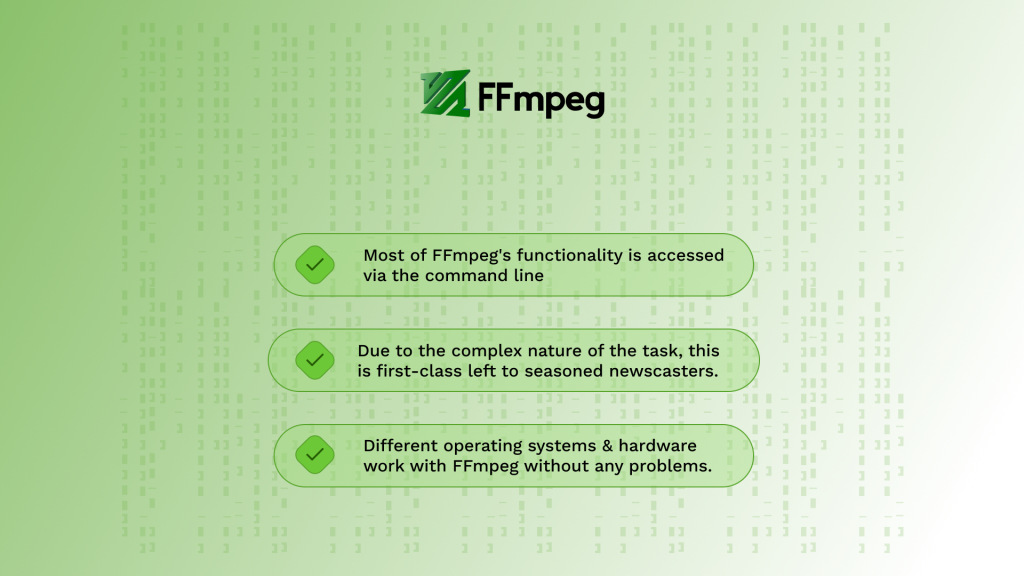 FFmpeg is the free and open-source program you want for encoding. This software package features comprehensive tools for recording, editing, and streaming audio and video.
Due to the complex technical nature of the task, this is first-class left to seasoned newscasters. However, not many graphical user interfaces do exist. Many different operating systems, hardware and software combinations work with FFmpeg without any problems.
HandBrake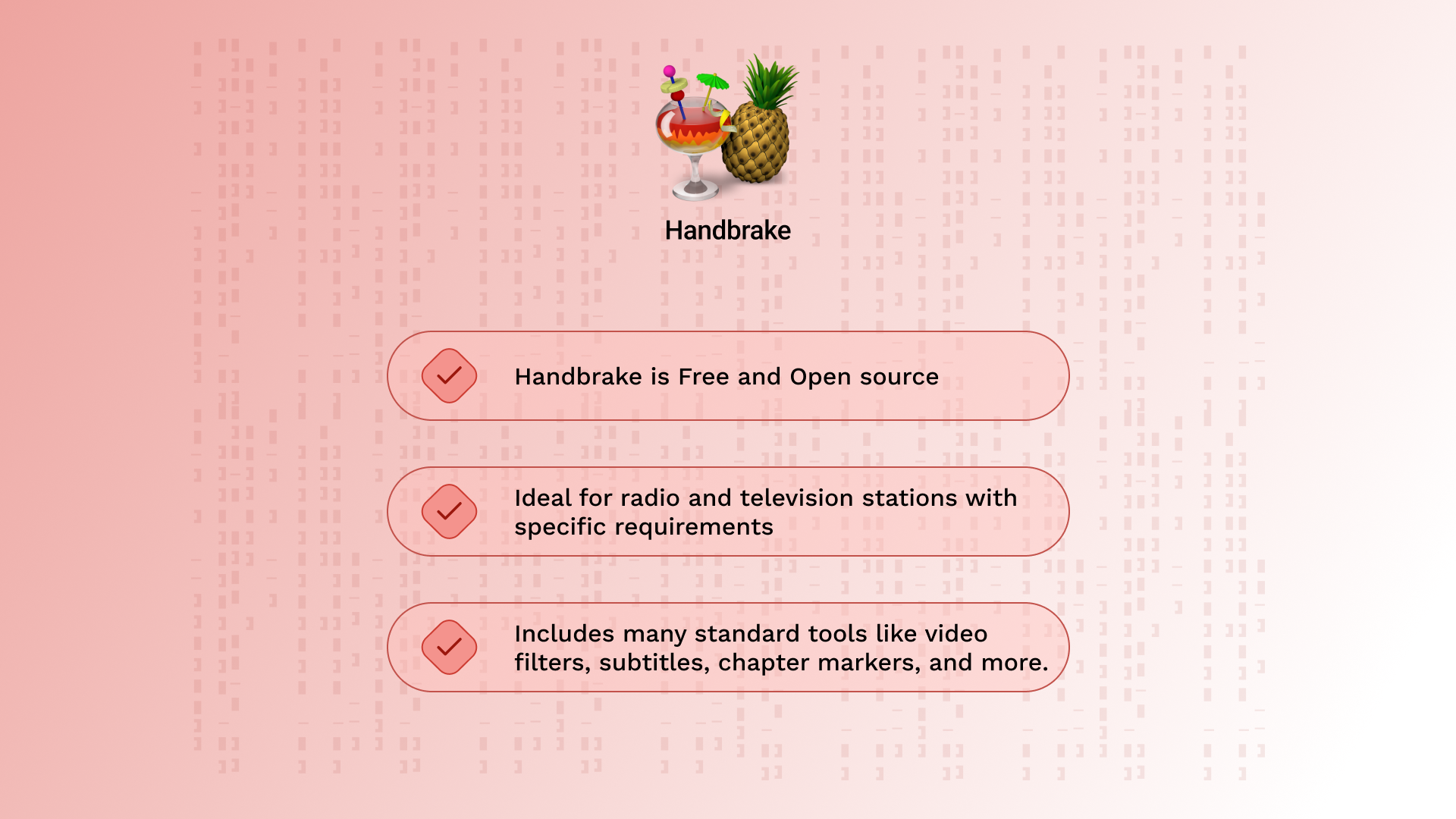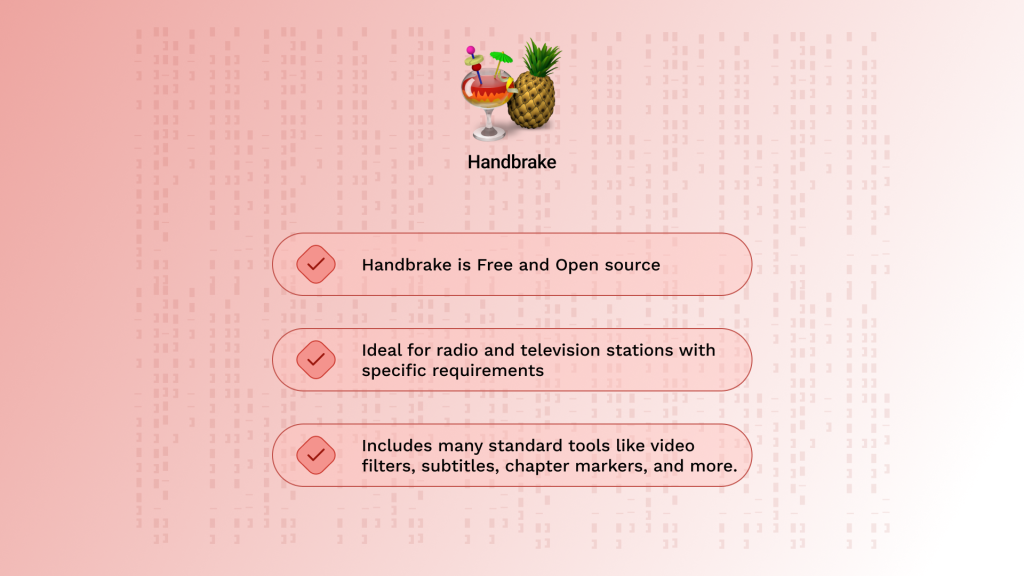 Another excellent program for encoding videos is HandBrake. Since it is free and open-source, it is ideal for radio and television stations with specific requirements. HandBrake includes many standard tools already. These include video filters, subtitles, chapter markers, and more.
As a result of its zero-cost accessibility, this encoder has attracted the attention of broadcasters of varying experience levels.
All Video Solutions (AVS)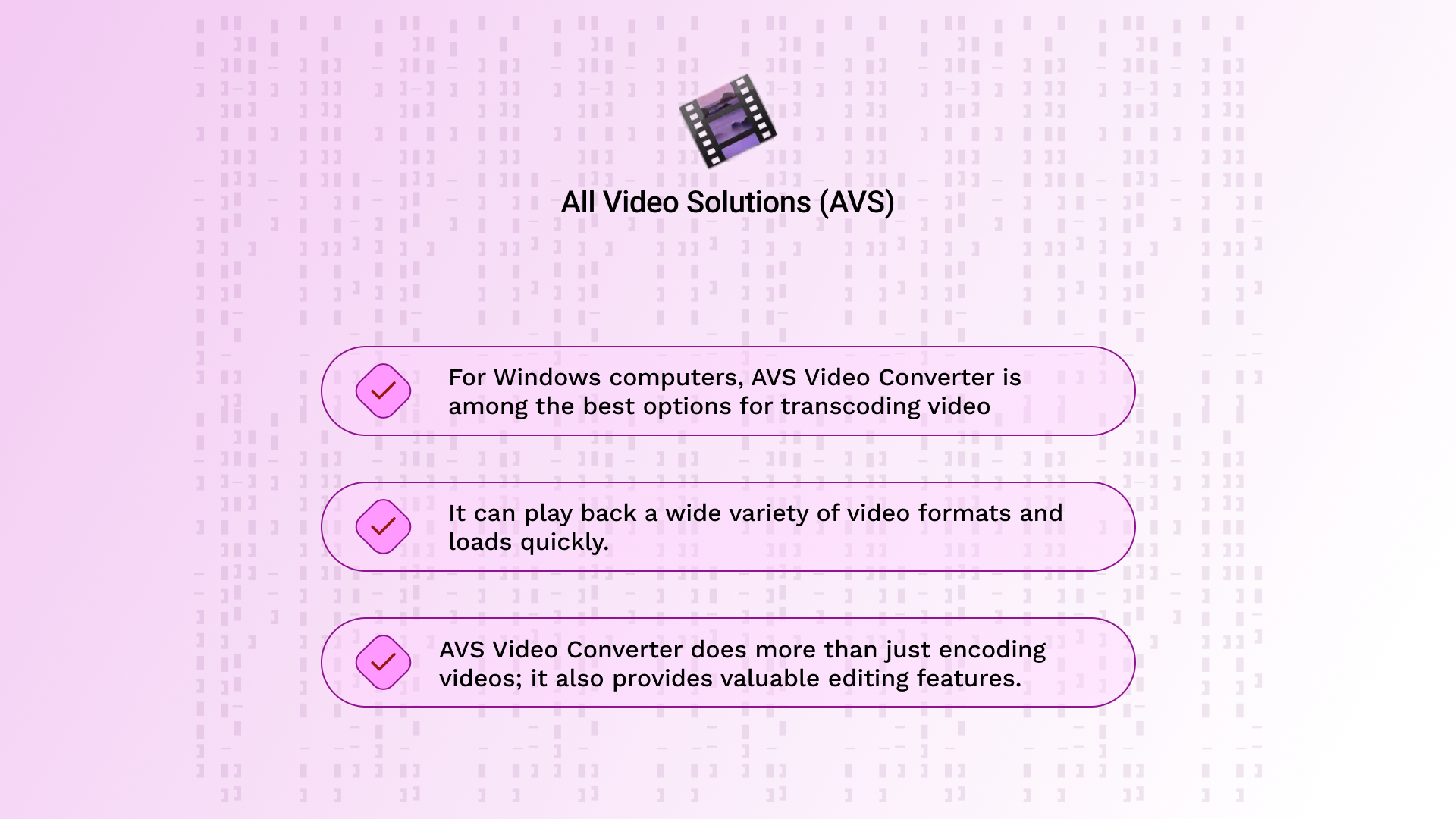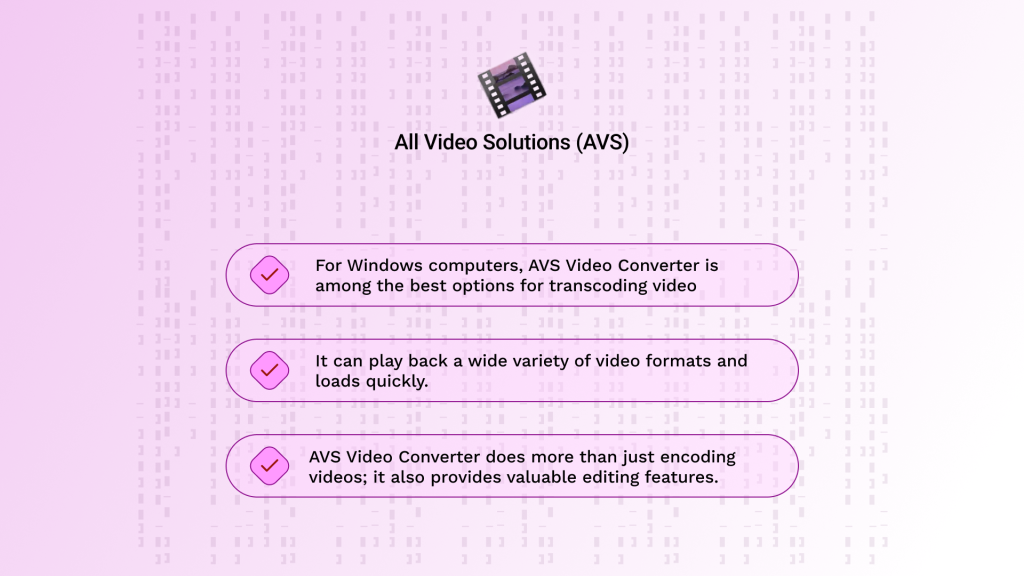 For Windows computers, AVS Video Converter is among the best options for transcoding video. It can play back a wide variety of video formats and loads quickly. AVS Video Converter does more than just encoding videos; it also provides valuable editing features.
VideoProc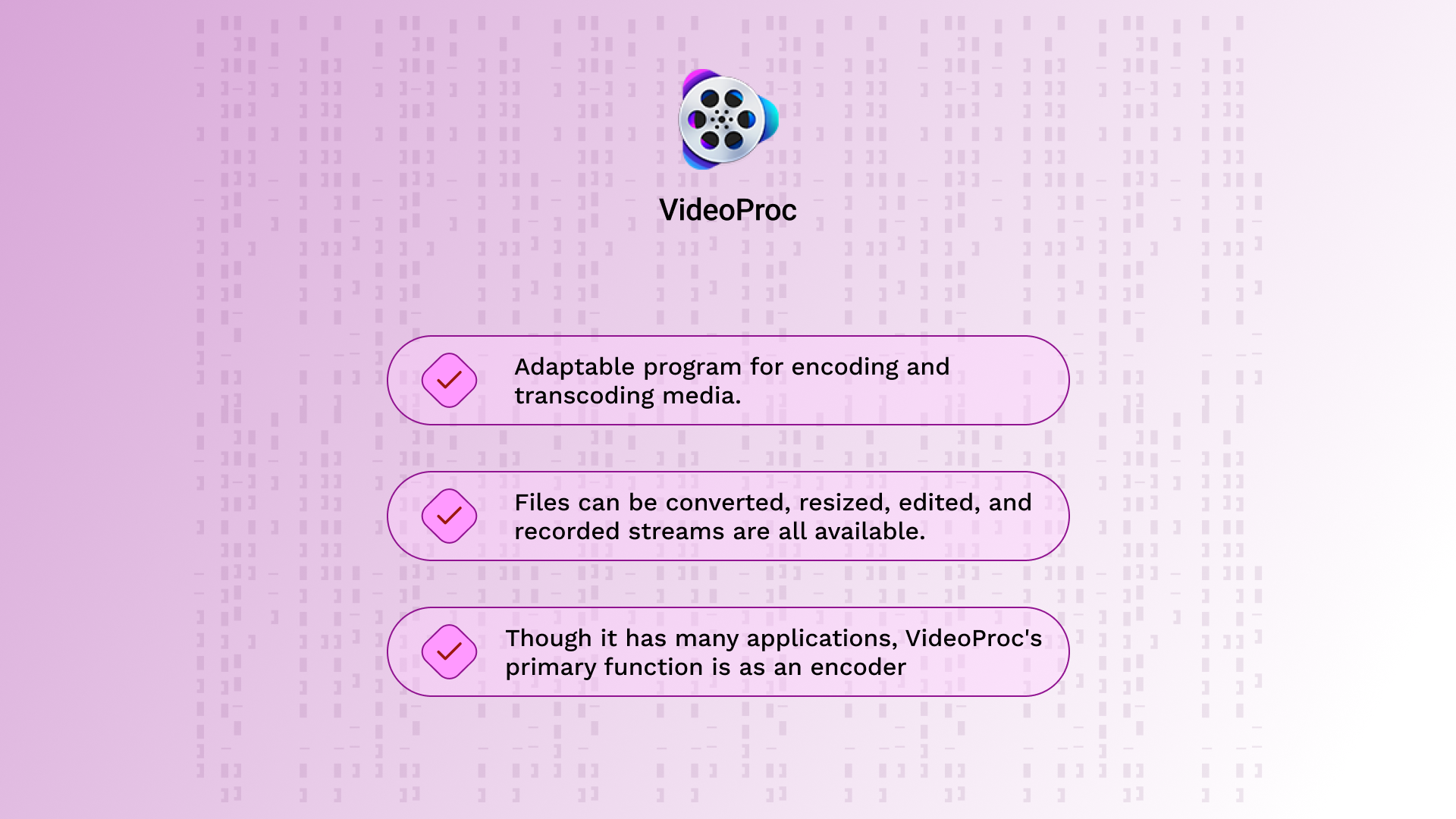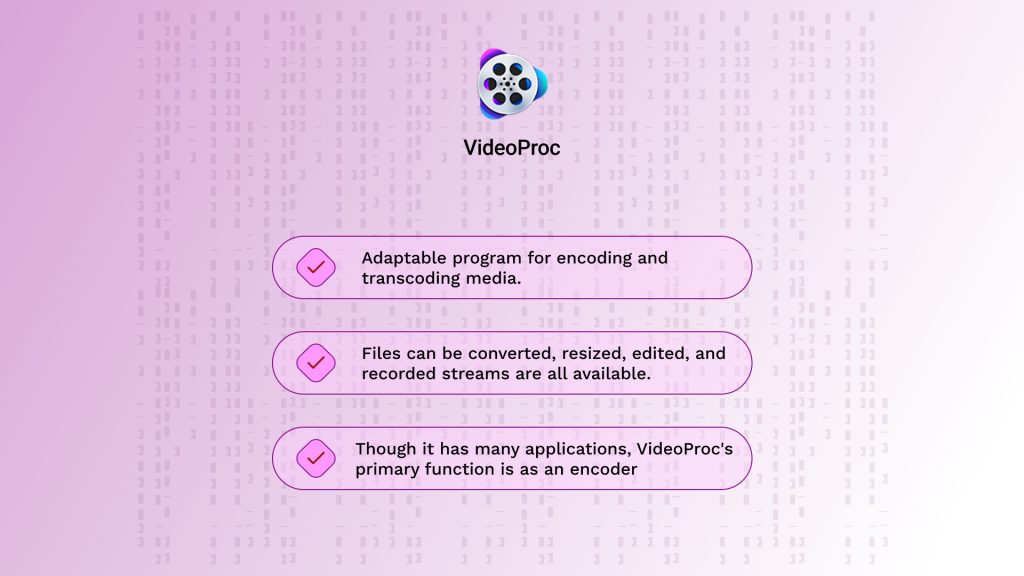 VideoProc is an adaptable program for encoding and transcoding media. Convert, resize, edit, and record streams. Using video encoding software is a breeze. Though it has many applications, VideoProc's primary function is as an encoder.
Final word on top encoding services
Modern encoding services and programs have more features and customization options than ever. We're in a market where the focus is squarely on the consumer, and state-of-the-art in this field is accelerating rapidly.
Anyone can now purchase and use broadcasting software that is on par with the best professionals. Dacast users should check out our specialized OBS Studio portal, which was developed to work with our streaming service.