Maintaining an organized and safe storage system is crucial for all your files, whether they are work documents, family photos, or memes. Your most valuable files should be stored somewhere that cannot be lost, damaged, or stolen leveraging cloud storage. You will need the best cloud storage providers available in order to save space on your phone, tablet, or computer while allowing you to access your files wherever, whenever. Working from home and sharing files with colleagues is also crucial for those who use cloud storage. Free cloud storage services are available, along with many upgraded paid plans, so you can easily find one that fits your needs for storing your data securely.
Generally, the best cloud storage options offer personal and business plans, but we'll focus on the plans that are best for average users. So let's get right into it and determine which are the best Cloud Storage Providers.
5centsCDN
If you are looking for a cloud storage service that's not only reliable but also offers amazing prices, you can rely on 5centsCDN. Their state-of-the-art service is yet another swift feature that allows broadcasters to build a custom platform that lets them deliver high-performance, secure, and scalable videos by complementing in-house capabilities.
This service offers file scheduling to play content for/in a set amount of time, in addition, to live streaming, at a high speed and scale as required. With features including 3x data redundancy, a premium network, transparent pricing, SSL, and secure delivery, you can rest assured that you're getting the best deal.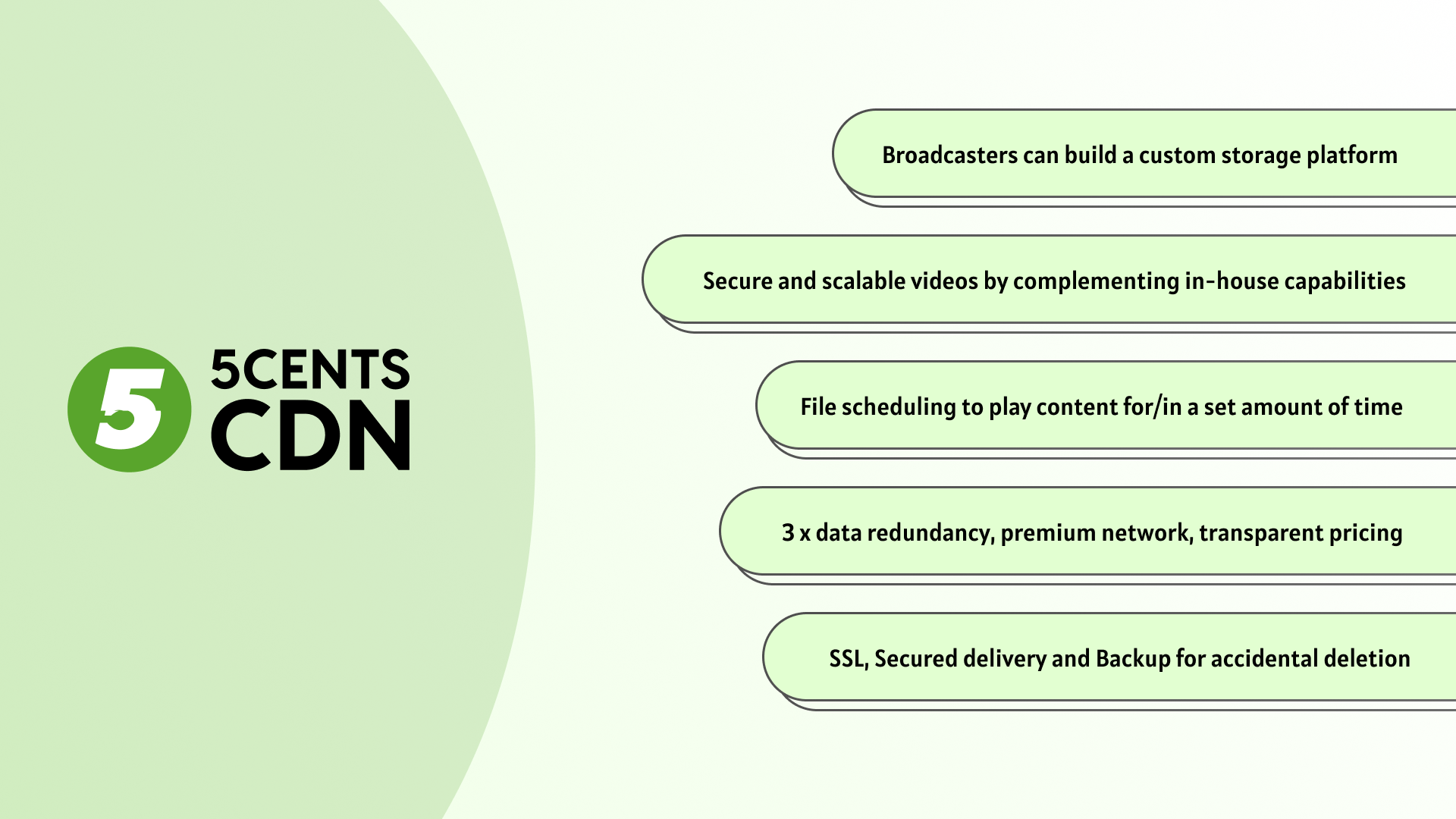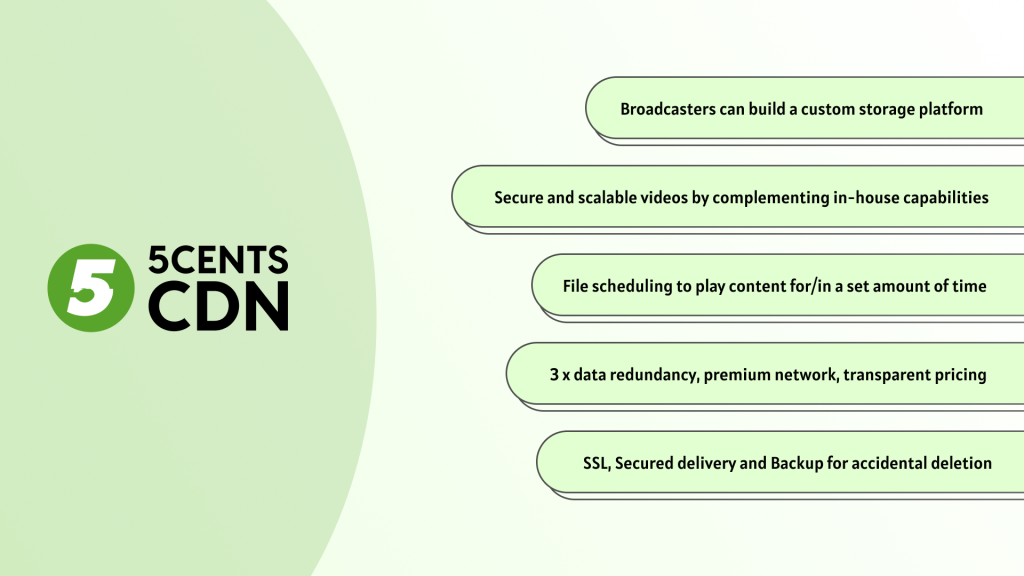 Sync.com
As Sync.com matures and grows, it adds more features and improves its service to make it one of the most secure cloud services available. As a standard feature, it comes with zero-knowledge encryption. Due to the fact that only you hold the encryption key, if there was a security breach or authorities required access to your account, the intruder would only see scrambled data.
Sync.com's pricing is what sets it apart from its competitors, as it comes with 5GB of free storage. Although its paid plans aren't the cheapest, they're among the most affordable.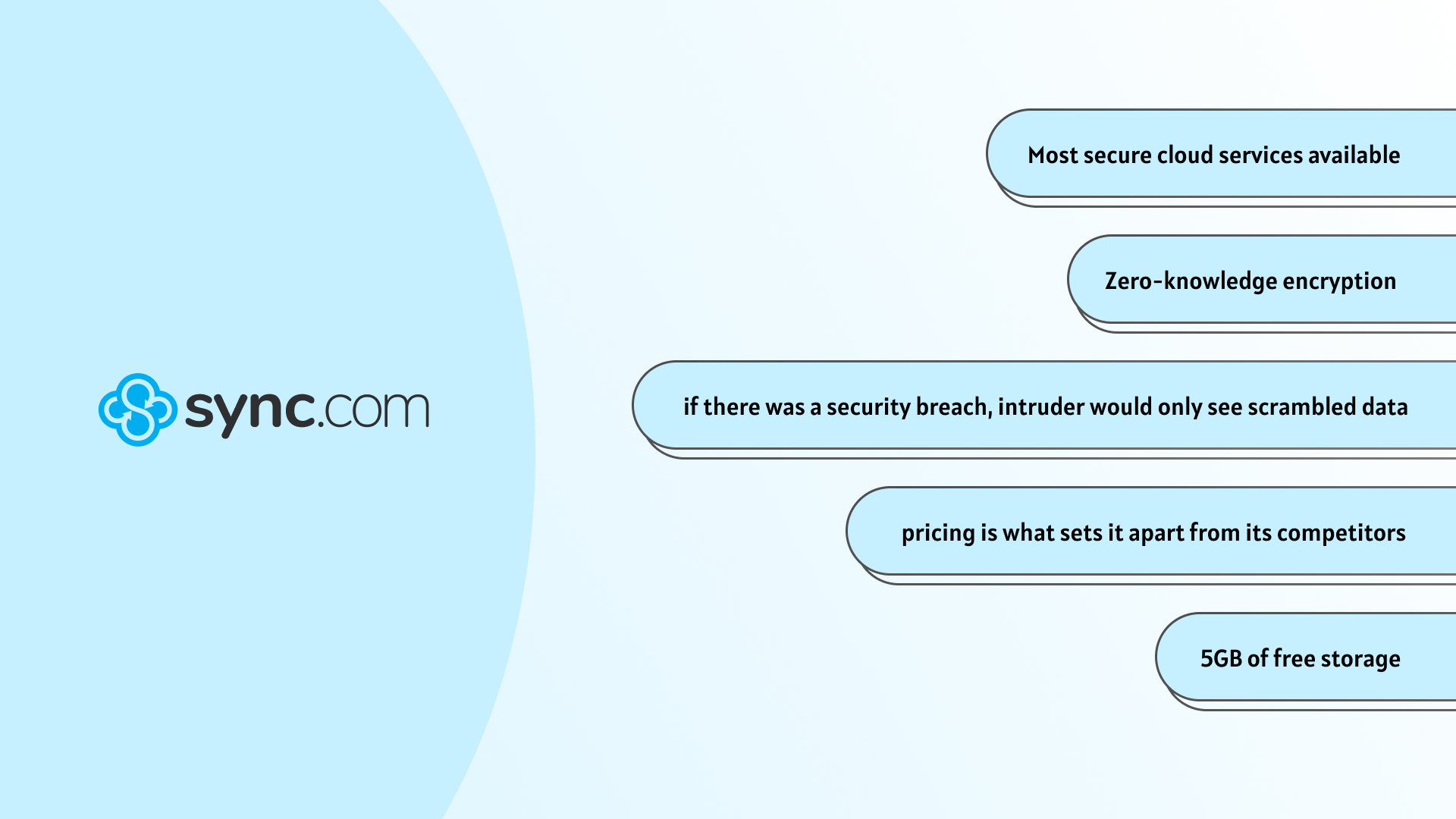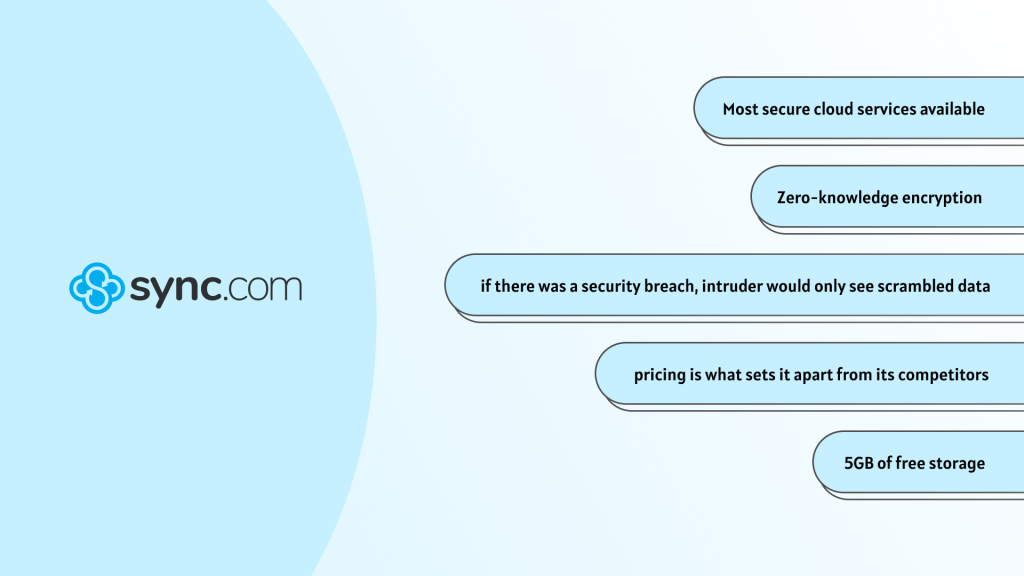 Icedrive
There are several features that set this cloud storage provider apart from its more established rivals, including highly competitive pricing. Among many positive aspects, there are certainly a few drawbacks as well. Since Icedrive is a security-focused company, it's unfortunate that it doesn't offer two-factor authentication (2FA), as other security-focused providers, such as Tresorit, do. However, as a UK-based company, Icedrive is subject to GDPR regulations that prohibit the most problematic behaviors.
For their annual package, 1TB of storage costs just $4.17 per month. For more space, their tier-up gives you 5TB of cloud file storage for $15 per month.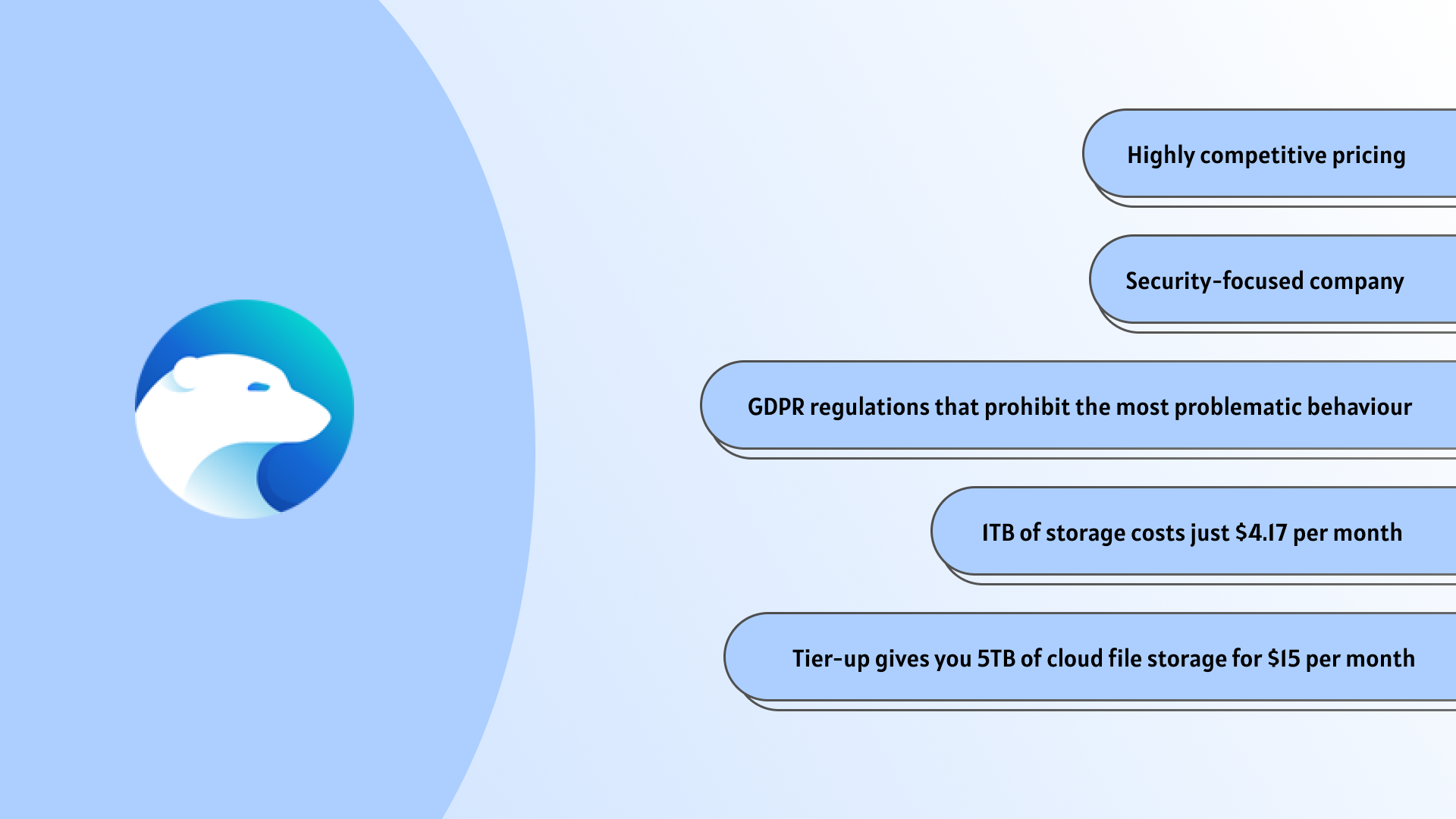 Google Drive
Affordably priced plans, as well as features that make sense to the average user, make this service unique. There are many reasons for the popularity of Google Drive including neat management in a dedicated app. It not only makes things easier for the customer but at the backend, things are much more convenient.

Google Drive offers 15GB of free storage. Also, Google One offers six different membership plans, the basic plan being 100GB for $2 per month. Overall, if you're looking to expand your personal storage for pictures, videos, documents, etc, Google One should be your pick as it has an easy-to-use app and amazing pricing plans.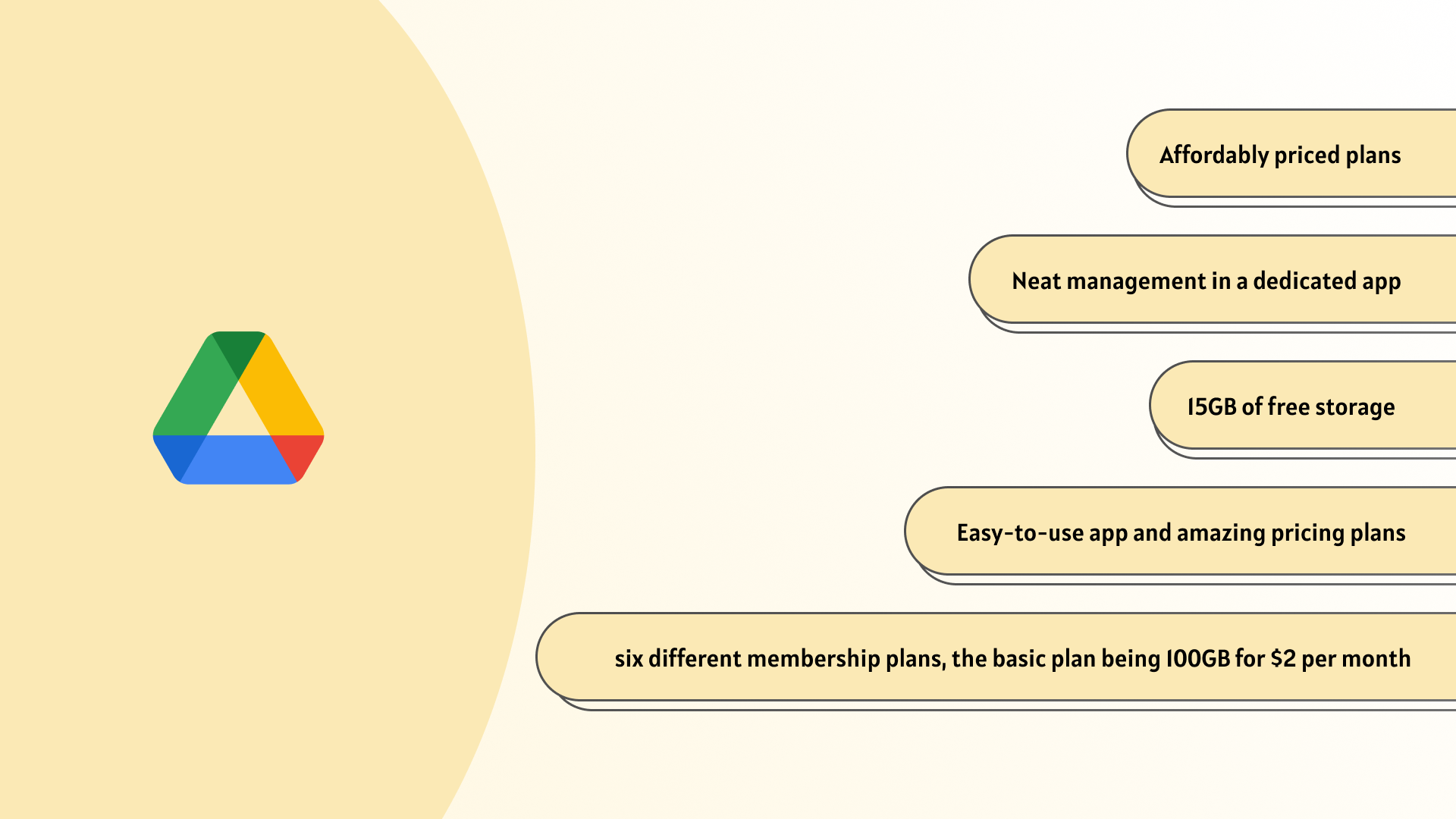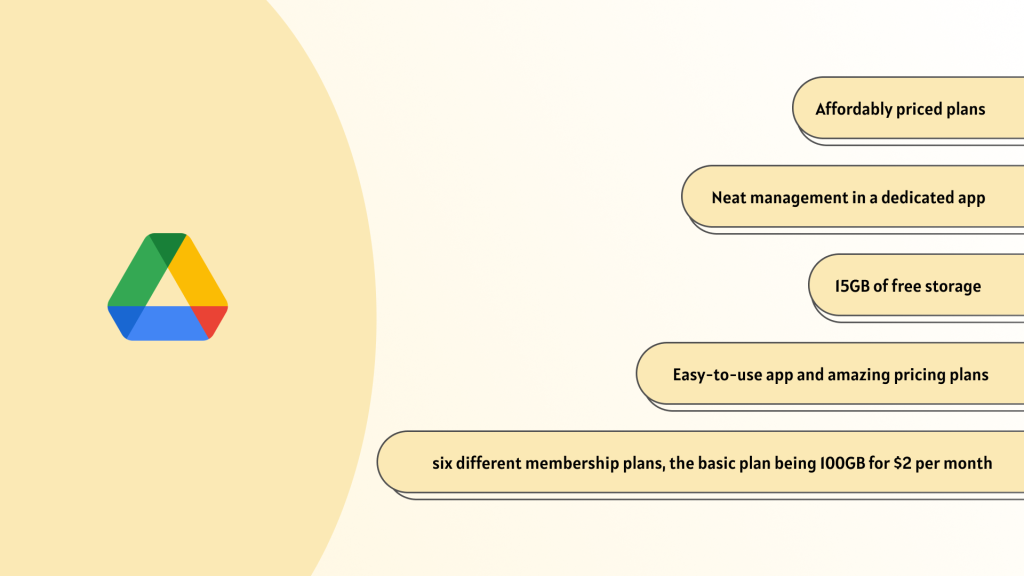 MEGA
If you are concerned about privacy, you might want to consider MEGA, which is at the other end of the privacy spectrum from other free cloud storage providers like Google. Zero-knowledge encryption is the standard at MEGA, so your files can be accessed only by you. MEGA servers are located in Canada, New Zealand, and Europe so their privacy is protected.
Even though its paid plans aren't the cheapest ones available, its free cloud storage rivals aren't even close to its base 20GB plan. MEGA's encrypted service is available to free accounts even if you don't subscribe to MEGA.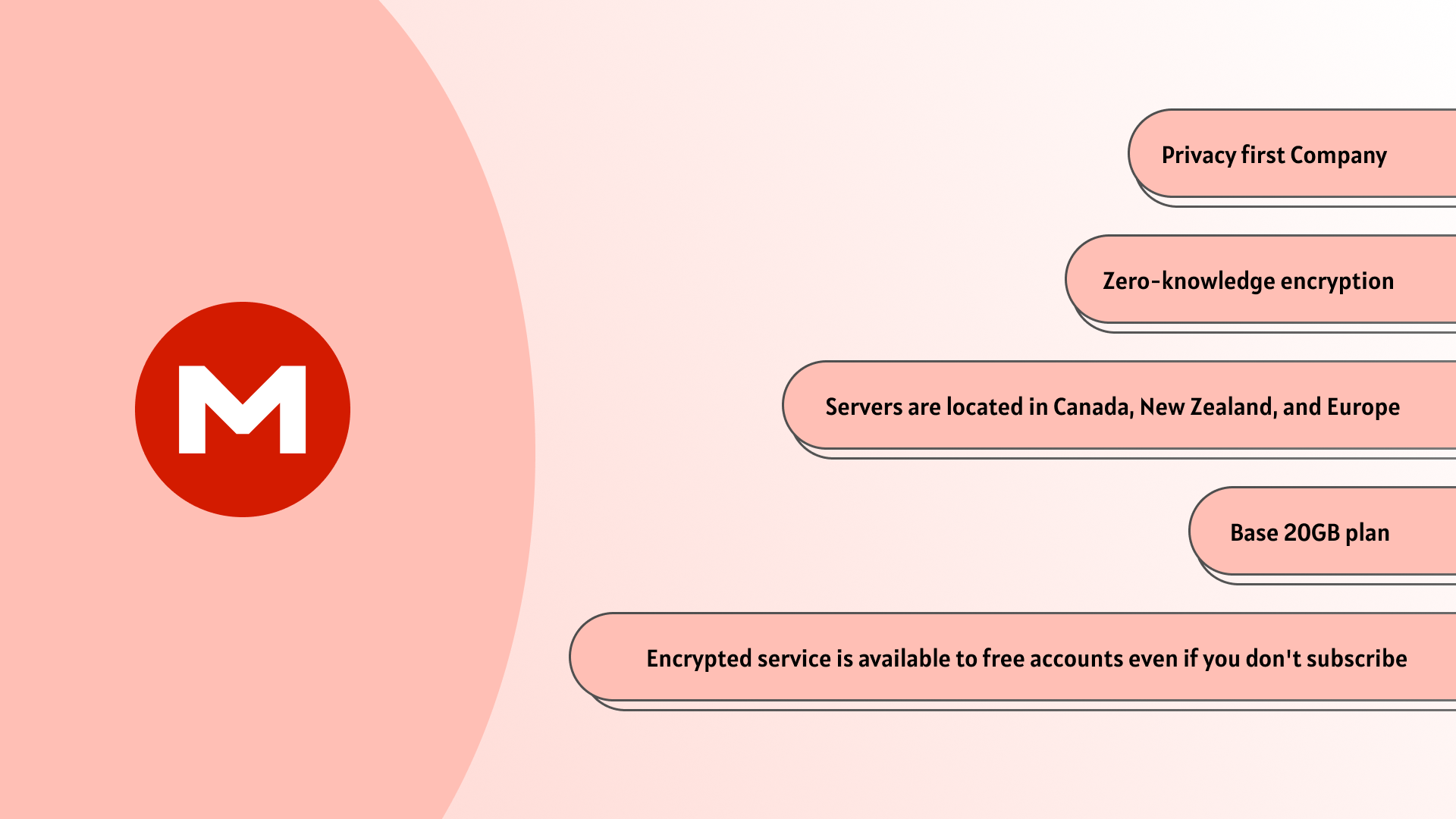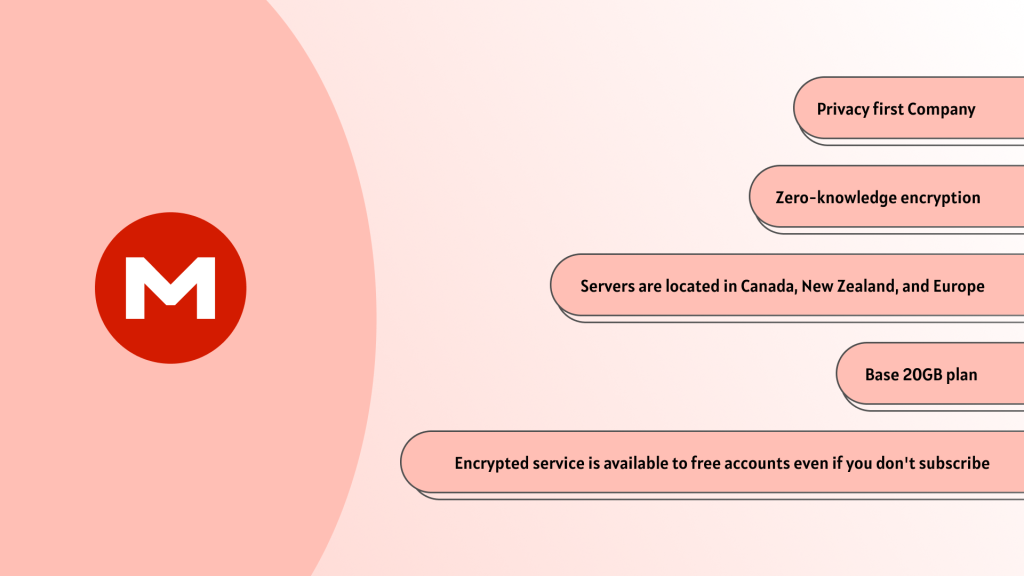 IDrive
IDrive has incredibly affordable pricing and abundant features, both of which contribute to its popularity. The strength of IDrive lies in its online backup capabilities, especially when it comes to the traditional cloud storage provider. Since you don't have to manually move things you want to protect into a sync folder, IDrive is the best solution for backing up your entire device automatically.
With IDrive, you get so much storage for so little money. Despite the free plan's limit of 10GB, the two paid personal plans offer a lot more.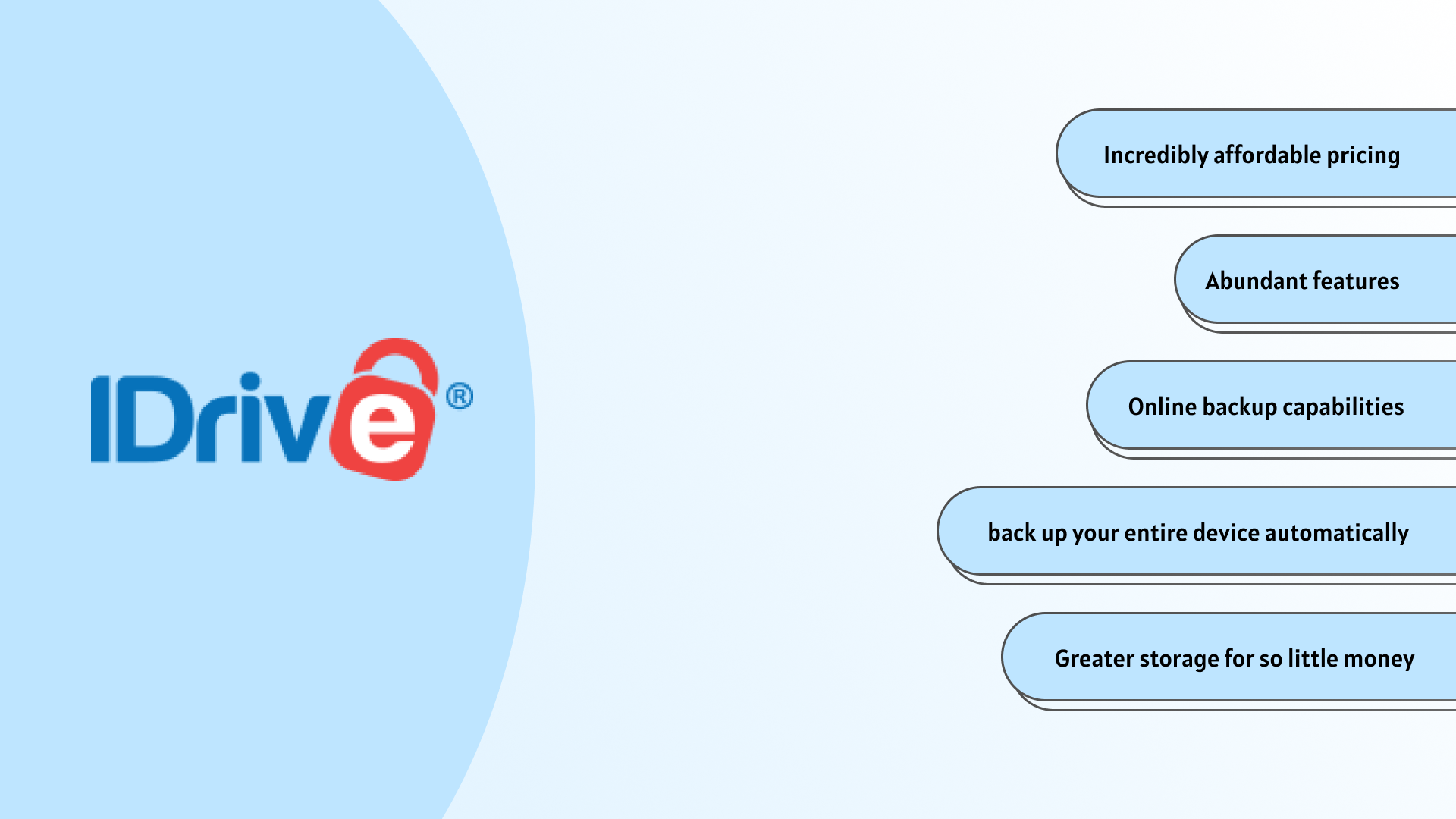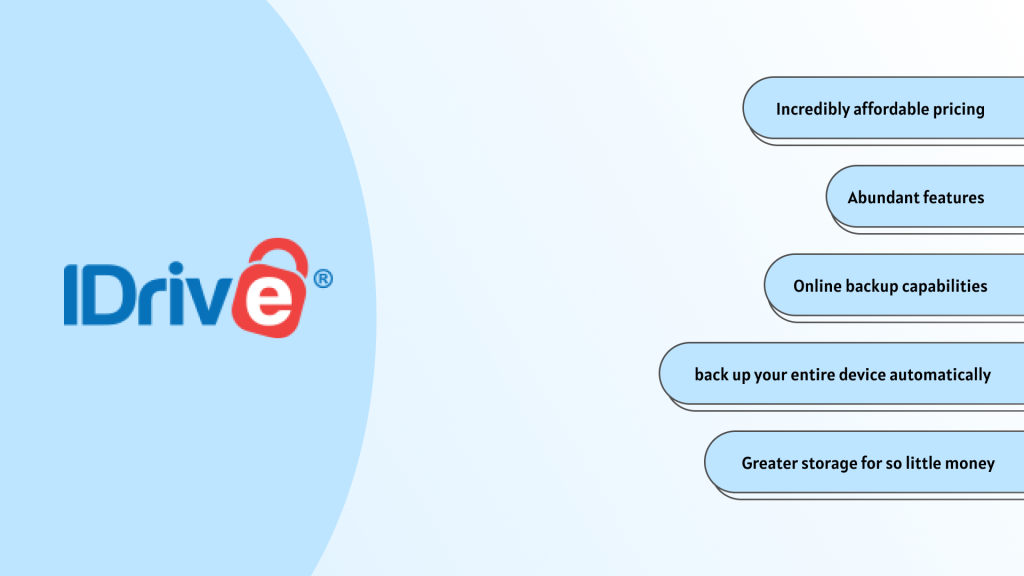 Koofr
The Koofr service isn't a household name, but some of its features make it stand out. It isn't the cheapest but that shouldn't discourage you from trying it. As well as a free 10GB plan, it also offers some very cheap plans that offer 100GB or less of storage.
Since Koofr does not offer zero-knowledge encryption, it does not stand up to the standards of privacy-focused providers. Still, Koofr's servers are located in Germany, which means your data is protected by stronger EU privacy laws. As far as the prices are concerned, you'll pay around $10.85 per month for 1TB of storage.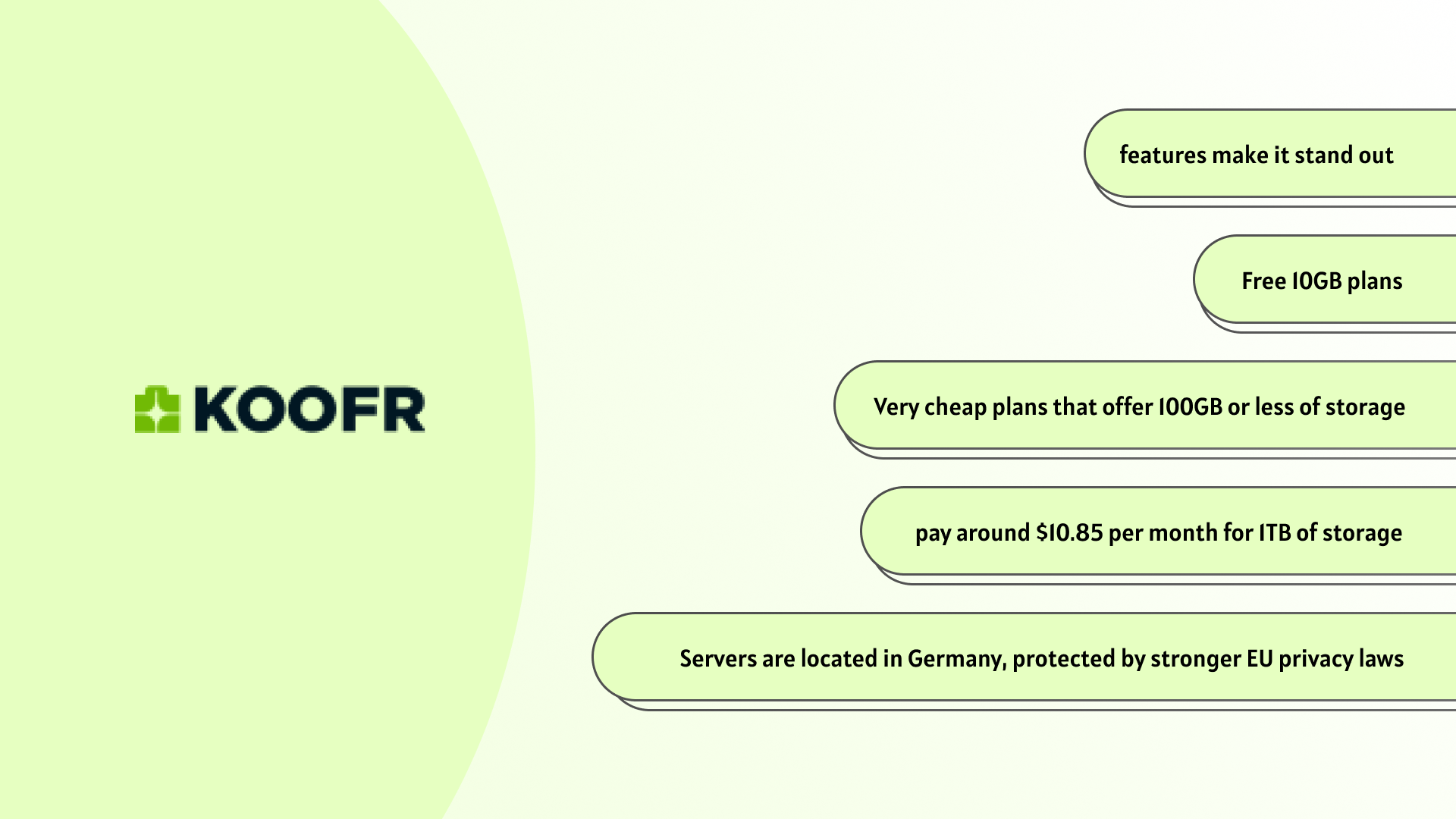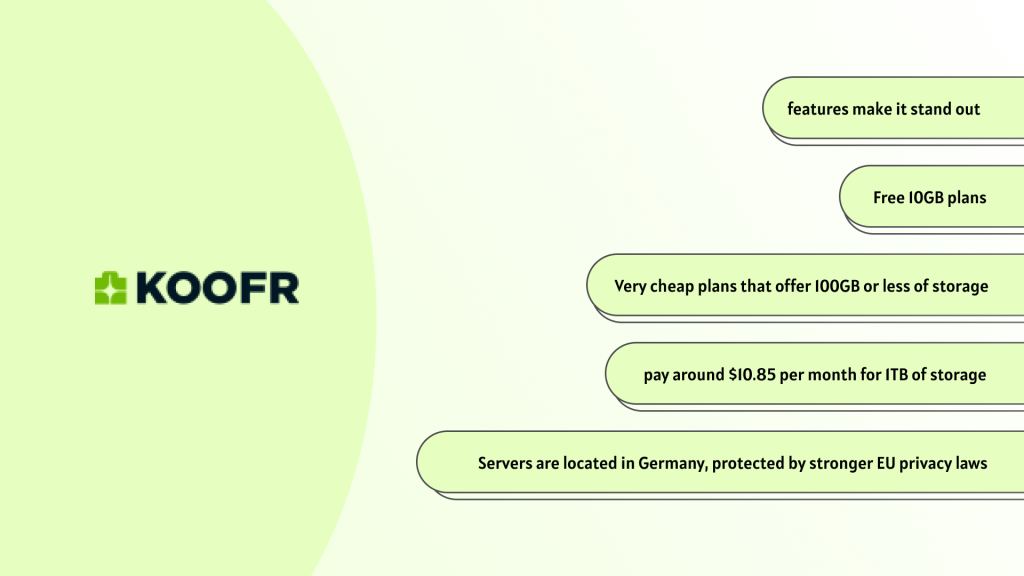 Dropbox
Cloud storage services weren't invented by Dropbox, but the company was the first to make them mainstream. In spite of its long history, Google Drive still occupies the largest share of the market, more than a decade after its launch. Most other cloud storage providers do not yet have the name recognition that Dropbox does.
For payment options, as well as being more expensive than some of the other providers on this list, Dropbox also charges $9.99 per month for 2TB of storage if you pay annually.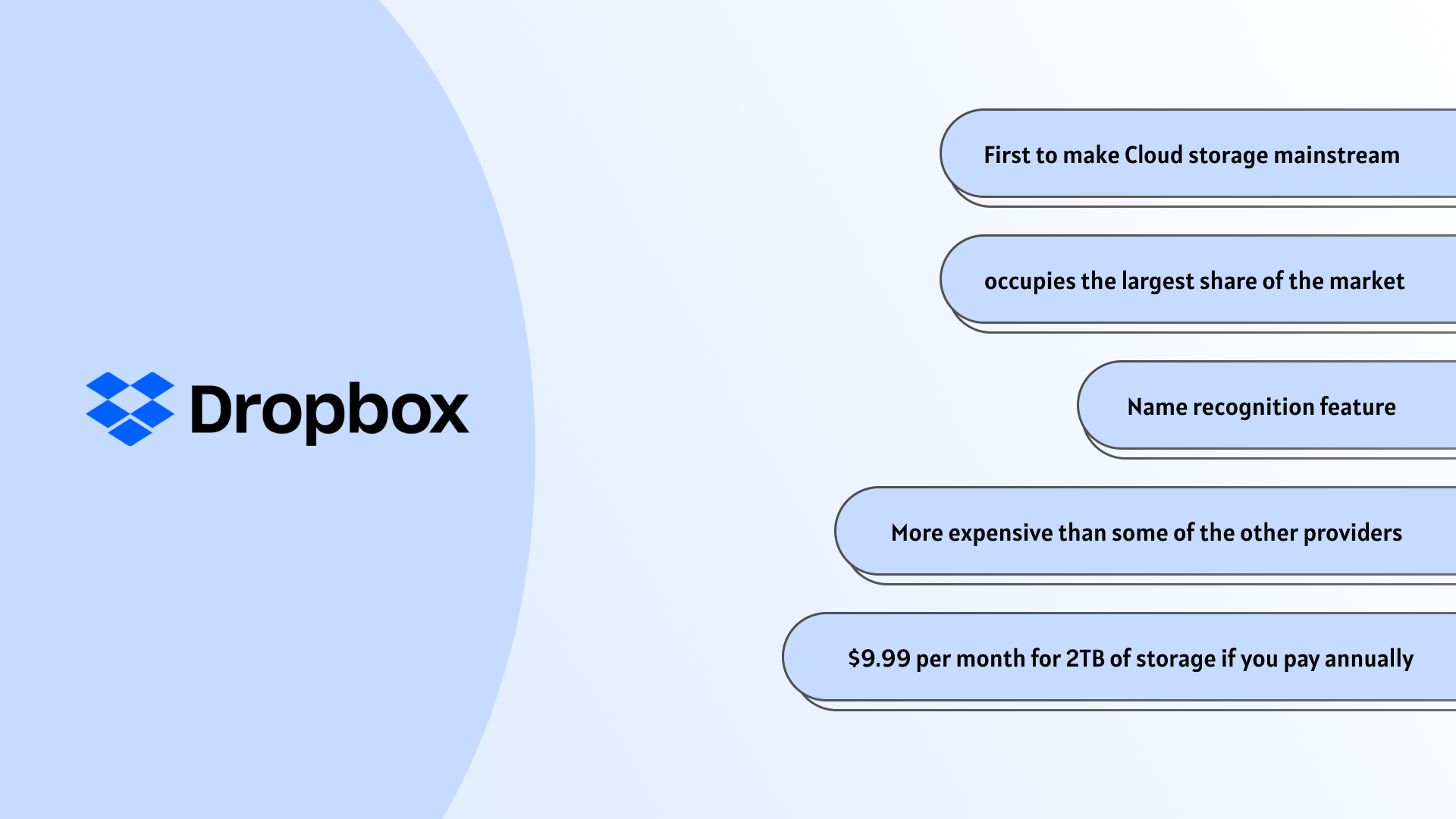 Box
The company still offers two free and paid plans for personal users. Box offers advanced features because it is geared towards businesses. Several features, including collaboration options, two-factor authentication, note-taking, and project management, make this a viable option.
The collaboration options that Box offers its users are clearly its most unique feature. In terms of integrations, Google Workspace and Microsoft Office are the two most significant ones, but Box extends far beyond those two. With Box, you can edit and collaborate on documents directly from the software itself rather than going through apps.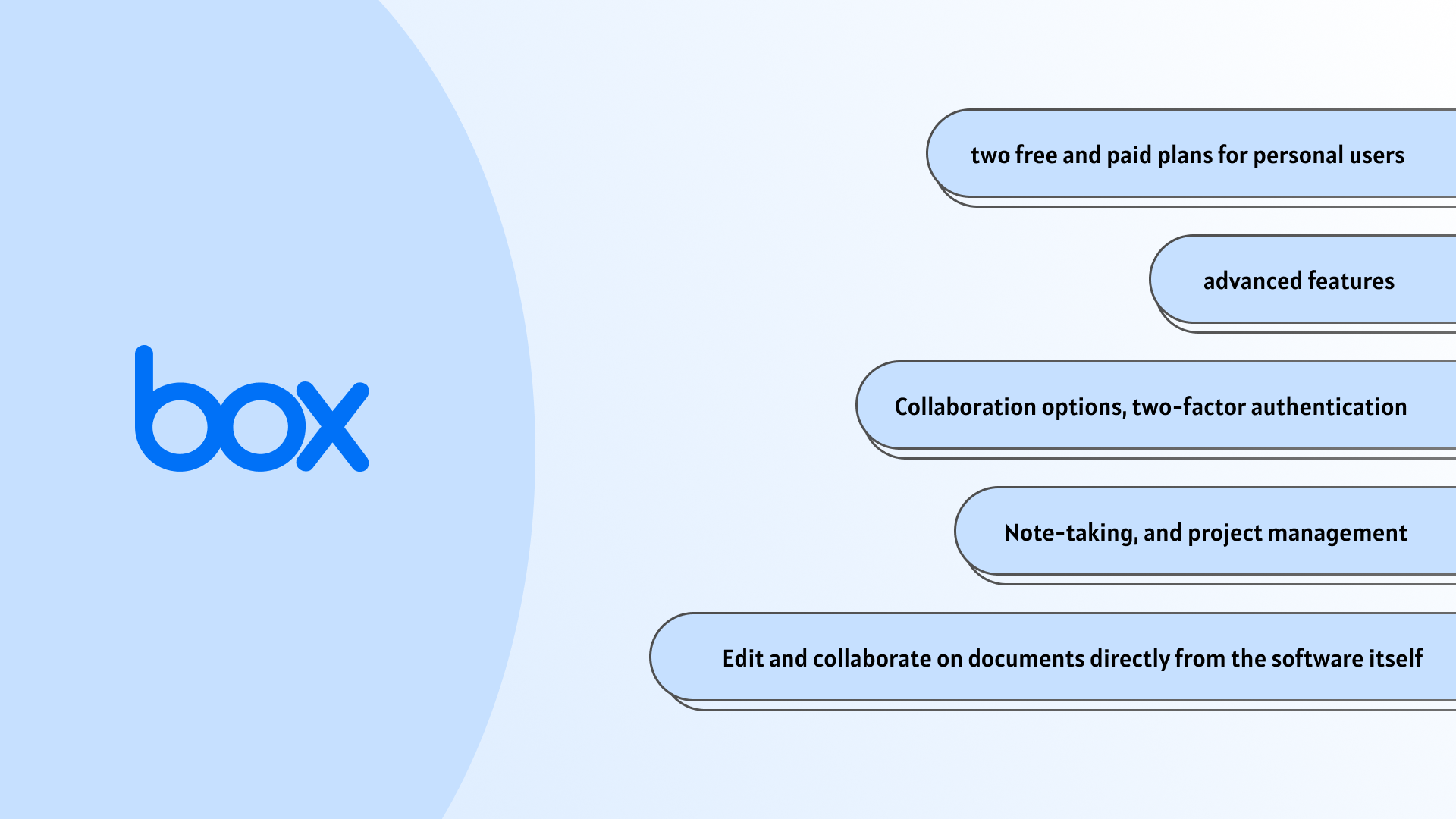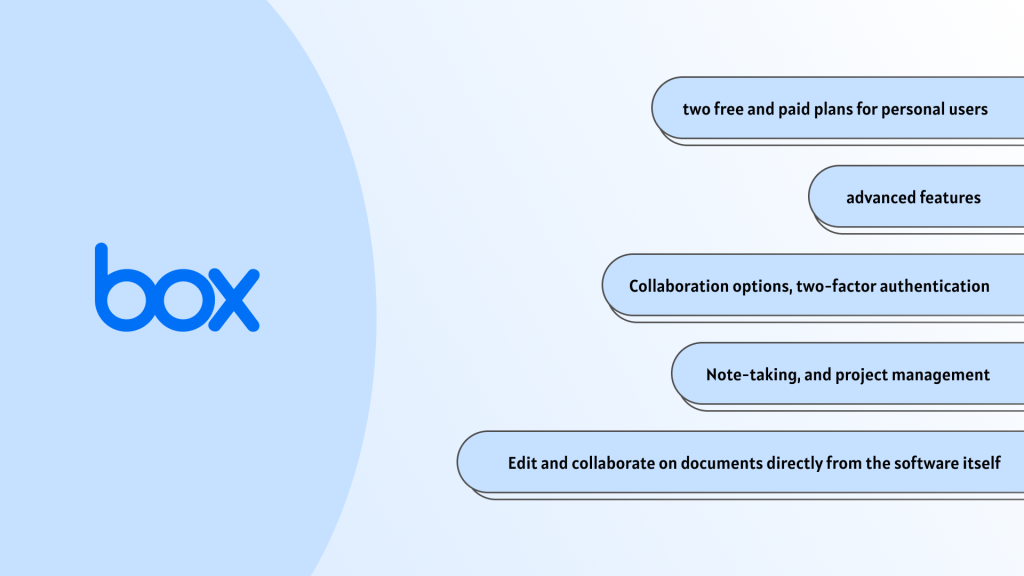 pCloud
PCloud offers backup, file management, and file-sharing functions as part of its comprehensive cloud storage service. To ensure your files are protected, custom Android, iOS, Linux, Windows, and Mac apps upload data using secure TLS/SSL connections. They then copy them to at least three separate pCloud servers.
At first glance, this may seem pricey, but pCloud's lifetime plan gives you unlimited 500GB (or 2TB or 10TB), forever, for just a one-time payment. Additionally, the company plans to offer cloud storage of up to 16TB.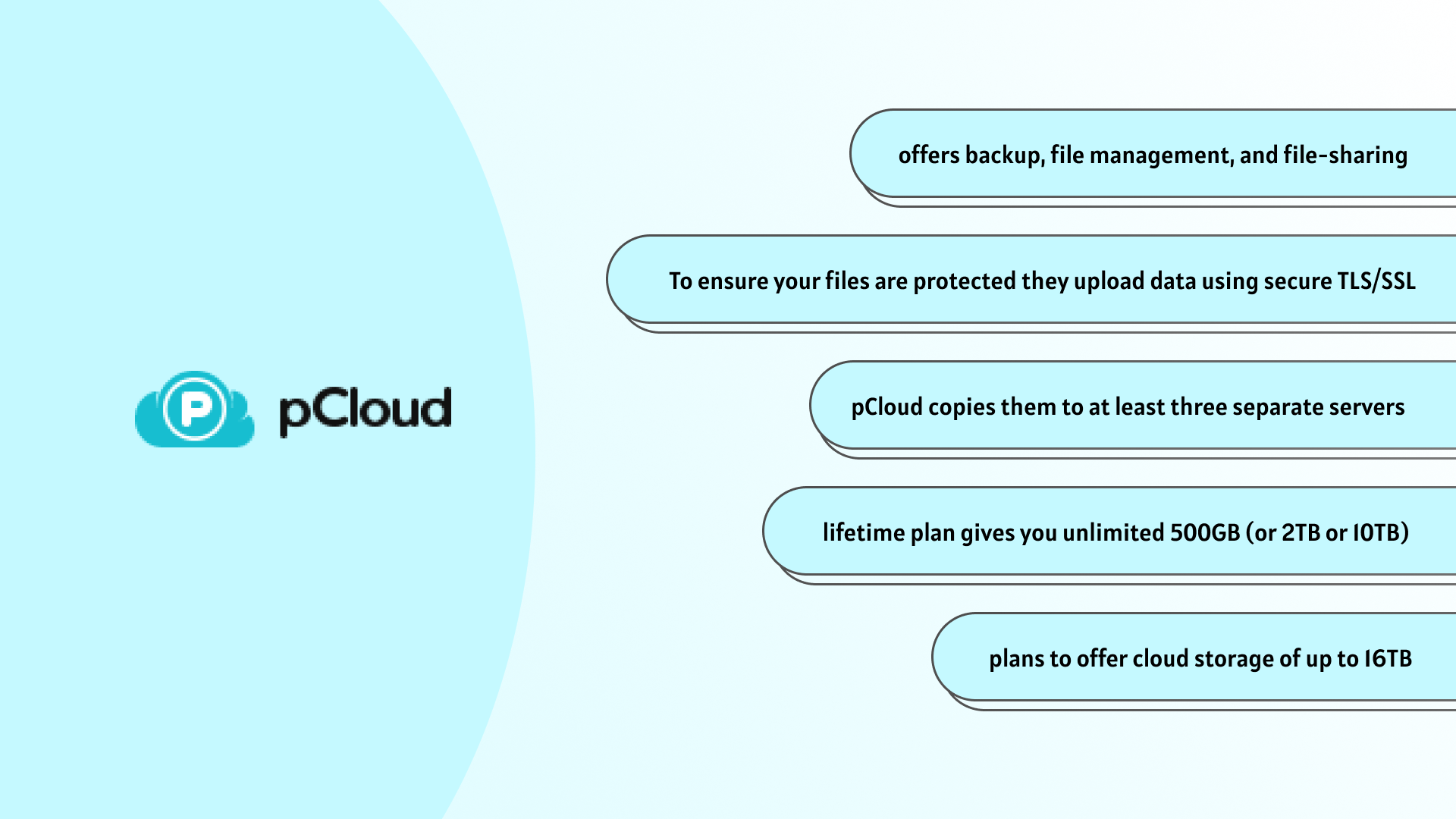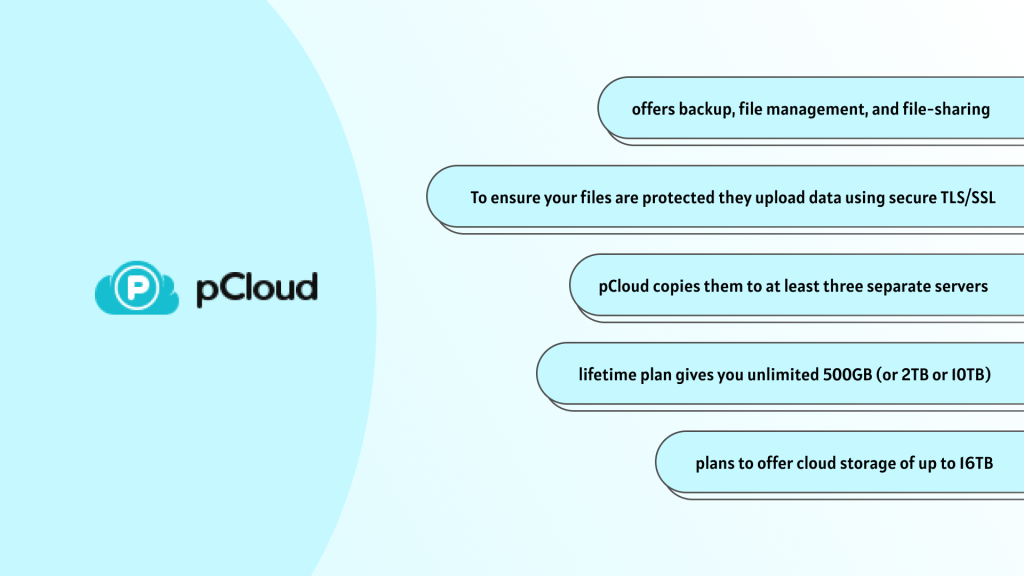 Top Cloud Storage Providers – Wrapping Up
Start by considering your needs when choosing cloud storage. A good backup service and cloud storage that allows you to access your files from anywhere are essential for protecting your data.
The ability to sync files across multiple devices is necessary if you intend to share a group of files – for instance, photos. Overall, you should consider all the above-mentioned factors while making a decision.