Simulcasting enables publishing live streams to multiple social media platforms or channels instantaneously. The term multistreaming is also used across the industry. So you may choose how to call or define the service.
How does it work?
There are hardly a few methods of instantaneous simulcast your live stream to multiple social media platforms at the same you can use the 5centsCDN PUSH or PULL live stream feature (Allow you to further live stream on your website) or simply use the standalone Simulcast feature (Limits you to publish to platforms ONLY). The working is simple, you ingest one feed to 5centsCDN origin server using OBS or any other encoder, we publish the streams to multiple platforms. You save internet BW and can control your stream on how to publish when to publish and more options.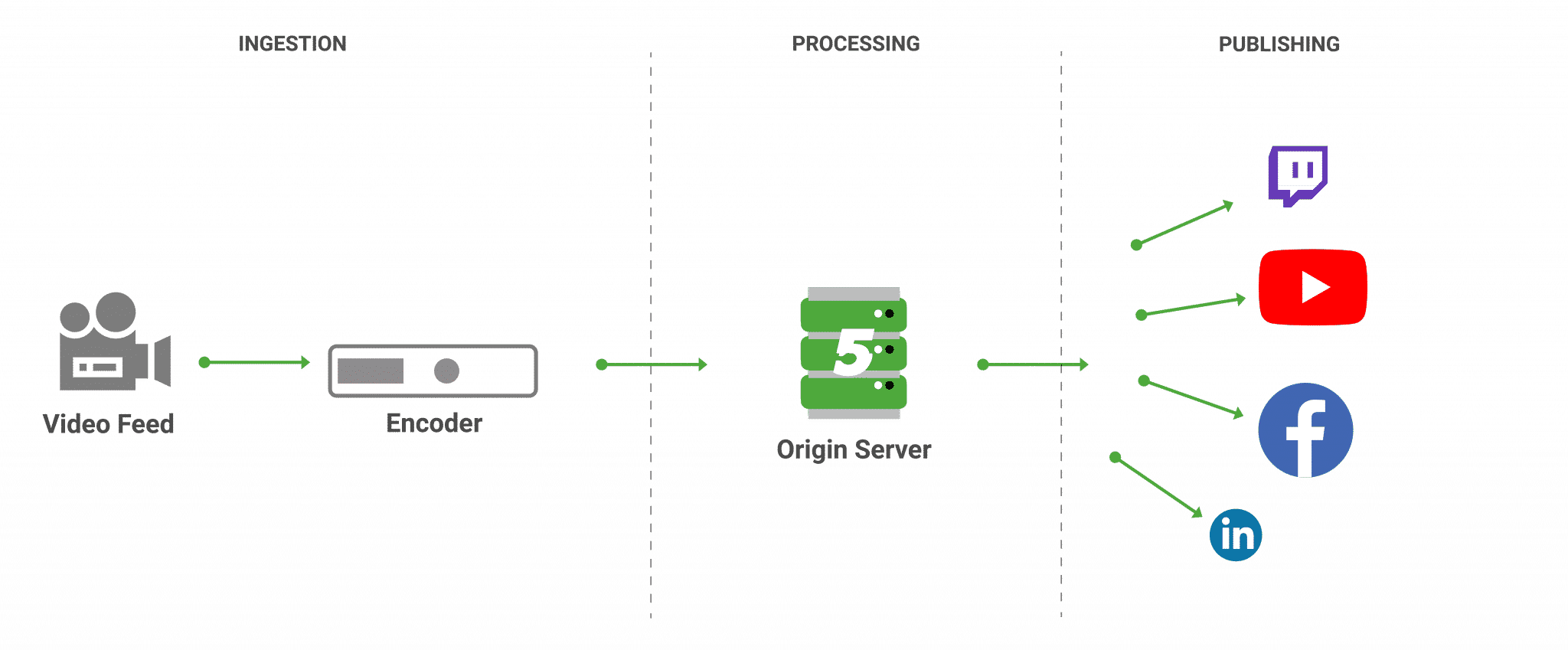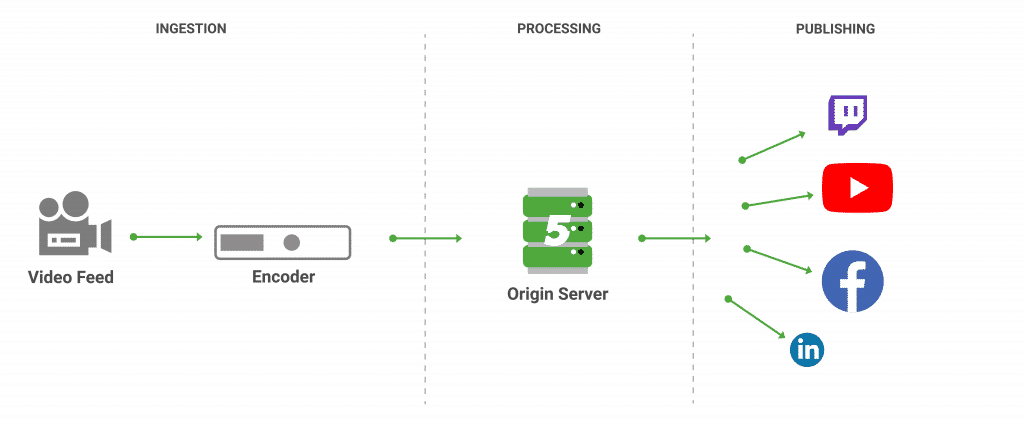 Tips for making your Simulcasting successful:
Like live streaming, you may need to do some operations at your initial simulcast. As simulcasts are a little bit more complex as compared to the normal live streaming, therefore, they may need more effort and time.
Here are some tips that will be very helpful for your efficient simulcast.
1. Test earlier:
As you are going to stream on multiple platforms at a time, it is better to test all of them one by one before showtime just for the satisfaction that everything is running smoothly.
In this way, you can know earlier which platform is better than the other, and you can also direct users to view there.
2. Inform your audience:
To get the numerous viewers, tell your audience in advance that how they can get the streaming from far away earlier. One of the revivals of simulcasting or instantaneous broadcasting on social media sites is that you can tap into the established audiences. Start countdown post and announcement post on different social media platforms before your live streams so that all of your audience can know in advance that you will be going live. Letting your audience know that you will be going to live on several platforms at a time will help them watch the stream on those social platforms that they like the most.
3. Watch the platforms:
It is a better idea to have someone who can look all the time on all platforms where you are streaming on, particularly if any of these platforms has commenting options. In this way, you can know what people are saying about you and can see if there is anything wrong. The person who will monitor your simulcast should be present in the different room thus you would not get disturbed by the background sound.
Finally, find out a way to communicate with the individuals who are monitoring and one who is on the camera, so you can know if something is going wrong in the event.
5centsCDN is an ideal choice for simulcasting.
Few Features!
Your simulcasting suits best with our features.
When wanting to stream to push/restream publish, you can use encoder to publish streams to our media server.
Restreaming will support restream and publish to all streaming platforms and RTMP media servers. We will support live restreaming from HLS, HTTP, MPEG-TS, RTSP & RTMP Data sources.
Multi Publishing
You need to set up an account and simply stream to our media server using any broadcast software of your choice and we duplicate that stream and send it to all specified locations.
Multiple Origin Locations
Our origin servers are highly redundant and scalable clusters that are positioned in more than 40 locations will reduce the latency between your source and 5centsCDN encoders.
Social Platform Integration
There is no need to manually enter the encoding settings in the control panel. 5centsCDN will fetch the publishing details from streaming platforms (such as Facebook, YouTube, Mixer etc) via API.
Transcoding with 5centsCDN publish feature lets you refine your live encoding and streaming workflow.
No Bitrate Limit
There is no limit on streams within 5centsCDN encoder, You need required bandwidth throughput to publish streams to 5centscdn origin server.
Publish Scheduler
This feature enables you to chose when to publish the live stream to social platforms or an external RTMP server.
Publishing Status
Publishing status will give you the Information about the original incoming stream before it is transcoded.You will get informations such as video codec, fps, Bitrate, profile, Audio codec etc.
FAQs
1. How many platforms can I Simulcast to?
You can stream to any numbers platforms.
2. How a simulcast to YouTube can be created?
Here is the link to a step-by-step way of creating a simulcast to YouTube, click here.
3. Do I pay for Simulcast bandwidth?
No, you do not need to pay charges for Simulcast bandwidth.
4. How much does it cost to simulcasting per month?
Per platform $1 per month and per stream name or ingest point $2 per month.
5. Do you have API for simulcasting?
Yes, but limited to custom RTMP publishing only.
6. Can I record my simulcasting?
Yes, use our PUSH/PULL live stream.
7. Can I live stream to my website?
Yes, you will be paying for CDN data transfer if you are publishing to your website.
8. Can I publish 4 Mbps YouTube and 2 Mbps to Mixer?
Yes, simply enable live transcoding and chose which quality or transcode the stream to be published to the preferred platform.
9. Do I get to see the error logs?
Yes.
10. Do support username password for publishing?
Yes, we have a feature called Publish Auth.
11. Can I schedule when to publish to a specific platform?
Yes, we have an instant, scheduled to publish at a specific time every day or schedule to publish at a specific time on a date.
12. Can I disable publishing to a specific platform?
Yes, you can disable one or more or all.
---
Try our CDN today, to get a free account. 7-day demo account with no obligation and credit card!