DVR (Live Stream Recording) Billing Policy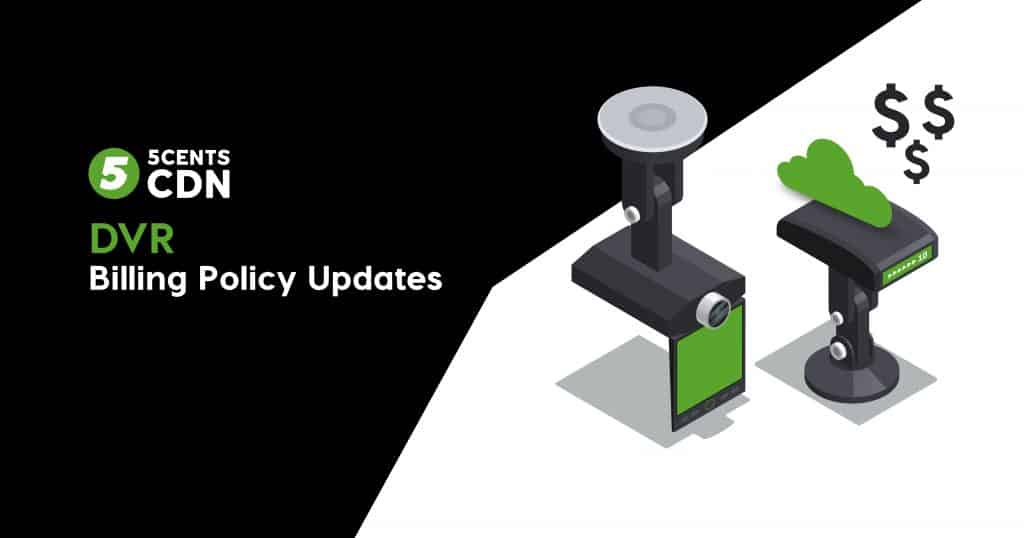 A DVR basically means a digital video recorder, it's could often be a product or a service that helps records videos in a digital format on a drive, memory card, or any other local or cloud storage device. With the help of DVR, you can now avoid a conflict of the timing of two different shows at the same time. You can just record one of these and watch later without missing out on a single thing.
5centsCDN DVR (Live Stream Recording) 
The mighty 5centsCDN DVR feature lets you deliver a range of time-shifted television and network digital video recorder (DVR) services. It has been tried and tested that you won't miss out on any of your favorite TV shows anymore with this spectacular service; be it a sports event, a movie, or a tv show, etc, hence providing you with the much-asked record, rewind, and pause option for your desired programs with an integrated timeshift feature. DVR works well with live programs as well. Thanks to modern innovations, today, most satellite and cable TV content providers offer a DVR as an option alongside their digital television packages. The DVR allows the users to schedule the recordings as well. For instance, from the comfort of your couch, you can just use the remote to search through the listings for the coming week and select the programs you would like to record.
Live Stream Recording Features
At 5centsCDN the users get the whole package loaded with some practical and user-friendly features including high speed and great quality content at a market competitive rate. You get the best deal here at 5centsCDN:
No Limit Duration
The sky is the limit so how about unlimited data? You get to enjoy your favorite TV shows as much as you want because we offer unlimited recording without any interruptions for a user's media. We understand that renewing the package, again and again, can be frustrating. As a valued customer of 5centsCDN, all you need is to subscribe to the plan and be ready to binge.
Adaptive Bitrate Streaming
We offer the best viewing experience and video quality regardless of the network connection or the device. Our services are adjusted according to your bandwidth to offer the best you can ever have. No compromise on the viewing experience. The broadcast can be recorded effectively by dynamically adjusting the compression level.
Content Security
In times of cyber threats and your data being at risk, we offer fool-proof security. Your content is safe with us as we use added layer of security. We have it encrypted on our secure servers to detect and avoid any malware, data loss, cyber attack, theft, or intrusion from the outside.
Thumbnail Generation
We help make your content interactive & engaging at all levels. You'll know your data with just a glance, that way, it will be at your fingertips. Thumbnail generation is another effort in that regard as we create customize thumbnails according to the user requirement upon request.
Flat & Minute Pricing
We take pride in the transparency of our pricing policy. No hidden charges, no setup fee, just the unlimited and uninterrupted, swift streaming at flat rates starting from 5 cents per GB. However, there is no compromise on the quality of our services so rest assured that you get the best value for money.
HLS Delivery
The content delivery is purely based on HLS which is a widely accepted format across the globe as most of the devices that run on popular operating systems support HLS.
DVR Status
At 5centsCDN, we offer you a complete insight into the status of your DVR, as in what's recording on what TV and when? That way, you can keep in touch with all your content details and access whatever you like at any time. However, if there's any confusion regarding the content, the support team is available 24x7x365 to help you with it in case of any queries.
Cloud-Based Streaming
We care about you hance try to save you from any kind of data or content issues. 5centsCDN supports redundancy in the recording which means that the service will record only what you designate under the record redundancy settings to save the storage space.
MP4 Export
To make things easier for you, we have worked towards making out default settings super convenient and user-friendly. Once the content is recorded, you can export it in MP4 format instead of having to do it after it is exported. This format is watchable with any video player available in the market.
DVR Billing Policy Updates
Although, we have kept things extremely simple for you when it comes to opting in for a certain service or the billing schedule of it. However, certain changes from time to time are essential to keep things up to date and market competitive. Keeping that in mind, there have been some updates in our Terms Of Service regarding the DVR billing policy. For the convenience of our valued customers like yourself, we have increased our DVR Retention Period from 14 to 90 days. However, the clients will be charged for their DVR Disk Usage of 1GB @ 0.05 USD per month. In case you exceed the limit of your recording minutes assigned to you, there will be an overage fee which is 1GB at $0.05 as well.
We understand that you might have some questions about this and the team at 5centsCDN would be happy to answer them. You can reach out to us via email or chat 24/7.